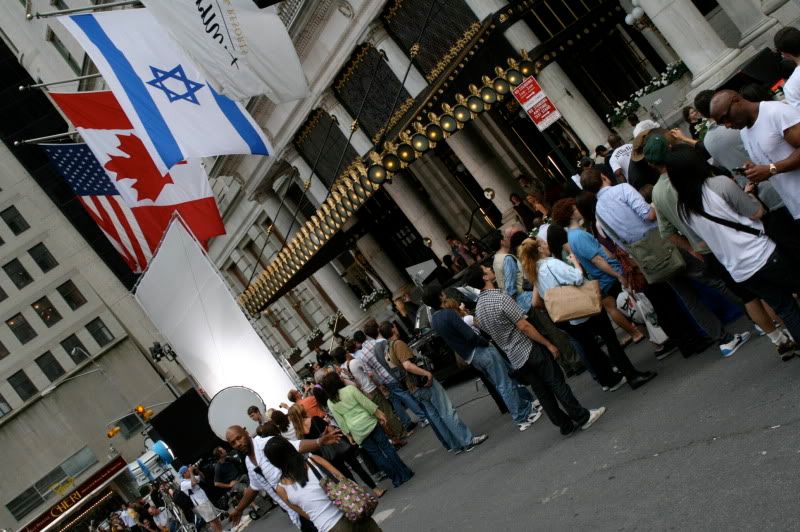 It's Monday afternoon in the sunny New York City. The street in the front of the Plaza Hotel is busy with people gathering to see a glimpse of Mariah Carey. Most people don't even know what is going on or who is the high profile celebrity why the street in the front of the Plaza is closed. Several security men are trying to keep the people off the street and away from the front door of the Plaza. There are lights, and camera ready, all people are craving is the action. And then suddenly… there she is. Mariah Carey steps outside of the Plaza, poses for photos and smiles, and you can almost hear the crowds to sigh. Cameras are clicking, and for a short minute seems like everyone is happy, like there is more magic on the air than on the Christmas morning. Then the reality hits, and the security guards start pushing people away and reminding not to use flash cameras and the film crew gets ready to film the action.
Mariah is wearing a tight little black dress and gorgeous black platform shoes that strap around her golden tone ankles. Mariah walks to the corner of street in the front of the Plaza, and gets one last hair and makeup check. The cameras are still clicking, but she is already focused on the upcoming scene. And then it's time for action.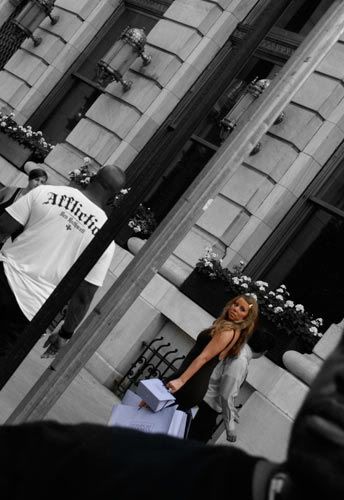 Mariah Carey is shooting a music video
Obsessed
and the scene is her going to the Plaza carrying Bergdorf Goodman shopping bags. Mariah is first walking, looking back, and then starting to run, like someone was chasing her. Nobody is, except the cameraman, but I am sure the scene will make more sense once we see the music video.
They shoot the same scene a few more times, and then it's a wrap. Mariah disappears inside the Plaza, and the crew starts taking down the lights. The crowd is still waiting and standing, obsessed with Mariah's beauty – maybe she will come back. I won't stay waiting, I have seen enough. Instead I cross the street and visit Bergdorf Goodman, hoping that maybe I could find Mariah's shoes, I got quite obsessed with the black high platforms she was wearing.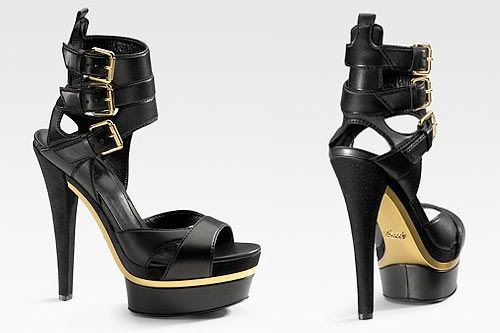 I wouldn't go as far as calling it my lucky day, but I do find Mariah Carey's black platforms at Bergdorf Goodman, and they are even on sale. The
Gucci Iman Sandals
normally run for $1,275 but now are a steal for $854. I decide to pay my car payment instead. Here is
Obsessed
without a music video, from Mariah Carey's upcoming album
Memoirs Of An Imperfect Angel
(now for pre-order, release date August 25), the rumor goes that the video is out already sometime in July.