Vancouver 2010 Olympic opening ceremony is set to start soon. The 2010 Winter Games have already been tragic with
Georgian luger's death
in the luge practice today, and several other athletes have already dropped the Winter Games due injuries even before it's start. However, I'm excited about the Olympics, and will be spending some time watching at least snowboarding, alpine skiing, ice skating, ice hockey… and yeah, a few other sports as well. I have several friends attending Olympics as bloggers, and can't wait to see their coverage as well.
I MET THE U.S. OLYMPIC SNOWBOARDING HALFPIPE TEAM
I was here!
I already got into the Olympics spirits when I visited Park City, Utah, last month. Park City Mountain Resort hosted a snowboarding Grand Prix at their Eagle Superpipe, where the 2002 Winter Games we hosted. The Grand Prix was my first ever snowboarding event, and so much fun. After the Grand Prix, the
30 Seconds To Mars
played on a stage set on the side of the mountain, but the day's highlight was still ahead: the U.S. Halfpipe Olympic Team was announced after the concert.
Photo: snowboarder magazine
Newbies Louie Vito (did you see him in the
Dancing with The Stars
?) and Scotty Lago are joining the team in Vancouver with Olympic medalists Shaun White, Kelly Clark, Hannah Teter and Gretchen Bleiler.
DRESSING UP THE U.S. TEAM
Winter sports are my favorites (Did you know that Skimbaco means "skiing in Colorado"? Well, sort of
skimba
is a Finnish slang word for downhill skiing, but Skimbaco of course is enjoying life in other ways too than only winter sports!). But I have another interest in the Olympics as well – the fashion!
Burton's Olympic wear for U.S. Snowboarding team
Burton dressed up the snowboarding team with plaid jackets and denim pants. I like the jacket, the patriotic colors in plaid, it's little retro, and it literally is made for Canadian mountains. I'm not big fan of the distressed denim pants; I think Olympic clothing should be little more official looking. Ralph Lauren is the official outfitter of the U.S. Olympic team. As a lifelong Ralph Lauren fan I love the Vancouver 2010 Olympic fashions for the U.S. Team.
Ralph Lauren's partner athletes (pictured): Tim Burke (biathlon), Resi Stiegler (alpine skiing), Jesse Beckom III (bobsled), Ryan St. Onge (freestyle), Ted Ligety (alpine skiing), Evan Lysacek (figure skating), Ben Agosto & Tanith Belbin (figure skating pairs), Noelle Pikus-Pace (skeleton)
I think one of the best things RL is doing is making them available for everyone. Just visit your Macy's or closest Ralph Lauren store, and you will find the U.S. Olympic fashions and you can get into the spirit.
This time around you can also
customize your own Winter Games clothing
with your name. It isn't quite cheap, the polos are $125 and the fleece is $165, but it's doable for something as special as the U.S.A. team clothing with your name on it. With RL's quality, you know you will be using it the next Winter Games too.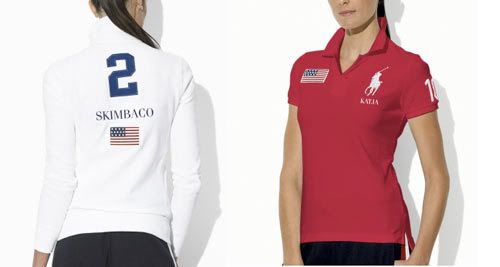 Which one you like better..?
I'm excited to watch the opening ceremony, and as a winter sports fashionista, I'm excited to see every nation's Olympic wear too. It's like red carpet – but for winter sports!
Halti designed the Olympic uniforms for team Finland.