I admit, I skipped most of the Mercedes-Benz Fashion Week in New York. I had gotten several invitations to attend shows, but with work and family, I was just not able to attend as many shows as I wanted to.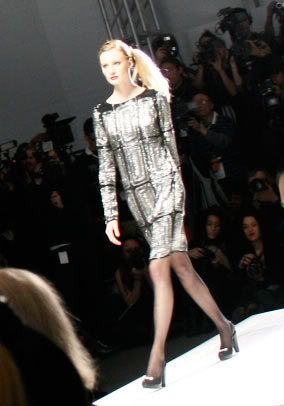 But there was one show that I didn't want to miss, and it was the Pamella Roland's show. While there are other designers whose work I admire, my admiration to Pamella DeVos, The Pamella behind Pamella Roland, is beyond her fashion sense. Pamella is a mother of three, and she started the Pamella Roland line for the love of design and style in her forties, after a successful career in PR and marketing. Pamella Roland launched in 2002 and it has been a steady success story ever since.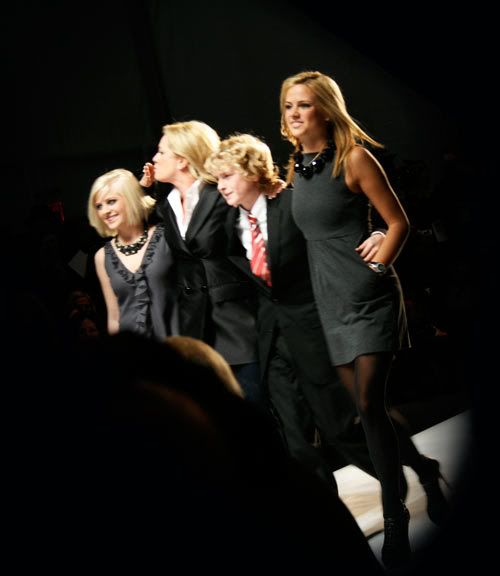 Pamella with her children
Pamella Roland is loved by several celebrities including Queen Latifah, Catherine Zeta-Jones and Carrie Underwood. You can find several red carpet looks by Pamella Roland at her
All The Looks Look Book
. I will be attending Oscars with Kodak, and reporting from the red carpet on March 7th, and I am looking forward seeing if any of Pamella Roland's creations will be at the Oscar Gala red carpet this year.
The fall/winter 2010 collection has several pieces in glamorous purple, luxurious silver and mysterious black, yet this is my favorite look – in winter white. Well, minus the fur hat, which is too Russian style even for me, a girl named Katja. I can see myself wearing the entire outfit, and I absolutely love the knit sweater. This is an outfit I can see myself shopping in New York and attending Sundance Film Festival in Park City next year (it will be in my to-do list after my positive first experience this year). While this is just one look from Pamella Roland's Fall/Winter 2010 collection is tells so much about the entire ready to wear collection. It appeals to both younger and older women, and it has timeless look, yet it succeeds on being extremely modern.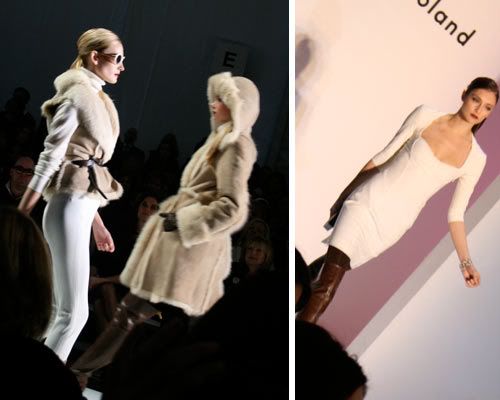 The fall/winter 2010 collection was inspired by Venetian glamour, and the gowns are stunning. The one shoulder dress is still a popular style in the Roland's collection, and the dresses astonish in purple and blue, in silver and gold. I loved the looks with low cut backs, but the low cut neckline isn't my favorite look.
While the gowns are amazing, and I am sure we will see them in the red carpets next winter, there were several trends in the Pamella Roland's collection that we can use too. – Belts; both big chunky ones, and narrow ones accenting the waist. – Leggings, combine them with leg warmers and short jacket. – Wrap sweaters with belts and straight leg trousers. – Textured tights are becoming more and more popular. – The feather-accessories continue being in.
photo: Pamella Roland What are your takeaways?