I kissed the penguin.
I have been wanting to visit the Ice Hotels in Scandinavia for a long time, yet I have managed only to go to Finland on nice spring or summer weather. Little did I know, that you can experience the same in Las Vegas, in a much smaller and much more convenient scale. While Las Vegas isn't one of my travel destinations that I go for fun or to vacation, it is a business destination where I visit often for conferences and events – this time it was for BlogWorld & New Media Expo. There is so much to see and do in Las Vegas, that I always try to sneak in some fun and a new experience while on a business trip. There are two
Minus5 Ice Bar Lounges
in Las Vegas, at the Mandalay Bay and at Monte Carlo. On my last trip to Las Vegas I visited the one at Monte Carlo. Before we got into the ice cold bar, we were given warm parkas, UGGs and gloves to keep us warm. While you might think it is just ice-look-alike – I guarantee you, it is the real thing. The place is ice cold. The entire bar is made out of ice, including the bar, the chairs, the walls, everything. Even the cocktail glasses! What a nice contrast after a warm day, and you feel instantly refreshed!
The bar tender is very.. friendly.
While the Minus5 Ice Bar experience was great itself, the fact that I was able to share it with my friends warmed my heart like nothing else. Zippy from
Champagne Living
invited me for the Minus5 Ice Bar experience, and she is one of my best friends and my Vegas-expert, always in the know what is the must see and do in Las Vegas. And of course my pal Courtney from
Detroit Mommies
was with us. I also had a pleasure to meet Anna from
ABDPDT
for the first time on this trip to Vegas, and I love her in person even more than I love her blog. Brit, the famous paparazzi-hunted
Miss Britt
kept me laughing like I haven't laughed for a long time and it was great to get to know better Kas from
Southern Bella's Way to Save
. Minus5 Ice Bar is one of the coolest things in Vegas, literally and these ladies made it even better!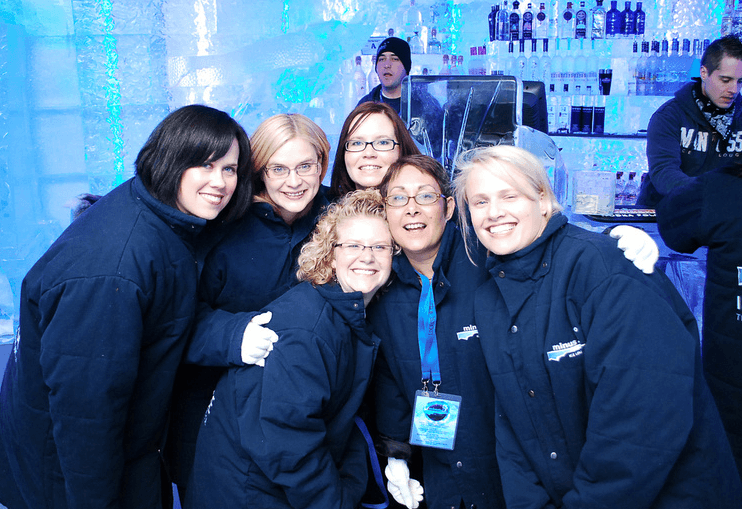 Disclosure: our visit to Minus5 Ice Bar was comped but my opinions are my own.