I've always loved color red and red clothes! But while I had red hair it was a little … too much. Now I'm going back to my natural blonde hair (well, with a little help from Red Door Salon), I can start wearing more red clothes again. Red is very trendy this fall, and you can enjoy it 'til the rest of the year. I was reminded last February by a fashion friend that it easily starts looking too Christmasy after the Holidays… but for now – let's enjoy red!
1. Red Shoes
Get the red sexy platforms like these GUESS Amazed ($98.95) right now and think how you can rock them at your company Holiday party too. Not you? Don't worry. You will actually make a bigger splash (literally if you wish) when you rock these red rubber boots from Clarks ($70), and what I adore even more are the Sorrel Tivoli Slip boots ($110), perfect for rain and snow days ahead (in fact, adding them to my Xmas wish list right now). All shoes from Zappos.com.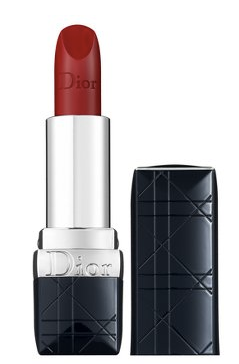 2. Red Lipstick
Classic, sexy, glamorous. There is nothing like red lips. Don't overdo your makeup with strong eyes and red lips, but make red lips stand out and the perfect, and easy, finishing touch to any outfit. Be careful choosing the right shade, so it doesn't look cheap. Try
Dior Rouge in Blazing Red
($30), it doesn't just look luxurious, it feels like it too.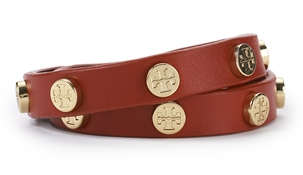 3. Leather Cuff Bracelets
I love bracelets and right now I'm going through a leather cuff obsession. This
Tory Burch leather cuff
($95) is in my wish list. What about you? Don't you just love bracelets?
4. Red Wool Coat
If you want to make a statement with red this fall and winter – buy a red wool coat. This
double breasted military style coat by GUESS?
is well priced for $148. Military style is trendy, and you'll feel energized wearing this strong red throughout the season.
5. Red and White Stripe Sweater
If you are not quite sure about too much red – try it in stripes. This striped sweater from
Forever21
is super inexpensive for $22.80 and you can give red a chance.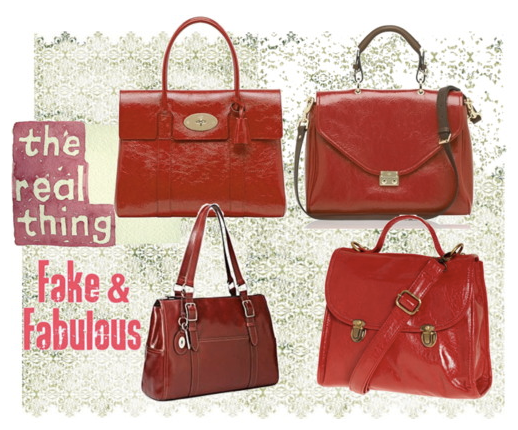 6. Handbag
Mulberry's Bayswater has always been one of my dream bags, but for $1,150 I could get quite a few other bags instead just one… Similar type of big red tote from
Fossil
is only $148 at Dillards. One of the most popular bags we have seen celebrities to have this summer and fall is another Mulberry bag, the Mulberry Neely. You can get the Neely from
Mulberry
for $695 or check out the
Scarlet Lippy Satchel
at ModCloth for $60.
7. Gloves
Really, red gloves deserve their own mention. And yes, I own several pairs of red gloves. Knit gloves, leather gloves, long ones and short ones. The ones pictured – $25 from ModCloth.com. Red gloves are also a great holiday gift idea!
8. Umbrella
It's those rainy and dark days when you need the red the most. Nothing beats a nice and cheery red umbrella. Like the
Marimekko Kiku umbrella
($40).
9. Scarves
This Maxmara outfit would look totally different without the red accessories, wouldn't it? Scarves are the easiest way to turn an outfit to something new. Also, I like mixing red with grey like in the picture above.
10. Other Accessories
If you are not ready to buy anything expensive, give red a test drive with a new headband, hair clips, earrings or belt. Places like Forever21, Target, H&M and Claire's sell dirt cheap accessories that you can have fun with.