Pumpkin is a fall vegetable that hails from the same family as gourds and squash. Known for its bold orange color and commonly associated with Halloween, there is a lot more where the pumpkin came from. In 2009, SeriousEats.com reported that the United States alone produced 1.5 billion pounds of pumpkin. Our national consumption of everyone's favorite festive squash used to be limited to pumpkin pie on Thanksgiving but over the past several years, the pumpkin craze has escalated to pumpkin spice lattes, pumpkin donuts and more. Some cooks enjoy pumpkin for its unique flavor and nutrition benefits while others enjoy its significance. My friend Laura likens the flavor of pumpkin to "wearing a comfy sweatshirt on the first chilly day of the season." This year, think outside the pumpkin patch for ways to make the fiber-packed fall vegetable the star on your autumn meal menus.
1. Bake Cookies
If sweets are your game, Erin Cottrell from Erin's Food Files created
Pumpkin Butterscotch Chocolate Chip Cookies
. Loaded with chocolate chips and butterscotch and hints of spicy fall flavors, these too-good-to-be-true treats are a must make this season.
2. Use the Shell
Dorie Greenspan never fails to disappoint and this simple recipe,
Pumpkin Packed with Bread & Cheese
, is the perfect way to end a long week. All you need to make this a complete meal is a glass of smoky red wine.
3. Whip up Whole Wheat Muffins
Specifically, whip up a batch of
Whole Wheat Pumpkin Muffins with Cranberries and Walnuts
from Nicole Haymaker at Pinch My Salt. Pumpkin puree, buttermilk, and honey all help contribute to the moist texture of these muffins.
4. A New Twist on Pie
As much as I love pumpkin, pie has never been a favorite of mine. That is, until I saw Dana Woottan's
pumpkin whoopie pies
on Dana Treat. Think two thick cakes with tangy cream cheese frosting sandwiched between them. Start preheating your oven, now.
5. Wake up to Pumpkin
If you like to wake up to indulgence on the weekend, Katie Goodman from goodLifeEats has
Pumpkin Cinnamon Rolls
. Between the cardamom that goes into the filling and the vanilla in the cream cheese frosting, you'll never want to eat a plain cinnamon roll again.
6. Channel Mario Batali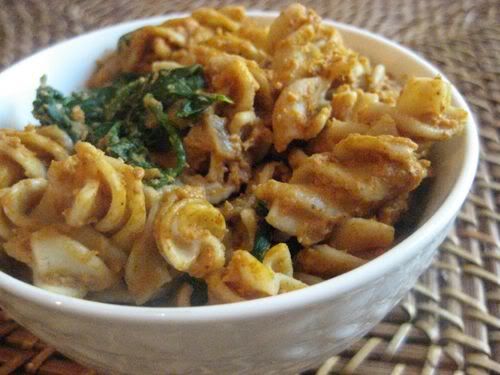 On my own food blog, In Good Taste, I tend to get a little carried away when it comes to pumpkin every year. Seasonal or not, I could eat this spinach-laced
Pumpkin Penne
any time of year.
7. Embrace the Cupcake Craze
If you live in an area where the pint-sized treats have taken over dessert, try Brown Eyed Baker's
pumpkin cupcakes
. Cream cheese frosting is literally the icing on the cake.
8. Think Thanksgiving
The scent of sage always picks me up and drops me smack in the middle of the fourth Thursday of any given November. On Thanksgiving, one of my favorite flavors is sage. Dara Michalski from Cooking' Canuck raised the stakes by pairing the herb with pumpkin in a recipe for delicious
pumpkin and sage gougers
.
9. Roast the Seeds
If you carve jack-o-lanterns with the family, don't let the pumpkin seeds go to waste. Look to Sarah Caron at Sarah's Cucina Bella for a recipe for
roasted pumpkin seeds
– a snack you can feel good about. Some health experts suggest that pumpkin seeds have a good amount of protein, iron and even anti-inflammatory benefits. For men, they may even help with prostate health.
10. Break Bread
If there's one flavor warmer and more comforting than pumpkin in the fall, it's maple. Pair them in Denise Woodward from Chez Us'
pumpkin bread with maple cheesecake swirl
. Breakfast, anyone? What are your favorite ways to enjoy pumpkin in the autumn months?
Written by Maris Callahan. Maris Callahan is the author of In Good Taste and as an avid self-taught home cook, is widely knowledgeable about all things culinary. She is especially passionate about helping new cooks learn how  to prepare healthy, delicious meals and snacks, even when life is busy. She believes in Ghirardelli chocolate, farmer's markets and cooking from scratch when possible. When she is not in the kitchen working on her next recipe, Maris works as a marketing professional at an agency in Chicago and in her spare time, contributes to several websites including SheKnows.com and Diets in Review.