I spent less than 24 hours in Dallas a few weeks ago,
test driving the new Nissan Murano CrossCabriolet
, and I had an opportunity to see my old friend jewelry designer
DeAnna Cochran
for a fun Saturday afternoon. DeAnna took me to one of her favorite stores in Dallas,
The Gypsy Wagon
, which is also a retailer of DeAnna's jewelry. The Gypsy Wagon is on the North Henderson Avenue, surrounded by other interior design stores, restaurants and antique stores. You can spend an entire day on the North Henderson Avenue looking for furniture, home decorating products and having a good ol' Texas style BBQ in a near by restaurant with outdoor patio.
The Gypsy Wagon
is probably the best the neighborhood has to offer.
The Gypsy Wagon started in a different, much smaller location first, but Dallas fell in love with this quirky and colorful store and its amazing owner Carley Seale, and The Gypsy Wagon moved to this much larger space on the Henderson Avenue and answered to the demands of more funky and fun stuff ranging from home decorating products to party accessories
to fashion clothing, handbags and since we are in Texas – to cowboy boots
. The Gypsy Wagon is your modern day general store Texas style, and I was smiling the entire time I was in the store. It's just one of those stores that you know it was made with love, every single item was hand picked and many of the products are even hand made! Only downfall – you either buy way too much than your originally thought of or you have hard time choosing what to buy, this store is full of eye candy that you feel
you must have
.
When you are looking for color in your home, and something that pops – The Gypsy Wagon has it. The store was full of bright colored items, which are full of personality. The Gypsy Wagon carries hand made products from artisan from around the world, as well from several local people, like DeAnna. Decorated empty cigar boxes, decorating items made of upcycled bottle caps, recycled glassware, hand knitted accessories for you and your home, hand made birthday hats, painted luggage, blankets with pom poms. You name it.
Oh, and the way the store has everything displayed is as quirky and fun as the products – or what do you think of these
blankets
($44) taking a bath in this bath tub?
If you like simple design, and minimalistic lines, you might think The Gypsy Wagon is a little too, well, gypsy for you, no worry, The Gypsy Wagon has that covered too. While the modern design items are not displayed the same way as you might find in the almost empty stores of Brooklyn, you can make some modern design finds at The Gypsy Wagon as well.
I loved the several lighting fixtures in the store, made from recycled materials, they would be great focal points or pull together a room.
Overall, The Gypsy Wagon is probably one of the sunniest stores I have ever visited, you could feel the love that was put into the store and merchandising and selecting each single item. The products made you want to smile and there was a sense of careless days, smiles from strangers, and traveling around the world without forgetting the Texan roots. The name The Gypsy Wagon is so fitting for this store that makes me hope it'll turn into a franchise one day and start popping in cities around the country. At the same time – I hope it will never turn into a chain and it'll always keep it's authentic personality that can only happen when it is done with a small team of people who care for the store like a flower they want to blossom forever.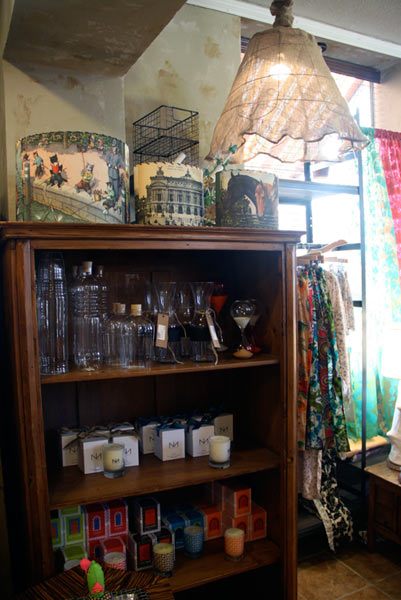 Lucky for us not living in Dallas,
The Gypsy Wagon
also has an online store. The selection is very limited compared to the vast variety of the store, but you can still find so many amazing things from the online store. If you shop there – let me know in the comments. And if you have a store close to you, let me know that too – maybe I will hit to your favorite store next time I'm traveling.
The Gypsy Wagon
2928 N Henderson Ave, Dallas, TX 75206
Store Hours:
Monday-Saturday, 10am-6pm | Sundays, 1pm-15pm
Phone:
214-370-8010