Travelocity wants you to have easy-breezy Holiday trip, and help you to save time and money when booking your Holiday trip. For instance, I typically like to wait 'til the last minute and get the last minute deals, but when it comes to traveling during the Holidays you can't do that, trust me, there never will be last minute flight deals during the Holidays. In fact – we already have our flights bought to Texas for Christmas. Continue reading and get more Holiday travel tips like this!
1. Don't wait to purchase flights.
The cost of airfare goes up, not down, the closer a holiday gets, and due the increased amount of travelers no last minute deals will be available.
Don't hold out for a last-minute deal.
Book as soon as you know your plans for lower prices and more choices and for getting seats for your entire family.
2. Be flexible with travel dates.
Airlines know some dates are more popular than others when it comes to holiday travel, so some may charge more for flights on those days. Travelocity's analysis of Thanksgiving airfare for 2011 found you can save an average of $200 by adjusting your travel dates. In general,
dates to avoid this holiday season: Nov. 27 and 28, Dec. 22, 23 and 26 and Jan. 2.
We booked our family of five's trip from New York to Texas and saved over $1,300 by booking our flights on December 25th and 31st. I'm fine flying on Christmas and saving that money for more fun in the destination.
3. Research alternate airports.
Many major cities are serviced by several airports, so don't forget to check the 'search alternate airports' box, flying to an airport that's a little less convenient can mean big savings. Bare in mind the cost of transportation as well. We live in NYC area and only fly from Stewart in Newburgh or White Plains because they are closer to home and take less time to get to the airport, the parking is cheaper and no expensive road tolls to pay to get there. Flights from JFK or LaGuardia typically are little cheaper, but when you sum up the time, parking, tolls, the other airports are not just more convenient but also cost effective.
4. Leave enough time for connecting flights.
Avoid connecting flights if you can — during the holidays and otherwise. Every additional flight increases the chances of something going wrong. If a connection can't be avoided, be sure to allow plenty of time to make your connection and build in extra time in case your first flight is delayed. With planes flying at near capacity over the holidays, it could be a very long time before the airline is able to find you an available seat on another flight.
5. Don't over pack.
Nearly every major airline charges $25 for the first checked bag and $35 for the second. If each member of a family of four checks two bags, that's an additional $240 round-trip. Travelocity advices to carry on only and save yourself money, but I recommend checking in a large bag and packing it jointly with other family members because you also don't want to over pack for carry on and especially on smaller planes they might check it in anyways at the gate.
6. Don't put important items in checked baggage.
If you must check bags (see No. 5), be sure you don't pack away items like medication, a cell phone charger and anything else you can't live without. Once you check that bag you're not going to see it again until you arrive at your destination, no matter how delayed your flight may be.
7. Check in online before flight.
Every major airline allows passengers to check in online up to 24 hours before the flight and print boarding passes, pre-pay for checked baggage and more. This is a huge time saver at the airport and means skipping the check-in line and heading straight to security with boarding pass in hand.
8. Show up early at airport and leave enough time to get through security.
Airlines, airports and the Transportation Security Administration (TSA) will be staffed up to deal with holiday crowds, but expect security lines to be longer than usual. Leave one hour from the time you arrive at the security to get to your gate. Even if you are an expert traveler remember that Holiday time is often the time when the casual travelers travel the most. Many airports have casual, expert and family traveler lanes; choose the one that best describes you so you and your fellow travelers have as easy a trip through security as possible.
9. Know the latest TSA rules.
You have to take off your shoes at security at most airports. Everyone must follow the 3-1-1 rule and take laptops out of their bags and put them through the metal detector in its own bin. Outerwear must be removed before walking though the metal detector. Don't be the one who holds up the line – know the rules. For more information, visit TSA.gov.
10. Take advantage of cheap hotels.
Of course you love your family. You probably love your in-laws even more, right? But wouldn't these holiday visits be even a little sweeter with a little privacy? Consider checking into a nearby hotel instead of sleeping on the sofa — hotel deals (with the exception of properties in resort areas) are plentiful during the holiday season.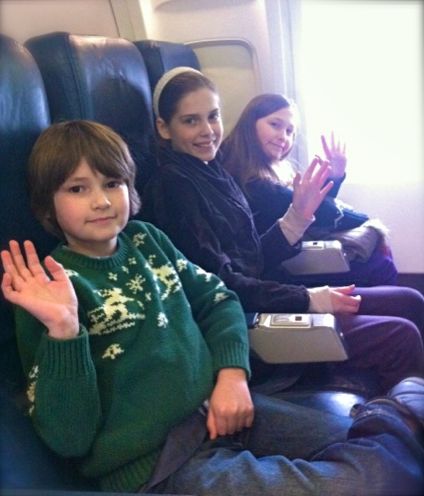 These tips were provided by
Travelocity
and fully agreed by me! Be prepared for a fun Holiday trip and start booking and planning today!