Smiling is more important than you think of
, and what would make a prettier smile than white teeth, right? There are so many ways to go about whitening your teeth nowadays, but most of them either take a long time or are very expensive.
Crest 3D White 2-Hour Express Whitestrips
is an easy application, takes only 2 hours and costs only $55.99 for applications for an entire year!
Now if teeth whitening is this inexpensive and easy – what would you whiten for?
SuZ Besecker of Not Your Typical Mommy
took the Crest 3D White 2-Hour Express Whitestrips for a test drive and here is what she has to say about them. BEFORE PICTURE: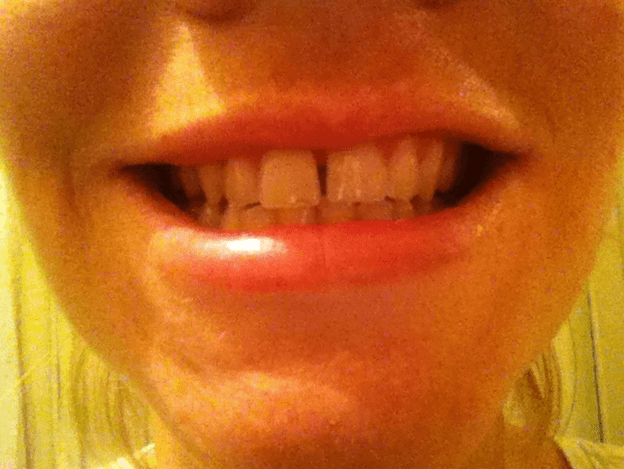 Okay, so I'm not going to lie… I am kinda ashamed of my teeth. Not their shape or the tiny gap that I have in between my front two teeth, nope, it's the color. I was a smoker for many years and then when I quit I started drinking numerous sodas every day. Not exactly healthy habits for my body or my teeth. My poor teeth aren't exactly the whitest. I've tried using the white strips before to whiten my teeth, but didn't like having to spend hours wearing those tiny slimy strips on my teeth (which made me slur my words). Because of the amount of time you were required to wear them, I never stuck with them and was stuck with dingy teeth. Crest recently came out with their newest Whitestrips, the 3D 2 hour expressway Whitestrips with Advanced Seal that offer whitening without the wait. They guarantee that you will have "noticeably whiter teeth in two hours."
I thought, why not. I have two hours to spare.
So I read all the directions, slipped them on and went about my business. As long as you apply the strips firmly on your teeth, you really won't run into any problems. Two hours later (I spent my two hours watching television, if you were wondering), I peeled off the strips and grinned in the mirror. Now, to be honest I didn't really see a difference (maybe the lighting in my bathroom?) but my husband swore he could see a difference. While not a drastic difference, but still a difference. After spending 45 minutes examining my teeth in a mirror in a different room, I finally agreed that he was correct. I could see a difference! AFTER PICTURE:
I was ecstatic. I finally had whiter teeth! And it only took two hours. I loved that it was a very minimal process, didn't take forever and gave me results. Each Crest 3D Whitestrips kit comes with four whitening treatments that states that the whiteninhg last 3 months. Essentially a kit will last you a whole year.
Guest post by SuZ Besecker of Not Your Typical Mommy.
SuZ looks happy with her whiter new smile, what would you whiten your teeth for?
Disclosure: This is a sponsored post as part of the Crest 3D White 2 Hour Express Whitestrips campaign with One2One Network, and SuZ received the kit for free.