I was tasked to review four winter jackets for kids and compare them to form a view of some of the best winter jackets out there for kids. I was sent four coats, and I don't know which one of these brands is behind this effort to get real opinions of all them. I enlisted the entire Skimbaco kids crew with me, and all of the three children tested every jacket and told their opinions of each coat. The weather is still fairly warm in New York, so unfortunately we can't tell yet which coat will actually be the warmest when the cold weather hits. The coats run between $88 and $138 and when I asked my kids to put the coats in the preferred order without knowing what the others said, two of my kids said the exact same order and it also happens to be the order from the highest price to the lowest price, which doesn't surprise me, they have their mother's expensive taste, even on a blind test. Or in this case – seems like they truly spotted that the best quality also comes with the highest price tag.
However – while they all agreed the most expensive coat, the J. Crew Journeyer Parka was nicest, the biggest fight was about the Lands' End jacket though – from the practical point of view and from the price point view to give the best value it was a clear winner.
J.CREW BOY'S JOURNEYER PARKA
MAKE/STYLE & PRICE:
J. Crew Boy's journeyer parka
$138
SIZE:
We got the jacket in size 10, and it's pretty true to it's size.
THEY SAY:
Inspired by a vintage military jacket. Filled it with super-lofty down, a hood with removable faux-fur trim. A chill-proof storm flap and deep patch pockets. "This belongs to" interior name tag. Hidden zip with button closure. Elastic at cuffs. Fully lined. Hits at midthigh.
WE SAY:
Pros:
Overall the favorite jacket, we all loved the color and the double-pockets, and it seems super warm, comfortable and very stylish. It's also a perfect "Sunday coat" for cold days, a better coat to wear for the city strolls, and as the "better winter coat", or après-ski coat. Kids loved the real buttons and the look that they gave for this coat, and so do I. It was the most comfortable to wear and felt super soft to kids. The best overall quality of how the jacket was made.
Cons:
No iPod pocket inside, and while I don't think it really matters from functional point of view, but it took away some coolness points in the eyes of the kids. It's also almost a little bit "too nice" to be worn outside to play, even though I'm sure it's plenty warm.
Isabella: (age 11)
Warm, fashionable, double pockets are awesome and the fur is so soft. This is my #1 pick!
Gaby: (age 9)
I really want it. The buttons are cute and I like the bright orange color and I love how it's so fluffy. This is my #2 pick.
Kris: (age 8)
this is really comfortable and fluffy. It feels like you have no weight on you, it just feels very nice and I like the double-pockets. I'd wear this basically to anywhere and I would recommend it to anybody. It's my favorite. This is my #1 pick!
Mom:
I would definitely buy this down jacket as a mix of an everyday school jacket and as something to wear when I want kids to look a little dressed up on a super cold day. I would also take it to ski trips as a travel jacket due to it's light-weight, and it could double as a backup ski jacket if really needed. Looking at the quality I think the price is spot on, and I would feel it's worth it, it's around the price range I typically buy children's winter jackets. Of course I wouldn't know it until a few years if it truly was worth the money, because we usually give clothes this price range as hand-me-downs to younger siblings or cousins and expect them to last for several years. This is my #1 pick.
LANDS' END BOYS' EXPEDITION PARKA
MAKE/STYLE & PRICE:
Land's End Boys' Expedition Parka
$129.50 now on sale $90
SIZE:
We got it in 10-12 in blue, and it seems to run the smallest to the size, but it has expendable sleeves.
THEY SAY:
TEMPERATURE RATING: WARMEST -20°/15° Fahrenheit. learn more Waterproof, windproof, 3-ply nylon shell, with DriOff™ finish Exceptionally warm 600 fill power down insulation, nature's warmest Grow-A-Long® sleeves extend up to 1.5 inches to fit them as they grow SnowGuard wrist cuffs: an interior sleeve extension lets them slip their thumb through the cuff, keeping out cold and snow EZ-Zip Tab makes zipping themselves up easier Reflective zipper pulls and logo in back for visibility
WE SAY:
Pros:
The Lands' End coat was a kid favorite for comfort, practicality and details. The price makes this jacket the best overall value for $129.50. The pockets and reflectors are nice added details and took the jacket above the others.
Cons:
No iPod pocket inside, and I personally don't like the exterior material as much as in the J. Crew and the L.L.Bean jacket. One of the kids found the wrist warmers uncomfortable.
Kris:
I like the best that the jacket is blue, and I like the fur that's about it. It feels too light and I don't think it's warm enough. The hand things feel uncomfortable, but I'd like to wear it to school. I like how it has yellow and silver zippers. This is my #2 pick.
Gaby:
I like the color too and I like the thumb things, they feel perfect and comfortable to me. I could even use it for skiing, and playing in snow. This is my #1 pick.
Isabella:
It feels so light, and I like the double pockets, and I like the thumb things, but they are a little too tight. The yellow accents look cool. This is my #2 pick.
Mom:
I'd buy this jacket for snow play and for school but it doesn't look as nice to me to be worn as a "better jacket" to for après-ski or when going to somewhere special. For the overall usage it's the best value and since kids like it, I would buy this jacket. This is my #3 pick.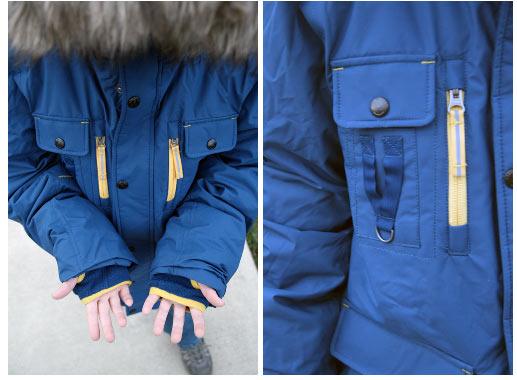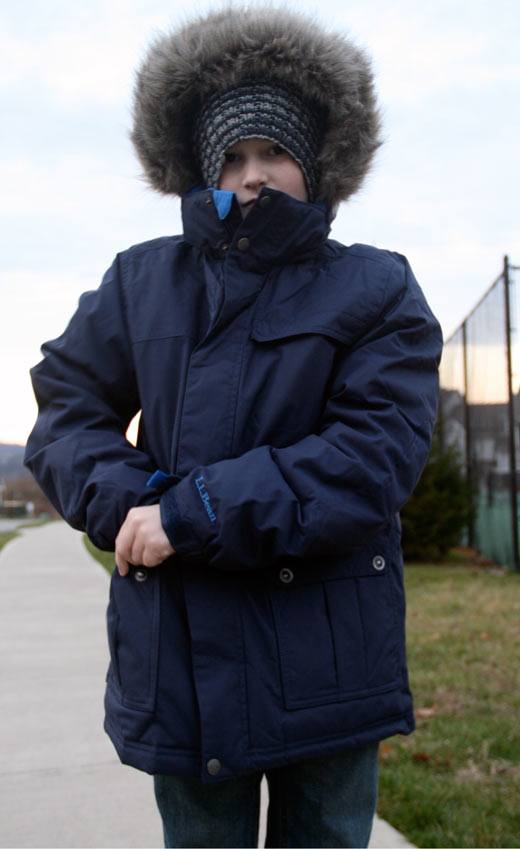 L.L.BEAN BAXTER STATE PARKA
MAKE/STYLE & PRICE:
L.L. Bean Baxter State Parka
$109
SIZE:
We got the parka in navy blue in size 10-12 and it was the biggest jacket in the size and probably runs a little bit.
THEY SAY:
Packed with 650-fill-power down for exceptional warmth. Water- and wind-resistant nylon shell is extra rugged for winter's worst elements. Fully insulated hood blocks extreme cold and zips off when not needed. Storm flaps and snaps seal out drafts. Velcro®-closure elastic cuffs and internal fleece cuffs keep snow out and lock in warmth. Detachable hood is fully insulated and has a removable faux-fur ruff. Adjustable waist. Zip chest pocket, snap patch pockets and inside stuff pocket for gear. D-ring ski-pass holder at hem. 3M™ Scotchlite™ Reflective Material back triangle.
WE SAY:
Pros:
The adjustable cuffs and the adjustable waist and the thick material makes this feel the warmest of the all coats. The iPod pocket inside was nice added feature. The best winter quality for snow play use and to keep the kid warm.
Cons:
This jacket got very mixed reviews and none of the kids picked it as their favorite.
Kris:
It's comfy, and I like all of the pockets, and I like it because it's more like a ski jacket than the others and it makes me want to ski and play in the school. This is my #3 pick.
Gaby:
I don't like this jacket, it feels weird. It feels too light and I don't have jackets this light, almost like it wouldn't be warm enough. This is my #4 pick.
Isabella:
I like the squeezing things inside to make it tighter (adjustable waist) and like the iPod pocket and I like the velcro in the sleeves. But it's not as comfortable as the others. This is my #3 pick.
Mom:
I love the thick exterior fabric and the feel of it, it feels the most durable and the warmest and to me this seems the highest quality if I'm looking to buy one winter coat. This would be my #1 pick for snowplay for kids and it would also work as après-ski and multi-function jacket, it looks a little bit nicer than the Lands' End jacket. If I didn't ask the kids, this would be my #2 pick. I'd pick this over the Lands' End jacket, but since kids like that one better, I'd probably buy that one instead.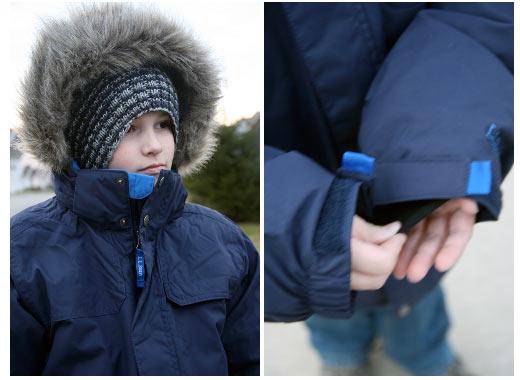 GAP WARMEST PARKA
MAKE/STYLE & PRICE:
GAP Warmest Parka
$88
SIZE:
We got the jacket in grey in size 10 and it felt the smallest to the size.
THEY SAY:
Water resistant. Long sleeves with storm cuffs. Removable faux-fur trim at hood. Slant pockets at chest, snap-flap patch pockets at hip. Interior pockets. Zip front. Storm guard. Fully lined.
WE SAY:
Pros:
iPod pocket inside added coolness value. The cheapest. The lowest overall quality.
Cons:
The hood is too heavy, but it helps if you remove the fur. Not comfortable.
Kris:
I really like the pocket inside for iPod. I don't like the hood on this one. I don't want this jacket. This is my #4 pick.
Gaby:
The orange inside looks great and I like the pockets inside too, I could put my iPod in here. This is my #3 pick.
Isabella:
If you are not wearing the hood, it feels too heavy, almost like the hood is weighing you down. This is my #4 pick.
Mom:
The outer material doesn't seem as strong as the Lands' End and L.L.Bean jackets have and it feels a little too plain, and looks cheap. It is the lowest price as well, but actually for the feel and the look of the jacket it feels a little too expensive for $88 and I wouldn't buy it, especially because kids didn't even find it comfortable. This is the only jacket of all four that none of us would buy. This is my #4 pick.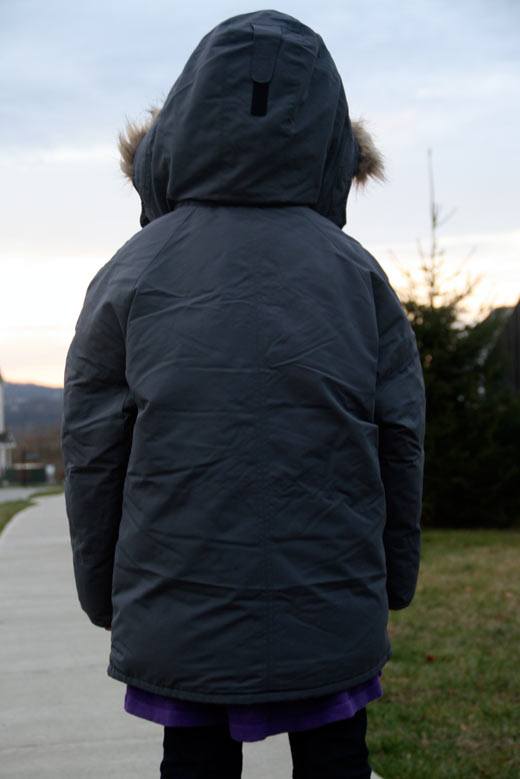 Disclosure: The Quality Coat Review was a blind review. In order to give my unbiased opinions, I am unaware of the company that sponsored the effort. While the opinions are my own, I am being compensated through MomDot for my time.