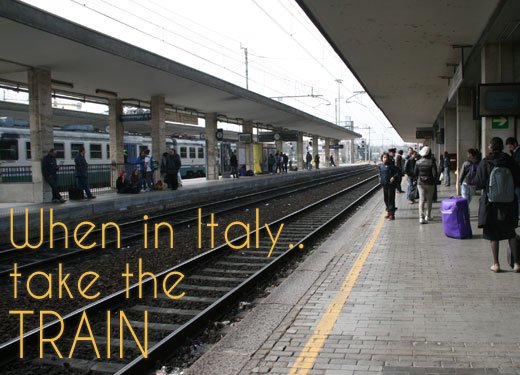 We are combining backpacking and traveling by train, and renting a car and driving around Tuscany on our trip to Italy. We started by testing the train system and we give train travel in Italy two thumbs up. Looking forward doing more
traveling in Europe
by train after this positive experience.
Train from Bergamo to Venice
We couldn't believe our luck when we realized that the European cheap airline
Ryanair
flies out of an airport only an hour from our new home in Sweden, and they have several flights to Italy (and they are adding more routes to Italy this spring, including to Venice). We flew to Bergamo airport close to Milan, but we decided not to adventure in Milan with three children, and headed to Venice already on our first day in Italy. It was very easy to find a city bus to take us from the Bergamo airport to the train station in Bergamo, the bus ride took about 15 minutes and cost 2 euros each.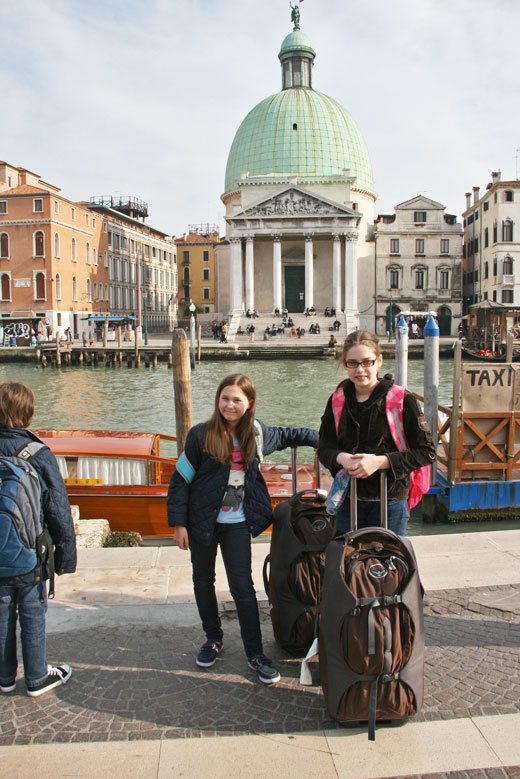 The view is pretty spectacular once you arrive at the Venice train station.. and yes, that's all the luggage for family of five for two weeks.
Italy is the most popular country to travel by train in Europe
We had bought our train tickets to Venice already online, and I highly recommend doing so. Eurail Group G.I.E., the organization marketing the
Eurail
pass products just announced that the Eurail Italy Pass is the second most popular Eurail pass sold in 2011, indicating that Italy remains one of the most appealing European countries to visit for passengers traveling by rail. We are traveling in March, and most of the trains were full, and I wouldn't trust my luck to get tickets on the day of a travel anymore, especially if you are traveling with a larger group/family and during the high season.
NOTE:
Even if you reserve and pay your train tickets online, you have to use an automated Fast Pass kiosk at the train station to get the actual ticket for the train. It is very easy to do, and it took my husband only a minute or so to figure it out. There are plenty of the kiosks at the train stations, you can't miss them.
The Italian Trains Are Impressive
Italy has an impressive high-speed train system connecting Italy from North to South, and I understand why it is so popular. The fleet of Frecciarossa trains makes the non-stop connection between Rome and Milan possible in just 2h 59m – a trip that would take by car for 6 hours. Trenitalia has several different types of trains, and it might take a bit to understand how the system works, the most popular fast trains are the Frecciarossa (Red Arrow) and Frecciargento (Silver Arrow), which are known as the Italian "arrows," connecting the whole of Italy. Basically the difference in the trains are the speed and price – the faster the more expensive. The fastest trains also are the newest and with most services on board. On board facilities on the Frecciarossa fleet include features such as: 20% more legroom than on average airlines, sound proofed and air conditioned coaches, room for luggage, electrical sockets, information displays in each coach and WI-FI internet access. We had no difficulties finding the correct trains and the correct platforms where they left, and in some stations the announcements were also in English, and all the stations had very modern displays making it easy.
Train travel with kids
Trenitalia offers a
family discount
for train travel. Families of 2 to 5 persons (at least 1 is an adult and 1 is a child of less than 12) 50% off (30% for couchettes and Wagon Lit) for children under 12 and 20% off for the other persons. If you are traveling with smaller children and have a stroller, be aware that you might have to carry your stroller. I didn't see elevators or wheelchair ramps, and remember thinking how difficult traveling could have been with a stroller. Maybe they existed, but the elevators were not very easy to see/find. For the same reason we were happy we had backpacks and two wheeled bags that turn into backpacks when needed. The larger train stations like Bologna, Venice and Florence weren't the problem – it was the smaller stations that had stairs to get to the platforms and we had to carry our luggage. On trains you can reserve four seats together facing each others with a small table in the middle – kids especially loved this because they were able to play cards the entire train ride. One warning about the train stations… the public restrooms were not the most convenient and cleanest ones, and we avoided using them the most of our trip. Always good idea in Italy: carry some tissue paper with you. Oh, and in fact the restrooms in the trains were better than in the stations. As I am writing this we are arriving to our next destination, Lucca, where we will rent a car to explore Tuscany by car. I'll let you know how that goes… and if we are tempted to return the rental car and continue exploring Italy conveniently by train!