Join us this week and share how you live a little! Come and share your ideas how to enjoy life one small step at the time on our Facebook page
facebook.com/skimbaco
or write a post and add it to our Linky below. We also have collected some great ideas on a
Live a Little Pinterest board
, hope you follow us there and please share your ideas on Pinterest and Twitter with #LiveaLittle.
Live a little: Run for Fun
Today I'm encouraging you to
run for fun
. Run because you are so excited, run because you want the quick adrenalin rush of getting your pulse up. I salute you if you actually run-
run
. Meaning that you run for distance, for a workout and for 5Ks and marathons. But today I am not talking about that kind of running. I'm talking about the type of running kids do. When I was a little girl and my grandmother lived next door, I never walked to her house. I always ran. I didn't even realize it until I was already an adult and visiting my parents and when I stepped outside their house to walk to the grandmother's house (my aunt built a new house and lives there now), I automatically started running out of an old habit. This last time though I noticed the urge to run was gone, and I shrugged and thought to myself "I'm too old to run." But that thought for some reason stayed with me, and I started thinking,
really, am I really too old to run out of joy?
I also realized that I say more often to my kids
"don't run, walk"
than
"run, kids, run!"
Being protective is good, but I realized I have to say kids more "run" so they will never lose that free running spirit. And I started saying more "run." When we were in Italy, kids were running after the pigeons at the Piazza San Marco, and had the time of their lives. When we got our new home and yard, I encourage kids to run back and worth the backyard. Every day when we walk back from school my son wants to run to the house the last 300 yards of our street to be the first one at the house and to open the door for everyone. Sometimes girls join him and run too, but the first two weeks I walked behind. Last week when my son asked "mommy, can I run home now," I surprised him (and myself) by saying "I'll race you" and started running. We barely could run because we were laughing so much. And I felt younger than I had for while. So yeah, I'm now the crazy new neighbor running in her trench coat, racing kids down the street.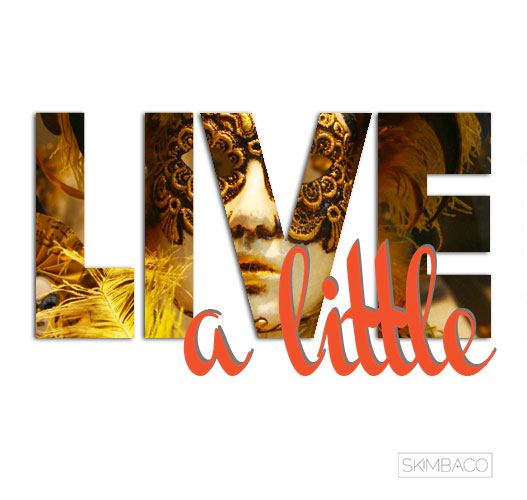 Live a Little
Participate to Live a Little
Participate to Live a Little blog hop! Write a blog post how you "live a little," what's your small way of living life to the fullest and add your blog post to the InLinkz widget above. Rules: Link either to Skimbacolifestyle.com, OR
get the InLinkz code
for your post – or do both!- and we will promote your post also via Twitter and Pinterest. If you post the widget in your blog post, please add the rules as well. You can also find
Live a Little banners here
, and use them in your Live a Little blog posts.