Welcome to Holiday Headquarters! I'm joining with several other bloggers with a series of posts of spring and summer holidays and giving you tips how to celebrate them.
Pamper Mom with Food
Whether it's breakfast in bed, or Mother's Day brunch, there is nothing like pampering mom with great food. And better yet when it's made with love. I'm sharing with you a pear and goat cheese tart recipe which I developed and baked for my mother when she visited us the first time here in Sweden. It's easy to make – usually my 9-year old son can makes it with me, but kids might not like it for the goat cheese flavor. I think this would make a perfect tart for Mother's Day brunch, and it's easy to take along for large family potlucks.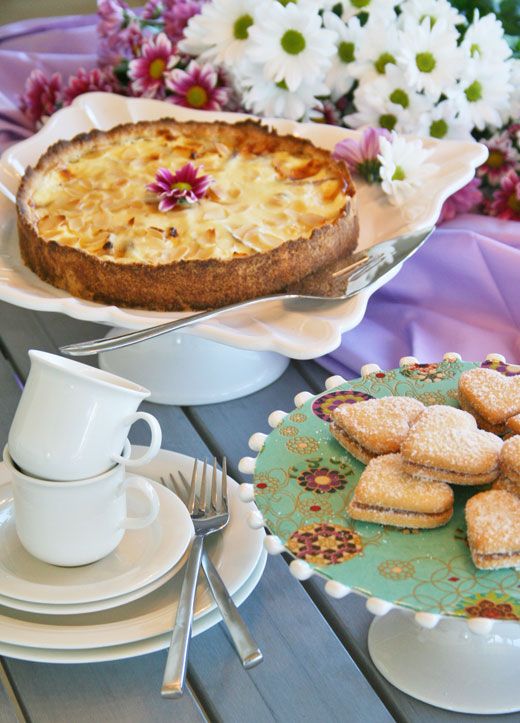 I created this pear and goat cheese tart from ingredients I had on hand and it has become one of my favorite tarts. The best: by adjusting the crust recipe you can make it more savory or sweet depending when you want to serve it. It's equally good with either crust; with a typical quiche crust or with sweet pie or tart crust. You can also add the cheese first and then the pears and then top it with brown sugar coated pecans, but can you believe I couldn't find pecans from the grocery store, so almonds it is this time, and they are equally good. I also liked hiding the pears inside the tart! I use
Le Brie de Chèvre, goat milk brie
for the recipe instead of goat cheese, it gives it nice flavor, but not too strong. If mom truly loves goat cheese, I recommend the Pear & Brie de Chèvre Tart with the
Spinach Goat Cheese & Beet Salad
and pairing it with Gewurztraminer white wine, for example
Castoro Cellars 2010 Paso Robles Gewürztraminer
. But if that goes too sweet – chardonnay works just fine, like my favorite inexpensive chardonnay, the Kendall Jackson Chardonnay Vintner's Reserve.
Pear & Brie de Chevre Tart Recipe
Ingredients needed for the Pear & Brie de Chèvre (goat milk Brie) Tart:
CRUST
1 stick of butter, softened 1/3 cup sugar 1 cup flour
FILLING
1/3 cup Crème fraîche (or sour cream) 2/3 cups natural Greek yoghurt (strained if needed) 1 egg 4 fresh pears, sliced 1/3 cup sliced almonds 1/2 cup goat cheese, cut in small chunks 1. Heat oven to oven to 425°F 2. Beat butter and 1/3 cup sugar with mixer. Add flour, mix well. Press onto bottom and 1 1/2 inch up side of 9-inch springform pan. 3. I don't peel the pears, but you can, and then slice the pears, and arrange them in the pan. 4. Cut the goat milk brie in small cubes and arrange on the top of the pears. 5. Mix yoghurt and Crème fraîche and mix in the egg as well. Pour over the pears and brie. 6. Top it with almonds. 7. Bake 10 minutes in 425F. Add a parchment paper on the top to prevent the cheese burning on the top. Reduce temperature to 375°F and continue baking for additional 20-25 min until center is set. 8. Run knife around rim of pan to loosen the tart. Remove rim and carefully move it to a serving platter. Serve warm. You can serve this also cold, but I like it warm – gasp – even microwaved the next day.
Holiday Headquarters
Read more about Mother's Day decorating, recipes and more on the other Holiday Headquarters blog posts, and for even more ideas on Mother's Day join us on Twitter using #HolidayHQ.
Please join us for a live chat on Twitter tonight at 8pm EST
. Just follow #HolidayHQ and join in, we'll also be giving away a Blender and Ice Cream Maker from Hamilton Beach.