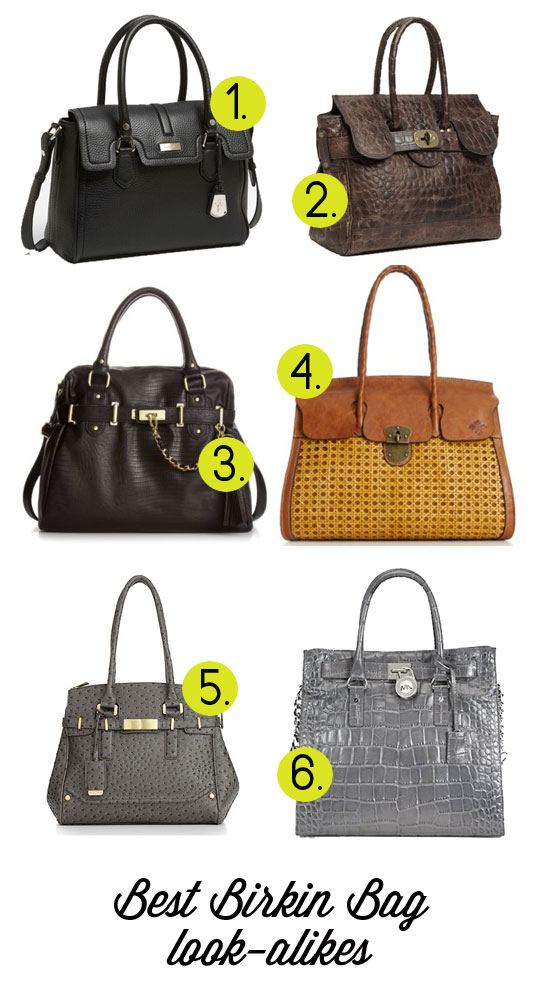 Best Birkin Bag Look-Alikes Under $400 Are you looking for an alternative for Birkin bag? Because let's face it, the price tag isn't really as appealing as the look is. Here are some great bags that look like the Birkin bag, but come with much cheaper price tag. In fact only one of these bags is over 300 bucks and the rest of them are less, starting from $98. Nothing really replaces the authentic Birkin bag, but here are some bag alternatives for those of us who would rather spend that money to a fun trip than a bag!

1. Cole Haan 'Brooke Village – Small' Satchel ($298) 2. Liebeskind 'Gloria' Croc Embossed Satchel ($279) 3. Steve Madden Handbag, Bnancy Satchel ($98) 4. Patricia Nash Handbag, Rodano Satchel ($248) 5. Ivanka Trump Handbag, Victoria Top Handle Satchel ($150) 6. MICHAEL Michael Kors Hamilton Large North bag ($398)

Post by Katja Presnal "My mission is to inspire you to live life to the fullest and find your own "skimbaco," how you enjoy life where ever you are in the moment. For ideas for travel, home, food and fashion, subscribe to weekly Skimbaco Lifestyle feed on Mondays and I hope you get my newsletter that I send out sometimes on Fridays." Katja Presnal, editor-in-chief and the owner of Skimbaco Lifestyle. Let's connect! Visit Skimbaco Lifestyle (Skimbacolifestyle.com)'s profile on Pinterest.