Enter the Scandinavian State of Mind
Welcome to Holiday Headquarters and my
Scandinavian Summer feature at Skimbaco Lifestyle
! Holiday Headquarters is a collaboration between several lifestyle, decorating and party experts and we are happy to participate in this summer party special today. I'm inviting you over for "fika in the backyard" –
fika
is a Swedish word for a coffee break. Get some coffee, sit back and learn how to host a summer party the Scandinavian way. Make sure to
subscribe to our feed
to get more ideas like this delivered to you.
SCANDINAVIAN DECORATING: BOLD CONTRASTS
Skimbaco Lifestyle is all about
Scandinavian-inspired
living, and many of the ideas that actually come from Scandinavian home decorating apply to other aspects in life too – or other way around. Same way as using what you have in home decorating applies to life – make the best with what you already have. Combining traditional with modern is also an important aspect of Scandinavian lifestyle – and home decorating. There are hundreds of years of heritage and history that still is seen in everyday living in Sweden, Finland, Denmark and Norway, yet Scandinavia is the mecca for modern design and modern technology. Strong contrasts can be seen everywhere, from weather to design: cold dark winters veiled with white snow contrast with warm colorful summers with never ending sunshine letting the gardens bloom in bold colors, and all of this inspires art and design.
Scandinavian decorating style has always included combining very rustic elements and natural materials with sleek modern design, and it is trendier than ever – everywhere in the world.
SUMMER IN SCANDINAVIA
Summer is short in the Nordic countries, and when sun shines in Scandinavia, everybody goes outside. People leave the work a few minutes early, and the shirts come off no matter the age, sex or body type. I just witnessed my over 70-year-old neighbor across the river to go dipping in the river on a hot day just wearing her granny panties. Talk about
swimsuitless confidence!
While skinny-dipping may not be for you, there is something to learn about it:
enjoy simple pleasures in life, no matter what others think.
When sun shines – enjoy it like it's going to be snowing tomorrow. (Here in Sweden, it just might.)
KEEP DECORATING SIMPLE
When it comes to summer entertaining the Scandinavian way, there is one word that describes it better than anything else: EASY. Since you want to spend most of your time outside enjoying the summer, the party decorating and cooking is all very simple. Use what you have, make crafts like the
soup can vases
, which you can even make outdoors, pick flowers from your own garden or from a nature walk, and enjoy fresh fruit and vegetables straight from garden or farmer's market in your menu – the point is: enjoy the process of creating the party as much as hosting it.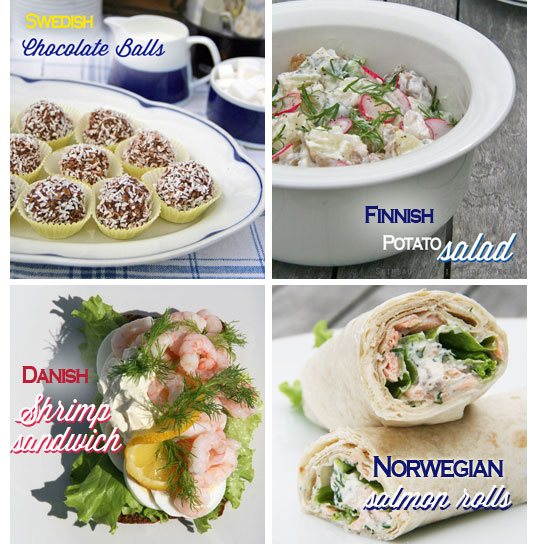 SCANDINAVIAN SUMMER FOOD
Create a menu that you can make ahead of the time – or whip up quickly by the BBQ grill. Enlist kids to help and make it a family effort. My daughter's specialty is
Swedish chocolate balls
, and my 9-year old son knows how to make
Finnish summer berry pie
and loves it with blueberries. The night before the party I boil extra potatoes and throw a huge salmon file on the grill and enjoy the night with my family (this makes a great party dinner menu too – if you are having a dinner party). The next day I make a
potato salad with radishes
, and salmon wraps (recipe coming this summer) for the party. Easy, since the cooking was already done. And while Scandinavian summers are more than pickeled herring, typically there is some sort of seafood in Scandinavian parties. Try the easy
Danish Smorrebrod, an open shrimp sandwich
, make it smaller as an appetizer, or larger for lunch menus. Taste of Scandinavia – and super easy.
NATURAL, RUSTIC, SUSTAINABLE
One key element to Scandinavian lifestyle is sustainable living. When it comes to decorating this means upcycling old things to something new, using flea market finds, and purchasing quality that lasts for years to come. And above anything else: avoiding waste by any cause. That also means avoiding paper plates, anything disposable, using the cheap dollar store decorating items that you can only use once. I cheat on one thing – sometimes I use paper napkins, like I did in our "Fika Party in the Yard". The mix match flea market plates look great as a collection and when you match them with simple modern dinnerware – it all sort of goes together very well.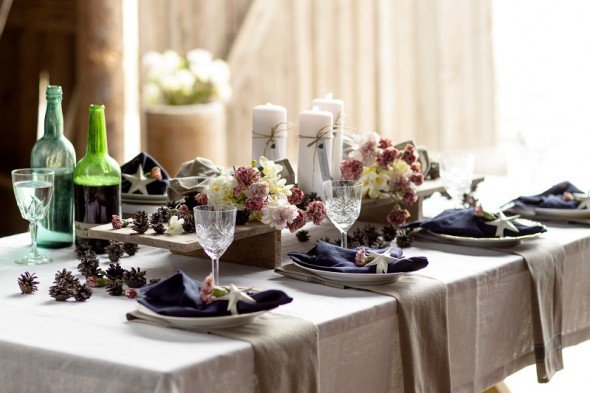 Use natural materials like linen and cotton, when it comes to picking the textiles. I used vintage kitchen towels as a table runner, and get the details how to recreate this above
rustic dinner party
and read the tips from a Scandinavian interior design store owner.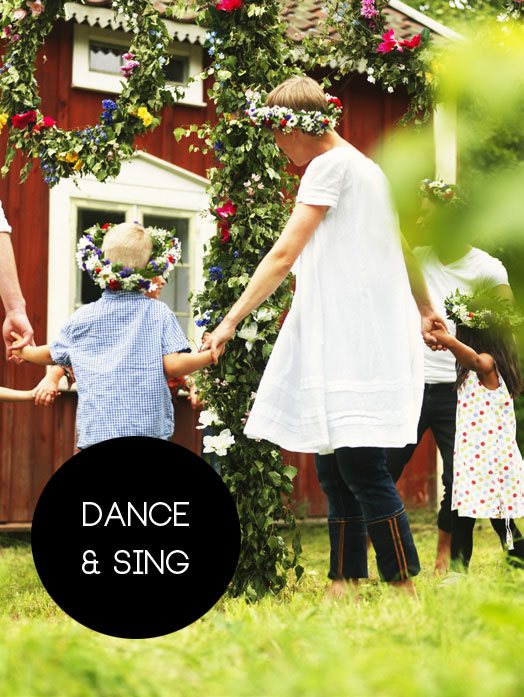 DANCE & SING… AND DRINK
I told you that traditions play a big role in Nordic countries. Well, singing and dancing is part of that, and when summer comes – the somewhat reserved Nordic people start singing and dancing. Often fueled a little with vodka, beer or wine, or all of it. And often outdoors where there is space to dance, and the singing echos in the lakes. Swedish have drinking songs that are not just for college students, but what they sing even during fancier dinner parties. It's normal to sing and then drink, Swedes prefer Aquavit, and Finns drink vodka. While singing songs in the dinner table or around a pole decorated with flowers in the yard might not be for you – why not add a backyard karaoke and add some funky music to your party and get people dancing (don't forget adding ABBA to the playlist!).
PHOTOS: Katja Presnal, Werannas Warehouse (rustic boathouse), IKEA (sing & dance)