Live a little.. savor the last days of summer
Kids are going back to school, some of us are crying of sadness, some of us are having joyful tears. Either way, while it may seem that way – summer isn't over yet. We have stayed home the past 6 weeks, and it's very unusual for us not to travel for that long of a period overall, but especially not during summer, and I feel like we wasted some optimal travel opportunities. Yet I am happy. We have savored this summer, lived the ultimate staycation and enjoyed the very best of our backyard, and gotten to know our region in Sweden better. We will only stay here for 2,5 more years, and I don't want to leave feeling we didn't experience Sweden enough. You may not be moving anywhere anytime soon, but the season will change, that's for sure. Take my advice and enjoy summer to the last day of it. So many great ways to live a little and enjoy summer. Which one is your favorite?
There is nothing like eating outside during summer. If hosting a BBQ party just seems too much work.. it's OK. Take it easy; live a little and enjoy eating outdoors, and hosting a get-together in a smaller way. Have friends over for
coffee in the garden
.
If you live in the South and coffee in the garden is more like.. a winter thing for you, invite friends over for smoothies or ice cream on the back yard.
The tropical dream vacation didn't happen this summer? So what, get yourself to the nearest beach, on a lake or a pond, whatever, and get your feet in the sand. You cant help but feel relaxed and feel the summer.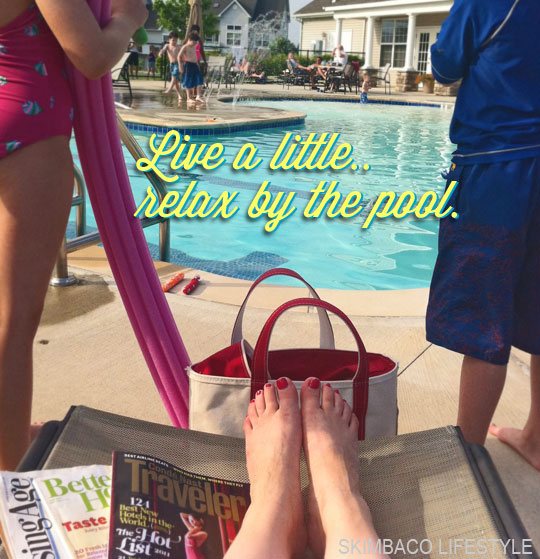 No beach? Go to the pool, stat. Relax by the pool, and get refreshed in the water. Hurry, especially if you live in the North and the pool closing is already looming.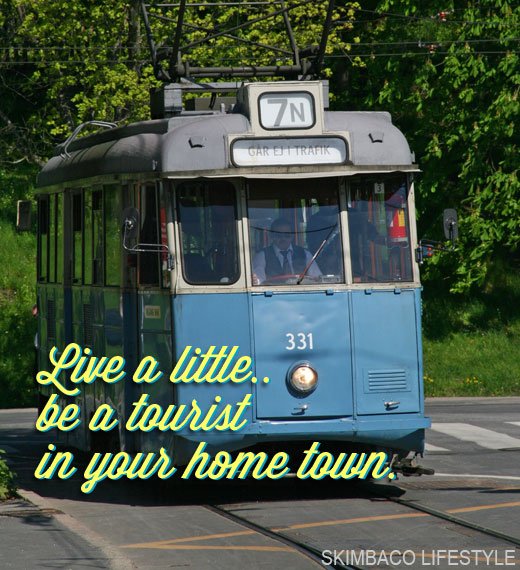 Like said.. we have loved our staycation, and visiting places like
Old Linköping
, but I get that you think it's different because we just moved here.. but it's not. The last time we lived in New York, we were there for 3 years, and my biggest regret is that we didn't do eno0ugh local things. Read your local newspaper, it doesn't matter how long you have lived there, there is something new you haven't experienced yet. Give it a try.
Live a Little
Join us!
Participate to Live a Little blog hop! Write a blog post how you "live a little," what's your small way of living life to the fullest and add your blog post to the InLinkz widget above. Rules: Link either to Skimbacolifestyle.com, OR
get the InLinkz code
for your post – or do both! If you post the widget in your blog post, please add these rules as well. This week's topic: savor summer. Next week's topic: educate (yourself or others).