James Bond Skyfall Moview Review
(Be warned: This James Bond Skyfall review comes with spoilers!)
News alert: I saw the
newest James Bond movie Skyfall
this weekend on a date with my husband. Now, seeing James Bond before the US premiere of November 9th is sort of newsworthy, right? For me personally being on a date with my husband was even a bigger deal, we don't get to do it often. Get out your babysitter's number, and make sure she will circle November 9th for your house, because Skyfall is a date-worthy movie if any. Skyfall opened in several countries in Europe this weekend, and was the most seen movie in 25 countries this weekend, and it has critics raving and fans disappointed equally. The bottom line: it's probably not the best Bond ever like some like to call it, but it's a heck of an action movie, but perhaps a little darker than what we would expect James Bond to be.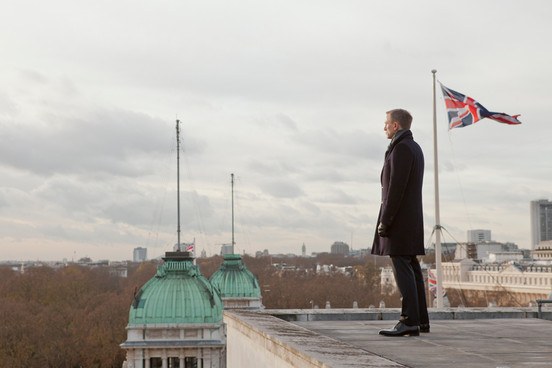 The movie starts as James Bond, played by the brilliant Daniel Craig, is shot and falls down from a bridge to water and dies. No, wait, against all odds he didn't die, and without any explanation how, he survived. He just didn't report back to London until the headquarters of MI-6 is being attacked and M, played by talented Judi Dench, is the target. It is left unknown why Bond didn't report back immediately, and it's also questioned by some why he even returned; announced death would have been a perfect exit of being an agent. The loyalty to M and the country brings James Bond back, but it's M's loyalty to Bond, or her desperation of finding the attacker that brings Bond back to the field.
I have always seen Bond as untouchable, mysterious and with a hint of charming humor on the side. Skyfall as a movie lacks humor, unless you are like me and count introducing the new Q and his geeky humor funny. Skyfall also reveals some of the mystery behind Bond, and Skyfall in fact is the name of his home in Scotland, where the movie's grand finale happens. It is a deeper look into Bond's character and much darker than your typical James Bond movie.
Javier Bardem gives an amazing performance as a scary former MI-6 agent Raoul Silva who is behind the evil plan to destroy M. His dark character brings darkness to the movie, and this time the Bond girl Sévérine, played by
Bérénice Marlohe
needs saving from the villain.
Skyfall included the jetsetting around the world in the beginning of the movie, just to get Bond sipping a martini and to get the girl, but it is mainly set in London and Scotland and has a strong British vibe. Interestingly one of the underlying themes of the movie is
appreciating the way things were done in the old days
, and that sometimes the old ways of doing things are the best. The message suits well to the 50-year-old Bond. Skyfall in movie theatres in Europe now, and in the US on November 9th.
Check out what else is
trending right now
and
subscribe to our weekly newsletter
.