After returning from our
recent trip to Ireland
, I scrolled through the photos on my computer and my thoughts drifted back to our vacation. For a weekend
we lived almost like royals
in the Durrow Castle to celebrate a friend's wedding. After, we traversed the country in a borrowed camper van, landed in the west of Ireland and then we kind of got stuck. We had provisional plans to do a lot. Quick trip to Aran Islands, day in Westport and bike ride through the rolling hills of Connemara were all scheduled in for the few days we had there, but instead we stayed with friends, took small day trips in the near vicinity of their house and took our time to relax and enjoy. I realized we do this quite often. We
travel slow
and take our time. We let our plans change when something more suitable comes along and make the most of our vacation, without the stress of seeing absolutely everything in the guide book and taking pictures of every single must-see sight.
For some people traveling slow means taking considerable amount of time in each destination, preferably few weeks or months, before moving on to the next destination. But even if you don't have the luxury of doing a one-year long (or two, or three…) round the world trip, it could be a week. Or a weekend. For me, the reasons for traveling slow go almost hand in hand with the reasoning I gave for traveling independently,
of which I wrote a little while ago
. But even if you go on a package holiday, you can still take it slow.
Why I Travel Slow
Flexibility.
When you are not tied to tight schedules, it is easier to see and seize opportunities that come your way unexpectedly. Even though surfing was not in the plans for Ireland, I managed to get on the water to test out the
skills I learned in Portugal
earlier this year, as we modified our plans to suit, well, the new plans.
Less stressful.
When you are not in a hurry, it is easier to sit back, relax and enjoy. In Ireland we ended up spending one day without doing much at all, other than passing the day by with our friends. That was one of the best days of our vacation, even though we didn't really experience anything new.
Seeing the small details.
While taking it easy and drinking a cup of tea in the local coffee shop, you might spot small details or seize new opportunities you wouldn't, if you were in a hurry to get to the next sight.
Meeting people, locals included.
 Enough said, when you are not in a hurry and you're taking it easy in that coffee shop or wine bar, you'll have the opportunity to strike up a conversation, whether it is with other tourists or locals.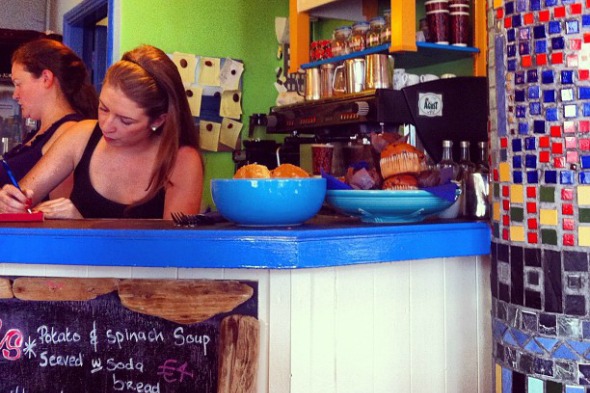 So another trip to Ireland has passed without me seeing some of the major sights and locations of the west coast. But instead, I discovered a small country pub with beautiful crab cakes and chowder, took a peaceful walk by the seaside and as said, I even surfed a little by the village of Lahinch. I also got to spend time with a friend I meet once or twice a year, and my little daughter got to play with her new friends for few days instead of only one evening. All experiences I would not trade for anything, really. Hence I'll keep on traveling slowly, as we have done for the past two weeks also here in England!
Anyone else out there for traveling slow? Or do you prefer well scheduled, action packed vacations? 
Note: All the images in this post are from Instagram where you can find Skimbaco Lifestyle
@skimbaco
and my personal profile
@todestinationunknown
. I know, I know, Instagram images can't compete with high quality photos but in this instance and when it comes to Ireland, these images had the right atmosphere, for me. Remember also that you can share how YOU enjoy life by using #skimbaco on Instagram to share your photos of living life to the fullest, and all these images can be found on our
Facebook page
.