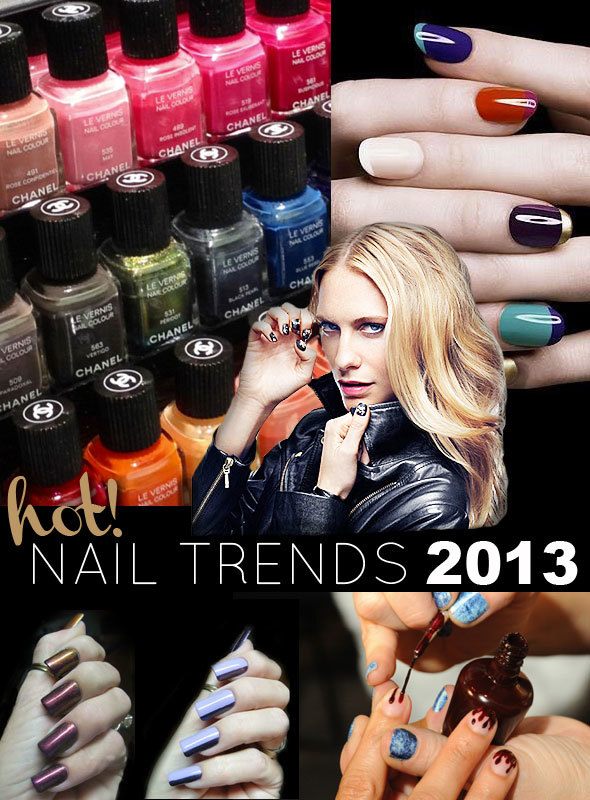 Hot Nail Trends
It's time to break the winter blues! One easy way to get an instant and inexpensive lift for your look and your mood is to get your nails done. It's also an easy way to be trendy without making huge investments nor cluttering your closet. Feel adventurous and try a new bold nail trend this spring, we collected 12 trends for you to try for! I interviewed the nail expert Katie Saxton, the founder of
Custom Nail Solutions
and she also shares her tips for trendy nails for 2013. First 6 more daring trends, and then 6 quick tips for those who want to keep it simple.
6 Extravagant Nail Trends for 2013
1. One-Of-A-Kind Tips
Here is one semi-easy trend to follow where almost anything goes! Katie's tip:
Changing out the traditional white tips in the French manicure for animal print accents, colored tips, funky wrapped tips, polka-dot tips, bejeweled tips, etc. will be huge in the year 2013. This is a fantastic way to express yourself and show off your unique personality! Manicures featuring "bloody" tips, jagged tips, suspicious shadowy tips, and mysterious dark and dripping tips will be huge in the year 2013.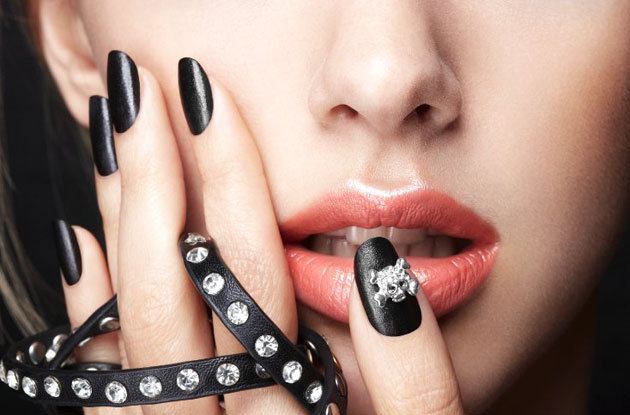 2. Leather & skulls look
Matte leather-looking nails are the hottest of the hot. The leather trend at the catwalks inspired Nails Inc to create this leather & skulls nail kit for the ultimate rebel girl. The
Bling It On leather & skulls kit by Nails Inc
is $25 at Sephora.
Source:
fabfatale.com
via
Insider
on
Pinterest
3. Colored Metallic Nails
Metallic nails have been seen on catwalks the past few season. What's new for 2013 is the colored metallic hues combining metallic look with the colors you like! I personally love the emerald nails as seen on
Fabfatale.com
with the color of the year emerald green. Katie's tip:
Jazzing up your nails with metallic polishes in colors like blue, red, and purple will be huge in the year 2013. This nail style is sassy and beautiful!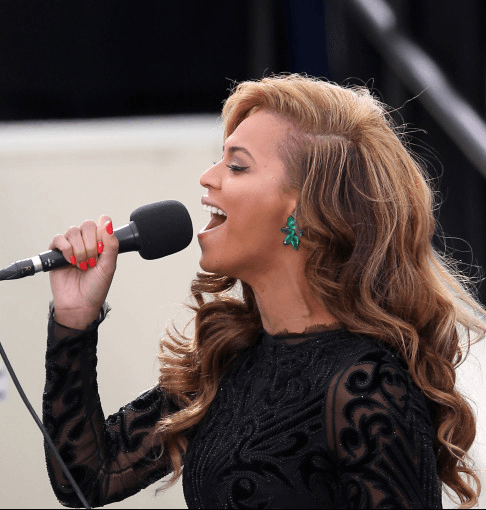 4. Vibrant Orange
Tangerine Tango might have been last year's color, but orange nails are still going even stronger than last year. The brighter the better. Beyoncé sported the orange nail trend even to 2013 Presidential Inauguration.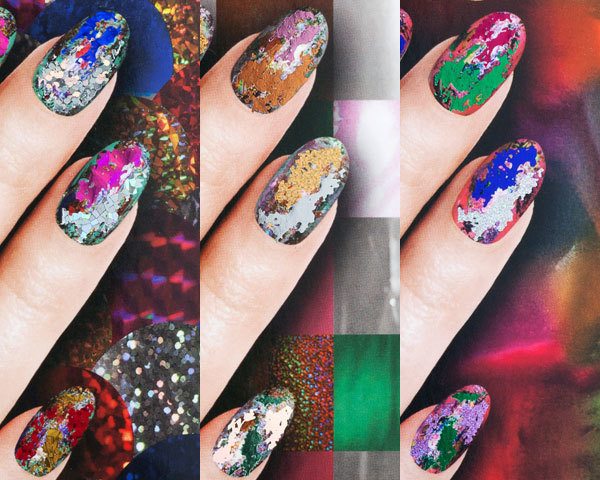 5. Texture now with more texture.
It's not just about color anymore, now the more stuff you add on your nails the better. Your imagination is really the limit here. You can add paper, leather, small 3D pearls, colored stones, studs and glitter. POne of the most expected nail kits this spring is the Ciaté Very Colourfoil Manicure set that helps you to make your unique metallic-color mash-up. Available at
Sephora
for $19, and you can pre-order it to make sure you get it!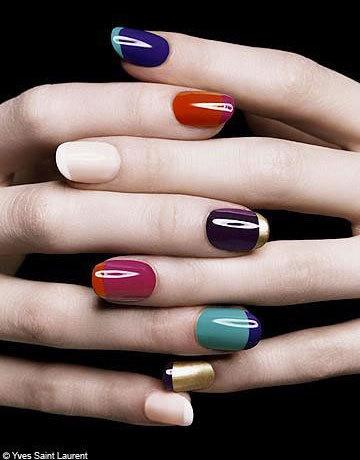 6. Two Tone French Manicure
Try the classy French manicure in a bold new way, with two tones and contrasting colors, or instead of white tips, try more daring darker color, check out how Deborah Lippmann created beige nails with burgundy tips at Donna Karan fashion show pictured above. Katie's tip:
To do this design, paint your nails any color and let dry, then add a French tip with a contrasting polish.
6 Easy Nail Trends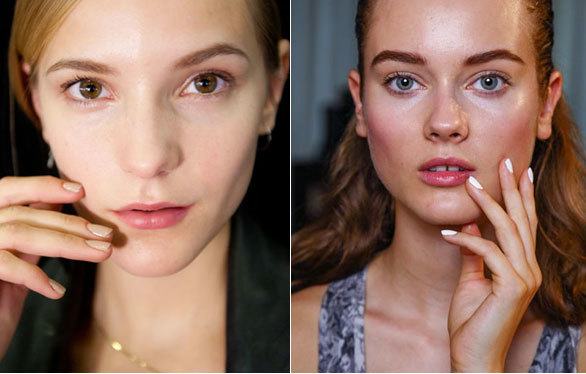 7. Pale Nails
Do you think the nail craze has gone a little too far with leather, gold and everything else? I hear you. Believe it or not, but there is a nail trend for you too. Pail nails in the tones of creams or whites, or completely skin toned nude nails are trendy this spring as well. Butter London created three shades of skin tone nail polishes to fit different skin tones, available in spring 2013.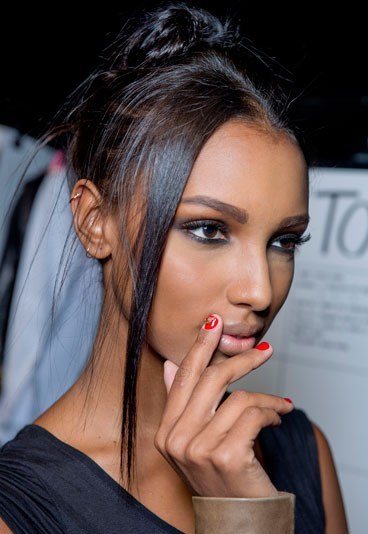 8. The accent Nail
Instead of doing all ten nails with time-consuming nail art, it's equally trendy to sport one of the above crazy trends only in one finger. Pick the nail of the little finger, wedding finger or thumb and give one nail that little something-something.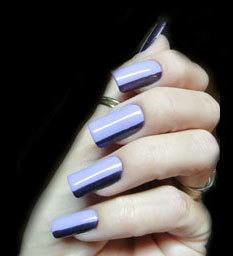 9. Sideways French Mani
Simple yet effective! Katie's tip
Painting your nails with a coat of polish and adding a different-colored vertical stripe on either the right or left side of each nail will be huge in 2013. This fashionable and unique nail style will make you the talk of the town in all occasions!
10. Nail Stickers
If you can't make it, fake it. Nail stickers will continue to be trendy in 2012 as well. This year even Essie jumped into the bandwagon and introduced
nail sticker line
.
11. Edgy dark nails
Another easy yet very edgy way to be trendy: short nails in solid edgy dark burgundy or dark grey. Picture from the Jason Wu fashion show, color: OPI Suzi Skis in the Pyrenees.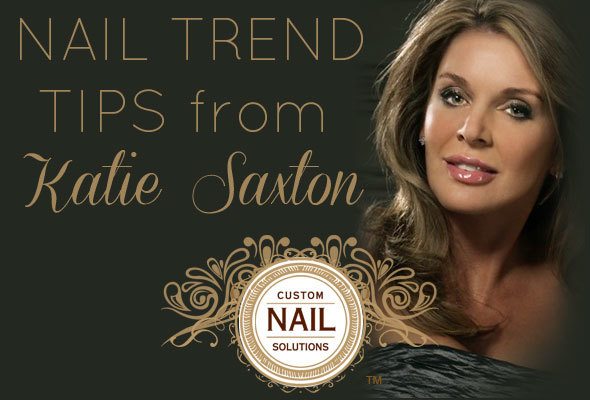 12. Custom Nail Solutions
Thank you for Katie Saxton of Custom Nail Solutions for nail trend tips in this post! Katie owns
Custom Nail Solutions
, a revolutionary artificial nail product offering custom nails that uniquely fit only your nail beds, are reusable, chemical-free and are guaranteed to last a lifetime. Talk about making it easy to have salon style nails for fraction of the cost at home! And on the top of everything else… One of the latest nail news also includes Victoria's Secret's 15 new nail polish colors for 2013 with variety of nudes, pinks, reds and fashion colors to choose from. What's your favorite?