Temperatures in my home state of North Carolina are hovering around 30 degrees this week. That's cold! It kind of makes you want to run to the Caribbean, doesn't it? Thanks to non-stop flights to St. Lucia on American Airlines, Delta Airlines, Jet Blue and US Airways, getting away to the tropics is a fast break from the cold. I've done the research for you and found some outstanding properties in St. Lucia. Each hotel is vastly different, but all are luxurious. Some cater only to couples, while others may be good for both families and couples.
St. Lucia for Nature Lovers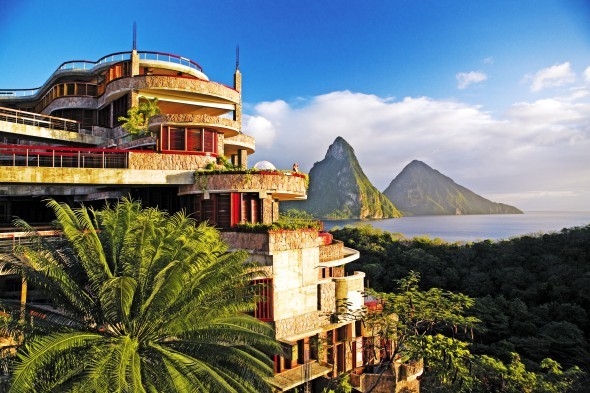 For someone who has an unlimited budget, then a check-in to Nick Troubetzkoy's Jade Mountain Resort on the Anse Chastenet estate in St. Lucia looks like the ultimate paradise. You may even have seen it on the season finale of last season's "The Bachelor." The suites, called sanctuaries, are spacious and reclusive, and each boasts its own infinity pool. Each sanctuary is totally open to nature and views, therefore, missing some walls and air conditioning. The hotel has an
all-inclusive "Total Romance" package
for 2013. The package includes the room rate, all taxes, airport transfers, meals, drinks, a spa treatment, and several activities plus a $500 certificate to use for your next trip. Rates for three nights begin at $6,472 through April 15. Children under 15 are not permitted at the resort.
Another romantic retreat in St. Lucia is the luxurious Ladera Resort. This resort, nestled on a hillside above the Caribbean sea, used to be part of the Rabot Estate, one of Soufrière's oldest and most famous cocoa plantations. Today, guests can stay in tree house-like accommodations with one wall exposed to the rainforest. There are even Dream Suites, which offer two levels of luxury and private plunge pools. Typically, room rates at the Ladera Resort include only a daily continental breakfast, but the hotel is currently offering a
three-night great escape package
that includes all meals, most beverages, airport transfers, a Swedish massage, and a sightseeing tour. Rates begin at $1,130 per couple per night through Aug. 30. Being a Southern girl, I'm just not sure I could get used to no air-conditioning in humid conditions at these breathtaking two properties. I know what humidity is like, especially in the summer, but somehow I think I would manage with rooms this gorgeous.  Sleeping in the open may not be for everyone, but for those who want absolute luxury in a natural setting, I think you need to put these properties on your check-in list.
St. Lucia Resorts for Families
The Landings, a beachfront property in Castries, St. Lucia, caught my eye immediately. It boasts one-, two-, and three-bedroom villas with harbor or beach views and full, modern kitchens. The décor is European/Caribbean fusion with a splash of contemporary that includes flat-screen televisions and Italian marble. To me, it just screams lux and comfort. The resort has a mixture of high-end and casual restaurants, which is also perfect for families. Recently, with the appointment of new General Manager Lyle Pauls, the Landings established a kid's club for this winter's season for ages 3 and older. That gets a big high-five in my book. The kid's club provides a lot of fun activities for children including arts and crafts, dance lessons, sports, and adventure. It's open from 9 a.m. to 5 p.m. Babysitting services are offered at night for additional charges. The Landings
offers a winter promotion
with rates 30% off plus a $250 resort credit. Beginning in May, the resort will offer the Landings Family Package; you get an extra bedroom free, and kids under 12 eat free. At a quick check, an all-inclusive rate with this package was around $790 per night.
You know the saying in real estate: Location! Location! Location! The Sugar Beach, Viceroy Resort is located on the beach and sits between St. Lucia's iconic twin peaks, the UNESCO-protected Val de Pitons. It's the area everyone wants to see when they visit St. Lucia. This spectacular-looking resort has a gazebo-style rainforest spa and beautiful, crisp, white, plantation-style rooms, villas, and bungalows. It's a perfect sanctuary for couples who want air conditioning and four walls, but it's also family-friendly. The resort offers a complimentary kids program that looks like the best summer camp in the world. There are glass-bottom boat excursions, arts and crafts, volcano and botanical garden tours, as well as fish feeding and shell collecting at the beach. Children 4 to 12 can participate in the program, but caregivers must be with a child younger than five. Also, every family gets its own personalized butler service. OK. This seems like dream hotel. Most rooms have a king bed, so families need to stay in the larger properties. The Sugar Beach, Viceroy Resort is offering several packages and discounts. That includes
"Linger Longer" rates
, which offer a free night after seven nights. You definitely pay for this exclusive luxury. Two-bedroom villas run about $1,700 per night in the summer months, and is several thousand dollars more in the winter season.
The Windjammer Villa Beach Resort,  also in Castries, St. Lucia, looks like the perfect place for a family vacation. The Andalusian-style villas all have Caribbean sea views. Five restaurants are on the 55-acre resort, and all are kid-friendly.  The resort offers the Jacquot Fun Club, which has supervised activities for children, aged 4 to 12.  The resort also offers activities for teens, too.  The Windjammer Villa Beach Resort  is currently offering the "Family All-Inclusive Winter Getaway."  The
Family-Oceanview  getaway
package is $3519 for a family of four for a four night vacation through April 7, 2013. This looks like a great place to relax, and enjoy the beauty and fun of St. Lucia with your family. If St. Lucia is on your mind for a getaway this year, be sure to check
Luxurylink
and
Jetsetter
for luxurious discount deals, too.  You can score some great deals if your timing is right. Photo  Credits: The Ladera Resort, Jade Mountain, The Ladera, The Landings, Sugar Beach, A Viceroy Resort, Windjammer Villa Beach Resort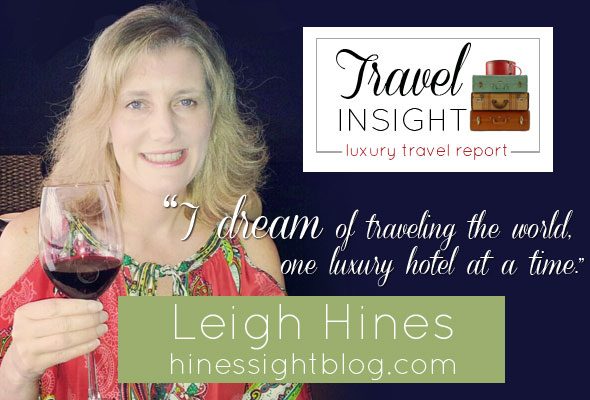 SUBSCRIBE TO SKIMBACO TRAVEL
, travel newsletter delivered to you once a week.