Montreal is a fantastic city in Quebec, Canada, only an hour and half flight from New York city, making it a perfect weekend getaway destination for New Yorkers and a travel addition to those who visit NYC and want to add another city destination to the same trip. My favorite way to travel to Montreal is to do a road trip from New York and enjoy the St. Lawrence river and Thousand Island region. I've heard many people to say that if you can't afford to fly to Europe and Paris, go to Montreal instead. I've visited Paris twice this year already, and while it would be easy to dismiss the similarities,
Paris after all, is Paris,
Montreal can offer you many experiences like Paris does.
You can be blown away by the Montreal Botanical Garden, enjoy shopping at the Old Montreal's boutiques just like in Europe, and the food scene is exciting fusion that rivals to some of the best cuisine I've tasted in Europe. Some of the metro signs in Montreal look like in Paris, and French is spoken as much as English is. And last but not least – you can bike around Montreal just like you can
see Paris by bike
. There are several bike rental shops in town, and in fact, I highly recommend renting a bike or getting on one of the guided bike tours on your next visit to Montreal.
Montreal is a fairly easy city to navigate by bicycle, but if you are not used to city biking, I recommend getting on a guided tour like I did during my trip to Montreal. Our bike tour started in the heart of Old Montreal along the bike path leading to the city's major parks and cycling trails and the tour was organized by
Montréal On Wheels
. We had 12 people on our bike tour and I think it was way too many, and it was difficult to get a pace that suited everyone, especially because everyone stopped often to take photos, and I would prefer getting a private smaller group instead of the larger group I was in. I have to say though – I was one of the oldest people in the group and probably one of the least athlete ones, and the over 10-mile-bike-tour was not too rough on me at all. I haven't even owned a bicycle for years, and I was able to bike the tour with no difficulties, and I couldn't even feel it the next day.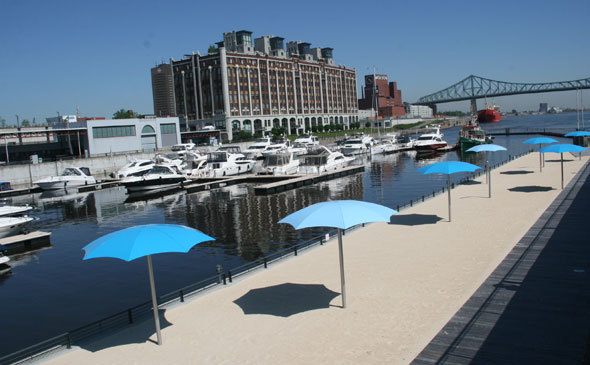 We started the bike tour from Old Montreal and rode by the marina and stopped to see the boats, and the sun umbrellas on the "beach."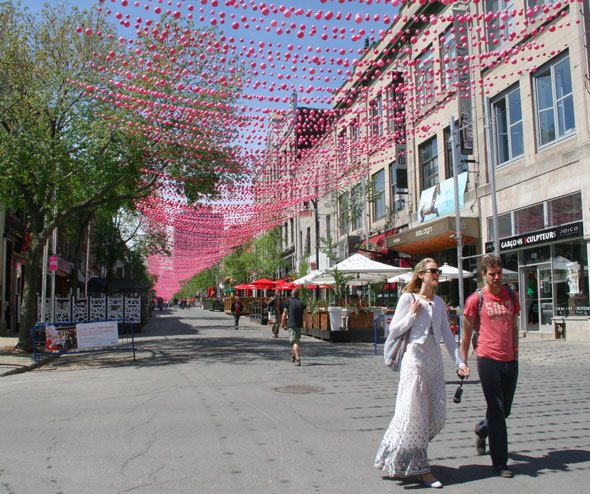 We continued biking all the way to Aires Libres, artsy area of the Sainte-Catherine Street East turned into a pedestrian zone with pink balls hung from the buildings. Then we crossed the St. Lawrence river on the Jacques Cartier Bridge and the views of the city were stunning from the bridge. From the difficulty level this bridge was the only tougher spot on the entire tour.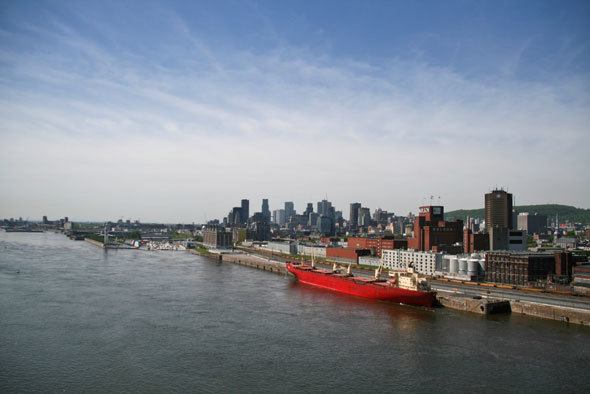 We entered the Saint Helen's Island in southeast of the Island of Montreal. The island is a public park with a colorful history, including having a prison for war prisoners in the 1940s. The archipelago of which Saint Helen's Island is a part was as the site of Expo 67, a World's Fair on the theme of Man and His World in 1967. The island went through a pretty extensive makeover for Expo 67, the island was greatly enlarged and consolidated with several nearby islands, but many of the installations for the Expo 67 are not up anymore, however, a few favorites still remind today.
The Montreal Biosphère was built as the pavilion of the United States for the 1967 World Fair Expo 67. Today the Biosphère is an environment museum offering interactive activities and presents exhibitions about the major environmental issues related to water, climate change, air, ecotechnologies, and sustainable development.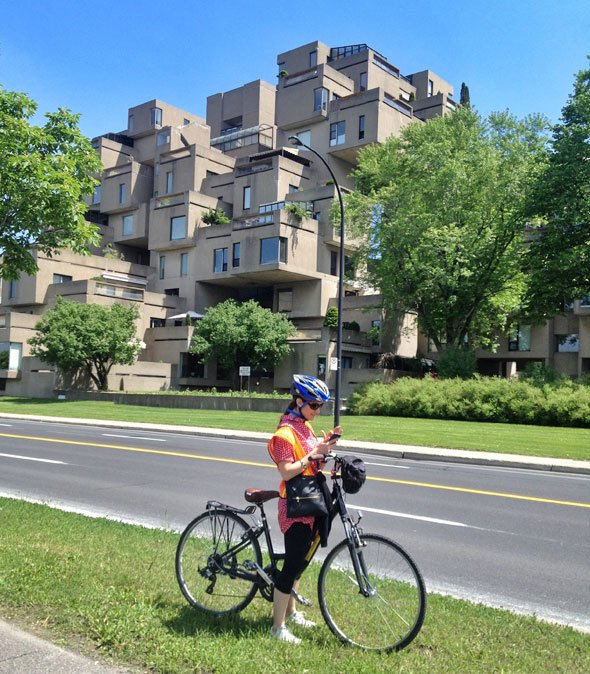 Habitat 67, or simply Habitat, is a model community and housing complex in Montreal, Canada, designed by Israeli–Canadian architect Moshe Safdie. It was originally conceived as his master's thesis in architecture at McGill University and then built as a pavilion for Expo 67. Habitat 67 is widely considered an architectural landmark and one of the most recognizable and significant buildings in both Montreal and Canada.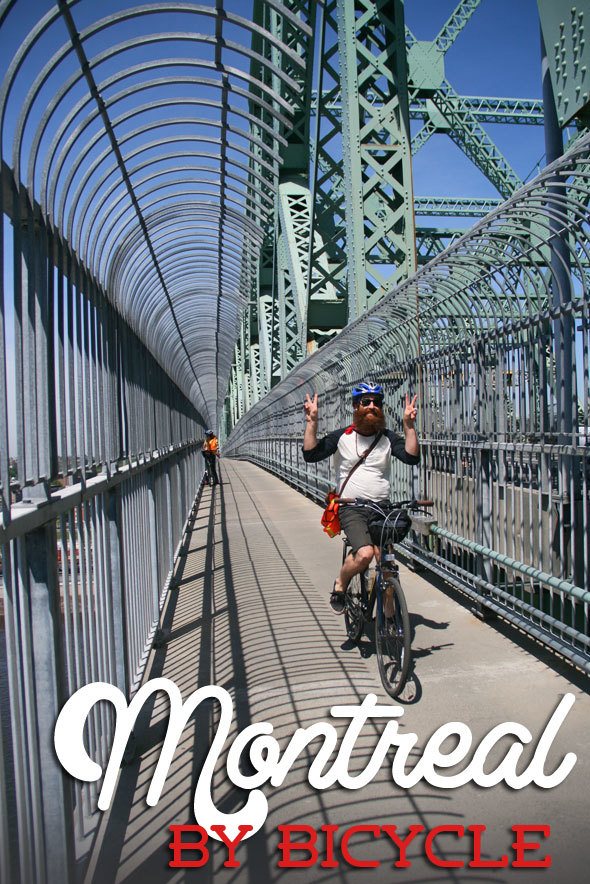 If you are interested in guided bike tours or renting bikes in Montreal, check out Montréal On Wheels. Montréal On Wheels rents out different kinds of bicycles, including tandems, as well as child trailers and rollerblades. They offer guided bike tours for individuals and groups.
Ça Roule Montréal (Montréal on Wheels)
27 de la Commune Street East, Montreal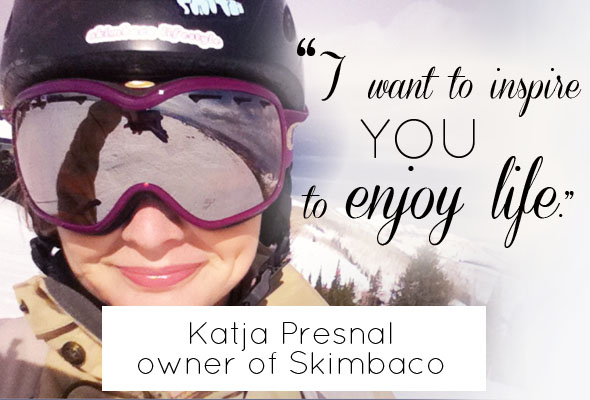 My mission is to inspire you to live life to the fullest and find your own "skimbaco," how you enjoy life where ever you are in the moment. For ideas for travel, home, food and fashion,
subscribe to weekly Skimbaco Lifestyle
feed on Mondays and
I hope you get my newsletter as well
that I sent out sometimes on Fridays.