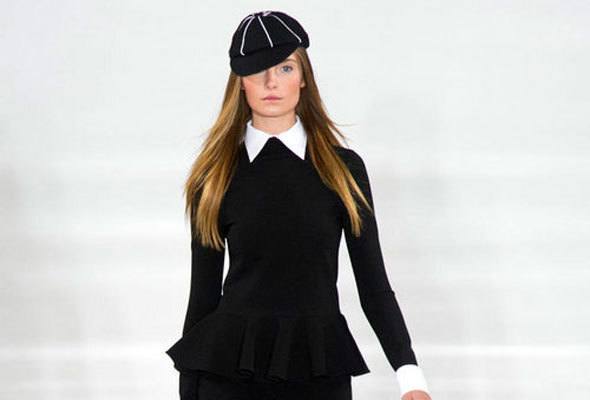 As the runway shows move from New York to London and Milan, I would like to take a moment to look back on some of the trends we saw during New York Fashion Week Spring 2014. Overall, we saw new takes on button downs from designers such as Alexander Wang, black and whites in many collections such as Ellassay and Ralph Lauren, garden party girls in florals at Oscar de la Renta and Naeem Khan, and power suits bold colors from the likes of Nanette Lepore. Whether you are a 90's girl at heart, looking to warm up in bright colors, or a garden party girl, the Spring 2014 collections have something for you. I always keep my eye on a few designers as they send their looks down the runway. This season, I noted Rag & Bone, Rebecca Minkoff, Alexander Wang, and Ralph Lauren.
Rag & Bone:
Rag & Bone held onto some of their signature elements in the spring 2014 collection, namely their tomboy and urban vibes. This was seen in oversized varsity sweaters in multiple colors, however, the majority of the collection was a departure from past aesthetic. The collection had a more feminine touch than I have seen previously for the brand. One of my favorite looks was the fitted overalls. Additionally, keeping with trends of the season, we saw a 90's vibe throughout with crop tops and dresses. When Rag & Bone sticks to what they know, they execute well. It will be interesting to see how the brand further evolves as it continues to rapidly gain popularity.
Rebecca Minkoff:
Rebecca Minkoff's brand has exploded within the past few years. I can spot a girl carrying one of her bags on almost every block in Manhattan. For Spring 2014, the collection gathers inspiration from Latin America, and I think Minkoff did an excellent job of translating this into the looks. She incorporated elements from this idea such as detailed floral embroidery and fabrics similar to artisanal blankets. As always, the accessories were on par, with gladiator sandals very prominent throughout the collection. The show stopper for me was the billowing floral silk dress. How perfect will that be for warm weather parties?
Alexander Wang:
Alexander Wang is always a brand I have my eye on. At barely 30 years old, Wang has seen amazing success in his career, most notably heading Balenciaga in addition to his own label. His most recent collection was filled with neutrals and muted tones, signature of the brand. This season most notably, Wang but branding on the pieces. While some of the logos were done in an interesting way such as laser cut leather on dresses, for me, this branding does not translate well for the brand. Overall, middriffs were exposed throughout the collection and their was a strong feeling of "Street Style", something that Wang executes well.
Ralph Lauren:
As one of my favorite brands, I always look at Ralph Lauren's collection. One can usually expect to see classic, timeless designs. This is what the brand has become known for, however, the classic Ralph Lauren aesthetic was not seen in the Spring 2014 collection. Instead, the collection had  a mod, 60's vibe to it, dominated by black and white pieces. Skirts, suits, and trenches were done in various black and white patterns. When color entered, it was seen in very vibrant hues. For me, the spotlight of this collection was the accessories. Most notably, updates to the classic Ricky bag were strong in new sizes, bright hues, and patents. Photos: Style.com