Greetings from Sweden, where the Christmas tree has arrived to my home office! We have been going from Christmas market to another the past few weekends already, and I just couldn't wait any longer, I had to have a first Christmas tree in the house. We started with my office, and brought in a small tree this weekend. I, once again, proved to myself that my luxury moments in everyday life doesn't have to do anything with money. Well, I DO enjoy my first class flights to Asia, macarons in Paris and shopping trips to NYC… but the only way I can travel so much is to save the money somewhere else. Like not spending much on Christmas decorating.
I decorated my home office with "world travel" theme and decorated the room with some souvenirs from my travels, and some simple candle and flower arrangements. To celebrate the season and the tree decorating "party" I made a simple banana coffee cake with mocha topping and had "fika" in my office, with Swedish Gevalia coffee, of course. You can find Gevalia coffee at Target, and have your own "fika"!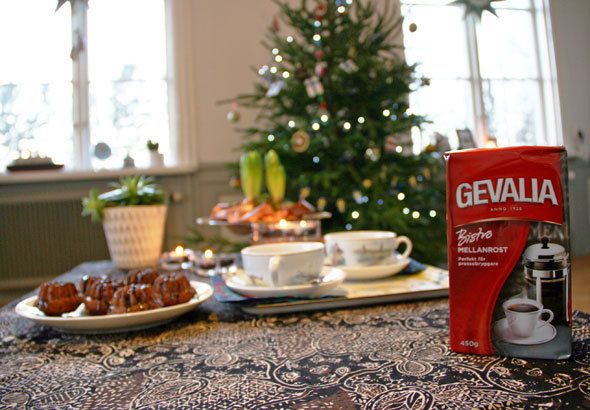 Fika = coffee pause
If there was one simple thing about Scandinavian culture that I think everyone in the US should adopt, it would be FIKA.
There isn't really an English word for fika, but it could be translated to coffee break, but it's so much more. It's about living a little everyday, it's about giving yourself a break, and allowing yourself enjoy life, even when it's busy. You may think that when you go through drive-through every day, you have somewhat adopted this European coffee culture. But the difference between just "drinking coffee" and "fika" is that with fika you actually stop working. You don't take your coffee on-the-go, you don't multitask, you stop, take a break, and enjoy the coffee (or your choice on refreshment), typically with your friends, family or co-workers and with some cookies, or biscotti or a piece of chocolate.
Especially now during the hectic Holiday season I would love to invite you to enjoy fika, a coffee break, the Swedish way. I know you are tempted to get the Starbucks on your way out from Target, while Christmas shopping, but get the Gevalia coffee instead, and brew it at home and truly just sit down and enjoy the moment (and hopefully some peace!). What a difference it will make drinking your coffee from your favorite cup and a bonus if you will make some home baked goods to go with it too. My cake recipe is easy, I promise, otherwise I wouldn't have even thought of baking it the same day as redecorating my office!
Stop. Recharge. Enjoy and savor.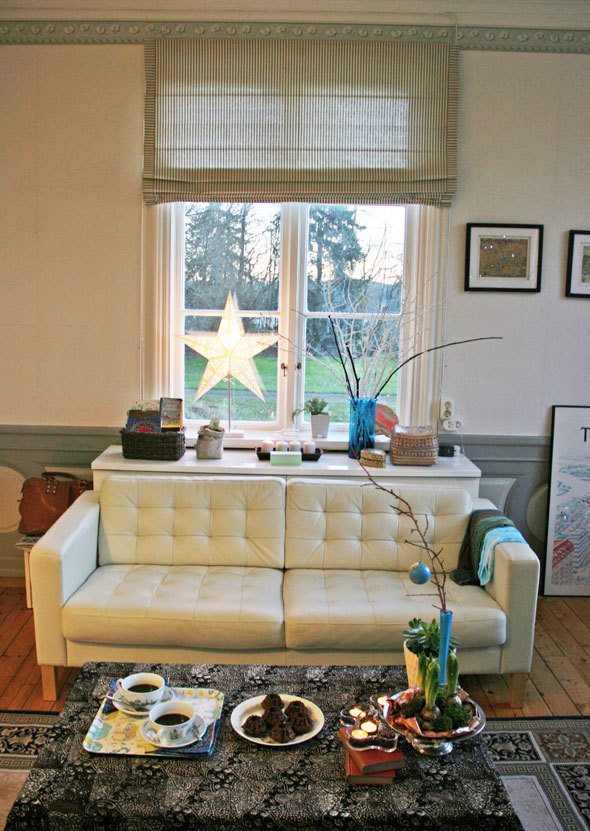 Fika in my office
I made this entire recipe of banana coffee cake with mocha topping, and instead of using a Bundt pan, I split the dough and created smaller mini-sized cakes to be enjoyed immediately, and a smaller loaf. There is a lot to the recipe, so you could also get two loafs if you wanted.
Banana Mocha Coffee Cake with Mocha Topping
Makes two loafs or one large Bundt pan.
INGREDIENTS:
2 ripe bananas
4 oz butter
1 cup strong coffee
2 eggs
1 cup sugar
2 cups flower
1/4 cup cocoa powder
2 tsp baking powder
2 tsp vanilla sugar
2 tsp cinnamon
1 tsp ginger
Mocha topping ingredients
3 tbsp butter
2 tbsp strong coffee
1 cup powdered sugar
1 tbsp cocoa powder
1 tsp vanilla sugar

INSTRUCTIONS:
1. Preheat oven to 350F/175C
2. Smash bananas.
3. Brew some coffee for you & for the recipe. Melt the butter and mix with coffee.
4. Whip the eggs with sugar.
5. Mix the dry ingredients.
6. Mix the dry ingredients, egg-sugar mix and bananas carefully.
7. Prepare two loaf-sized pans or one large Bundt pan with butter and flour and pour the mix in.
8. Bake in 350F/175F 30-50 min depending on your oven and the size of the pan.
9. Prepare the topping by mixing all of the ingredients in a small pan and carefully melting the butter and while mixing it with the other ingredients. The topping will be pretty runny. Once ready, drizzle on the top of the coffee cake.

Word from our sponsor
From shopping for gifts to planning family dinners, it's hard to keep up with all your holiday to-do's. This year, Kraft is helping out with great weeknight meals and entertaining ideas to make the season a little bit easier. Plus, Kraft is offering up to $20 in coupons, redeemable exclusively at Target, to make food shopping easier and to help you have a happy holiday season.
This is a sponsored conversation written by me on behalf of Kraft. The opinions and text are all mine.