Where are you spending your Holidays this year? If you are like millions of others, the answer would be "on Instagram". Join us for sharing the joy of your Holiday season, but remember that first and foremost enjoy the season with the people who you are with, and secondary with Instagram-friends. Enjoying the moment is much more important than gramming the moment. Stay tuned for larger feature of Christmas Around the World with pictures from Skimbaco-readers around the world, and now read my IGTT Weekly Top 5 for tuning into Christmas on Instagram.
IGTT Weekly Top 5
1. Featured Instagram User
To really get you to Christmas spirit, who else to follow than Santa Claus himself? This may come as news to you, but the Real Santa does not live in the North Pole (way too cold and too many traffic problems getting outta there every Christmas). Santa Claus lives in Northern Finland, in Lapland, on a mountain called "Korvatunturi". Or this is what I was told when I was a child growing up in Finland. Today there are actually several different Santa Claus-parks in Finnish Lapland, for example
Santa Park
in Rovaniemi. Another one is
Santa Claus Office
, also in Rovaniemi. I will be furter investigating this in January as I am heading to Lapland to visit Santa himself. Don't believe in Santa? The "proof is in the porrige" as Santa Claus says. Follow
SantaClausOffice
on Instagram, and judge for yourself. Looks pretty real to me with elves and workshop and all, but I don't know if real Santa would be so naughty that he wouldn't follow anyone back on Instagram.
You can also watch
Santa Claus live on his website
.
2. Featured Instagram-related Product
The cold winter days just call for hot chocolate and marshmallows. Instead of just gramming your hot cocoa, why not literally add some Instagrams on your hot drink? Today's featured Instagram-product is marshmallows decorated with your Instagram photos by
Boomf
. Perfect edible gift for fellow nomads and travelers. You can send your 9 best travel photos to your friends, and they can get the pictures and eat them too.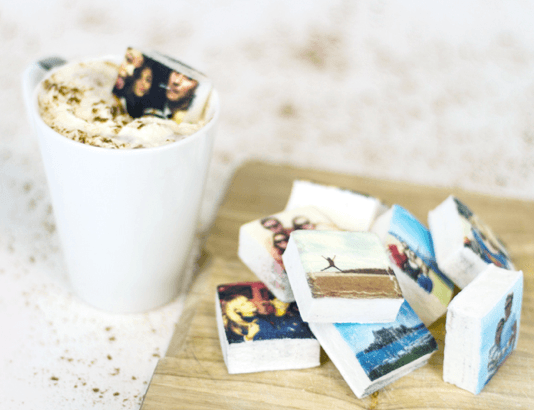 3. Featured Christmas hashtags
Want to share your holiday pictures with other Christmas-lovers? Check out these hashtags and use them for your pictures too.
#santagram
– use for all of those Santa-sightings
#elfontheshelf
– for all of those Elf on the Shelf-pictures (I personally would like to mute this one)
#christmas2013
– super popular, everything Christmas this year
#christmasaroundtheworld
– for Christmas pictures from different locations around the world
#igerslondon12days
– started by IgersLondon and originally a contest, but great photos from Holiday time London can be found with this hashtag.
#coastalchristmas
–
Coastal Living
magazine is encouraging their readers to share coastal Christmas photos, share yours and find great coastal Holiday pictures
#FSHoliday
– Four Seasons is asking you to share your holiday pictures with them
#skimbacoholidays
– share your pictures with us and we feature the best on Instagram, our site and on Pinterest A couple of weeks ago
we announced a new hashtag #skimbacoholidays
and asked you to share your Holiday photos with us. We have close to 200 photos so far, and we would love to see more! We feature some of our favorites on
Skimbacoers
Instagram-account. Yesterday I featured this NYC Christmas picture by
JenTemple
. You can also tag your festive photos with #FSHoliday to share the holiday cheer. Four Seasons will repost their favorites at
their Instagram account
. Thanks for Leigh for the FS scoop on her last week's post
Hotels Can Put the "Merry" in Christmas
.
4. Featured #IGTravelThursday Post from Last Week
My favorite Instagram Travel related Christmas Gift
by Nadia of Childmode.com. Instagram photos make such a great way to personalize your Christmas gifts this year.
5. Featured Instagram-related App
Want to create a cool Christmas video-greeting and add "Merry Christmas" to the video? App called
Gravie
let's you do just that. This photo is made with
Phoster-app
to layer text on images, made by the same company as Gravie is.
IGTT Traveling Linky
Read more Instagram Travel posts from these new blog posts this week and add your own blog post.
Not a blogger? Not a problem. Join us at Instagram by using hashtag #igtravelthursday and share your travel photos.
Bloggers! Join the Instagram Travel Thursday and Host the Linky!
Bloggers, join us! Add your blog post to the Linky above, and you can also take the Linky code and add the Linky widget in your blog! Get email sent to you when the Instagram Travel Thursday linky post is up (
subscribe it here
).
Get the InLinkz code
for this week's Linky.
Copy and paste the following rules and the banner image when you host the Linky widget:
Join us for Instagram Travel Thursday! Instagram Travel Thursday is a weekly blog post collection with a purpose to promote the great travel experts on Instagram and Instagram as a source for travel inspiration. Add your Instagram Travel-related post to the Linky. Here are the Linky rules: Link to a new Instagram travel post and use the permalink of your post, not the homepage URL. Only new posts from the week of the linky and no giveaways, other linkys or sales pitches. No links to your Instagram profile, only links to your blog. Link back to one of the Instagram Travel Thursday Linky hosts. Visit a few other posts in the linky and show them some love (comment, tweet, Pin etc.). Links that do not follow the guidelines will be removed. More information at
Skimbaco Lifestyle's Instagram Travel Thursday page
.
Get the banner:
My mission is to inspire you to live life to the fullest and find your own "skimbaco," how you enjoy life where ever you are in the moment. For ideas for travel, home, food and fashion,
subscribe to weekly Skimbaco Lifestyle
feed on Mondays and
I hope you get my newsletter as well
that I sent out sometimes on Fridays.