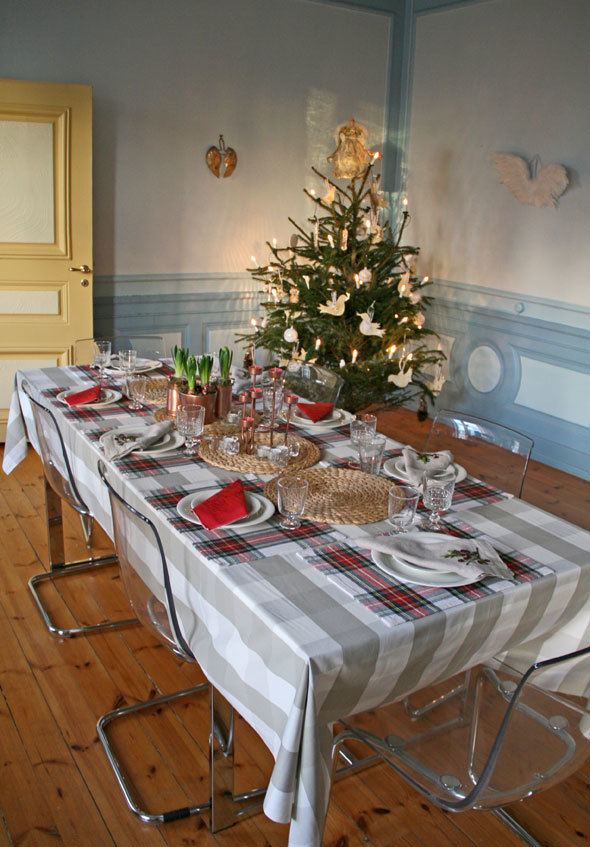 My Christmas home done the easy way
For many of us December is the busiest time of the year, and let's be honest: sometimes it is hard to find the time to do it all, and even be inspired to decorate for the Holidays. I get it. Some years I haven't even bothered taking all of the Christmas ornament boxes down the attic/out of the garage, wherever they have been tucked in for storage. However, setting your home for the Holidays doesn't have to take all that much effort, and you certainly don't have to spend a lot of time or money to whip up a few things to get the spirit of the season for your home. Reeta shared her favorite way of a quick fix: bring in some scented candles! I do the same. In addition here are a few additional ideas that I used to get my home in Christmas spirit fast – and with a world-traveler budget (read: I rather save money for flights than spend it for Holiday decor).
I can do this!
This literally has been my mantra this month, and have done very simple things to bring Christmas home.
I planted the hyacinths in a serving tray covered with piece of plastic to cover the tray and newspaper spray-painted with copper spray paint – it was actually the paper covering the ground when I was spray-painting our candle sticks. I just added some moss and it looks nicely glam & rustic at the same time.
My home office: world travel themed Christmas
My world-themed tree in my office has souvenirs from our travels.
The Christmas decor doesn't have to be Christmas-themed – to complete the travel theme in my tree, I added maps in a basket.
My table clothe is a sari from Bali. I added coffee beans and tea lights inside the small Aalto vases. Nothing wrong mixing old and new, like I used vintage books to prop up my modern Alvar Aalto vases.
Traditional Scandinavian style in the mansion living room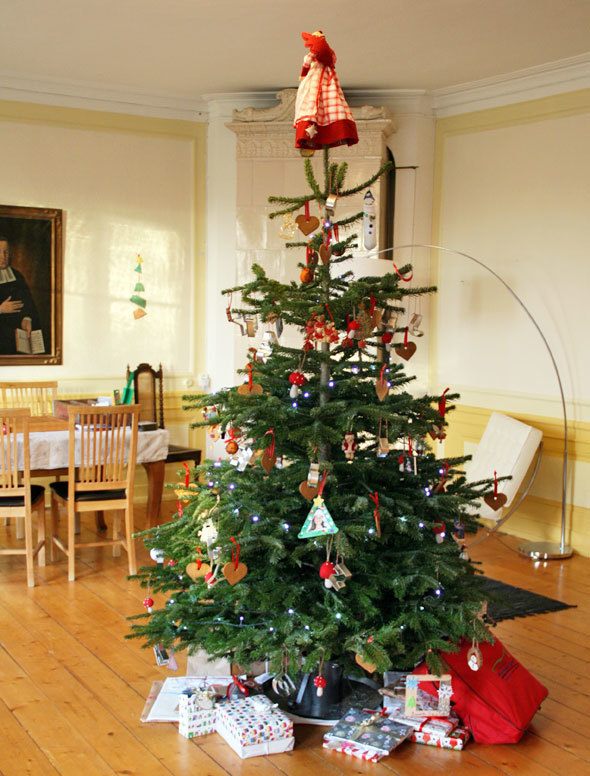 We set up a game table by the fire place in the living room for late night UNO and chess tournaments. Kids have already added some gifts under the tree, and my gift of new ski boots I bought for myself from Italy are also lovingly added under the tree by me. We have four Christmas trees this year. We found some of them for under 15 dollars, less than poinsettias go for, so we opted no poinsettias, but more trees.
I admit – all of the gingerbread cookies in our house this year are store-bought. Plus my mother just brought in more from my favorite bakery in my hometown. So the Martha Stewart alphabet cookie cutters turned into great ornaments this year.
The living room is all about traditional comfy Christmas, and the best is having family together, at home.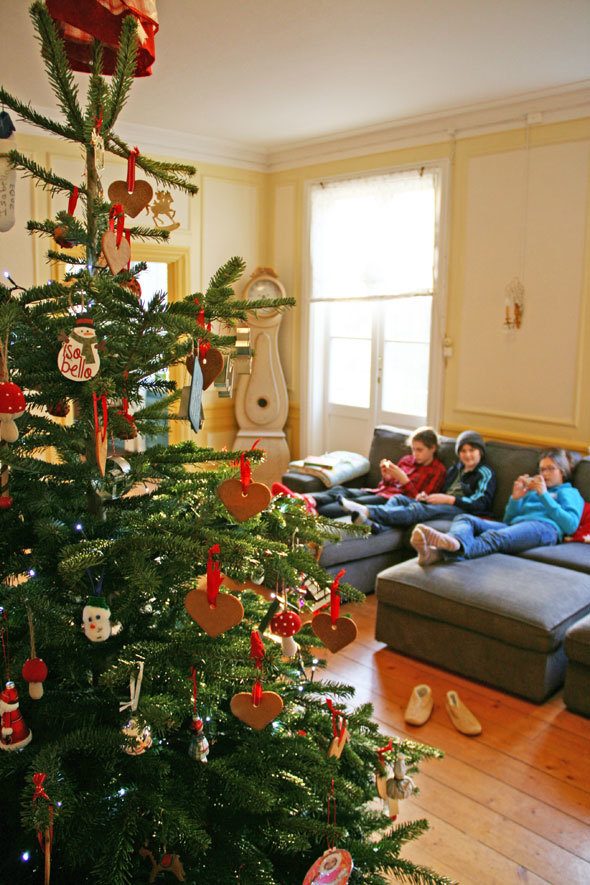 Country mansion dining room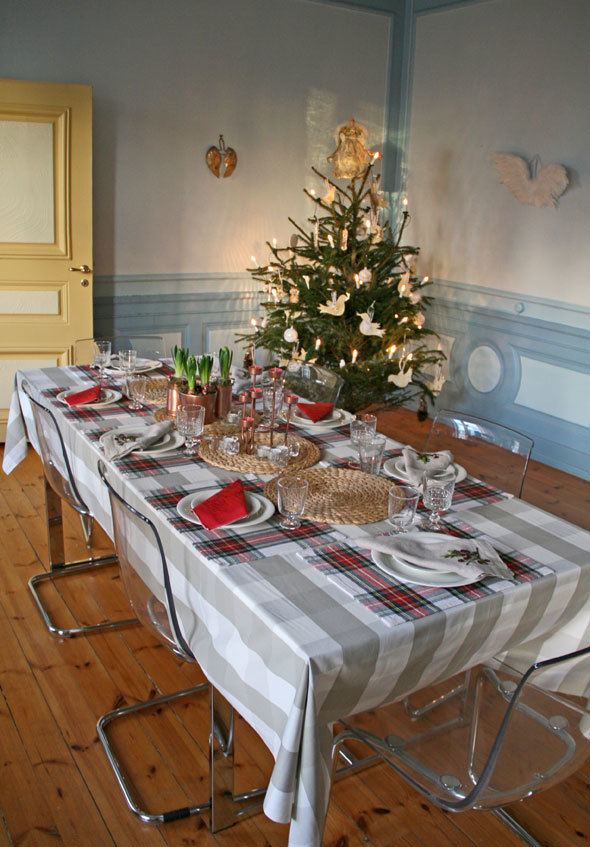 Dining room decor follows the "mansion living on a budget" theme here. The table clothe is just cut fabric from IKEA, the table mats are old from Ralph Lauren, and the linen napkins are also old. Dishes are from Arabia from Finland, and the glasses mix vintage and IKEA. This is out table setting for Christmas Eve for Finnish Christmas dinner, we have a slightly colorful one for Christmas when we cook the American Christmas dinner.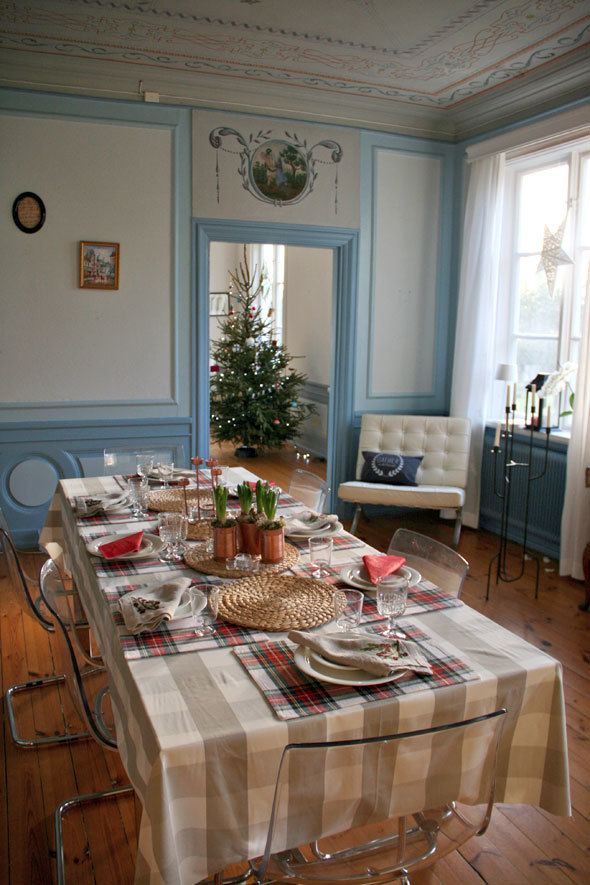 The dining room has my favorite chair is Eames, the pillow from Red Envelope, candle holder found from basement, dining chairs from IKEA. Wall mural – original to the house and at least a few hundred years old. Everything here is a loving mix of old and new, expensive and super cheap. And a few simple crafts too. For the dining room I painted old pots and food cans with copper and planted hyacinths inside. I've pretty much loved the copper spray-paint this year, and several times found myself walking around the house looking for things to paint copper.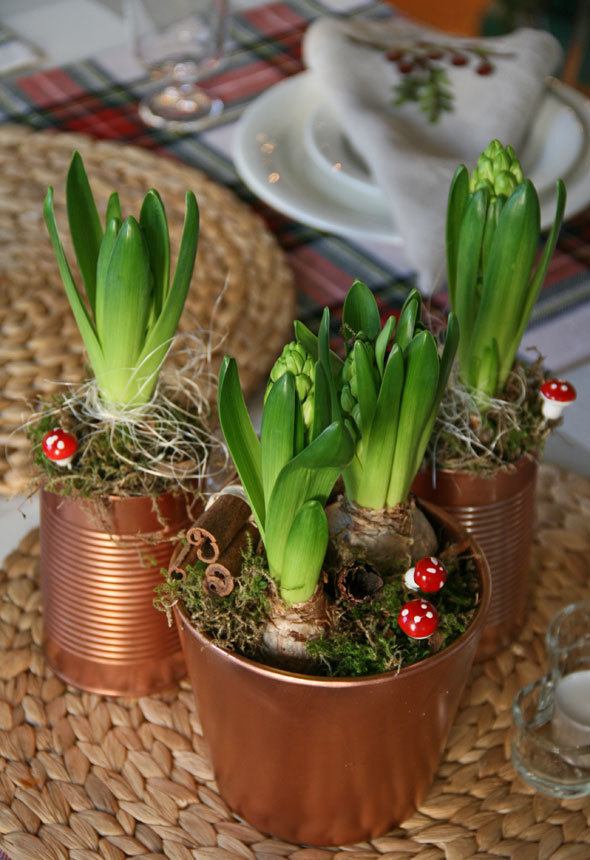 Merry Christmas from my Holiday home to yours! I would love to see pictures from your Holiday home, please share them with #skimbacoholidays on Instagram and see some of the pictures on the
Christmas Around the World Pinterest board
. Follow me also on Instagram for more photos
@skimbaco
and
@katjapresnal
.
Read how you can shop & support Skimbaco
Shopping guide disclosure policy