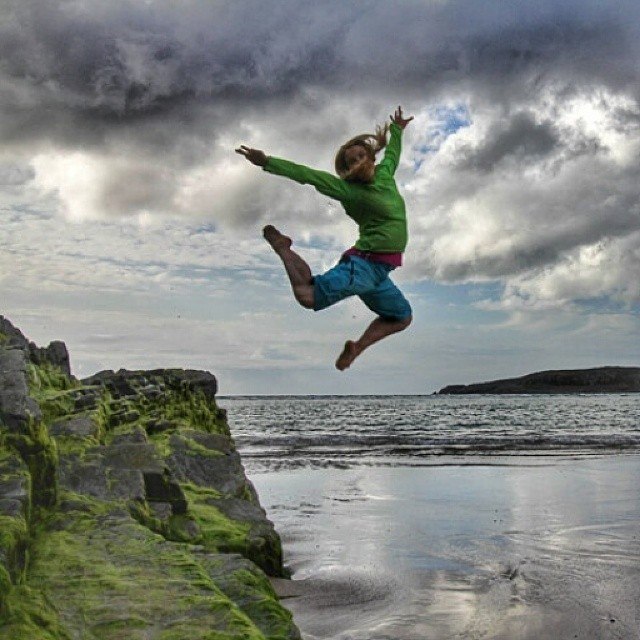 Jumping out of joy, four days of biking along the Wild Atlantic Way behind and legs are still working! Exciting day ahead with high cliffs and spectacular views to come… "
greets Skimbaco Team member
Satu
her Instagram friends with this picture last night. The
Ride Wild 2014
is now on, Satu and
Anne-Marit
are on their fifth day of biking the Wild Atlantic Way, the coastal roadway of the coast of Ireland. Watch the video of the moms training in Norway just a few weeks ago – and Satu's "minis" cheering mama to "go, go, go!" Satu's wild ride has already gotten an amazing amount of press in Europe, including in Norway, Finland, and in Ireland, as the locals and travelers who love Ireland alike are watching closely as Satu and Anne-Marit are biking the coast, one mile at the time! A few press links are here, if you want to check them out!
Interview with Satu – Ireland.com
Finnish Travel Blogger to Cycle Length of Wild Atlantic Way
– FFT
Top Finnish travel blogger to cycle entire length of Wild Atlantic Way over five weeks
– Hotel & Restaurant Times
Top Travel Blogger Takes On "Challenge Of Her Lifetime" – To Cycle The Entire Length Of The Wild Atlantic Way
– Travel and Tour World In Finnish:
2500 kilometriä rantatietä – maailman pisin maisematie löytyy Irlannista
– Rantapallo
Vihreä saari houkutteli seikkailijan satulaan
– Kainuun Sanomat In Norwegian: Småbarnsmødre sykler 100 mil på to uker – Boarding.no Photos from the road… and stay tuned for more from Satu, and follow the journey with the #RideWild2014 hashtag and Satu on Twitter as
@SatuVW
, Instagram as
@ToDestinationUnknown
and on
the Destination Unknown Facebook page
– and of course, more on Satu's blog
Destination Unknown
.
Do you have what it takes to be an adventurer?
Inspired by Satu, we created a quiz for YOU to test how adventurous you are. Test if you have what it takes to be a dreamer and a doer, who lives life to the fullest. What kind of an adventurer are you? Take the quiz. Skimbaco Lifestyle's mission is to inspire you to live life to the fullest and find your own "skimbaco," how you enjoy life where ever you are in the moment. For ideas for travel, home, food and fashion,
subscribe to weekly Skimbaco Lifestyle
feed on Mondays and
I hope you get my newsletter
that I send out sometimes on Fridays.