It's Instagram Travel Thursday again – and now with a new format. Starting this month, we will be hosting Instagram Travel Thursday link collection only once a month, and a new collection linky will be published every first Thursday of each month. Scroll down this post and you will find many more Instagram Travel Thursday posts and please add your own link you publish an Instagram Travel post this month.
I use hashtag #skimbacofinland for my photos from Finland, and here is a semi-random collection of my 20 Instagram photos from Finland, and what I love about Finland.
Archipelago
When I miss home in Finland, I usually miss the archipelago. There is quite nothing in the entire world like the archipelago in the South West waters of Finland. The Archipelago Sea is part of the Baltic Sea. In fact, you can't find that many (over 50,000) islands in any island group in the world. Finland has this gorgeous archipelago thanks to Ice Age, and the thousands of years of ice slowly melting and moving, and ripping the earth in little pieces as the ice mass moved. It has always fascinated me how the islands were born, and I never get tired of the sea view in Finland, and sailing in between the islands.
The islands in my country don't have palm trees, but pine trees.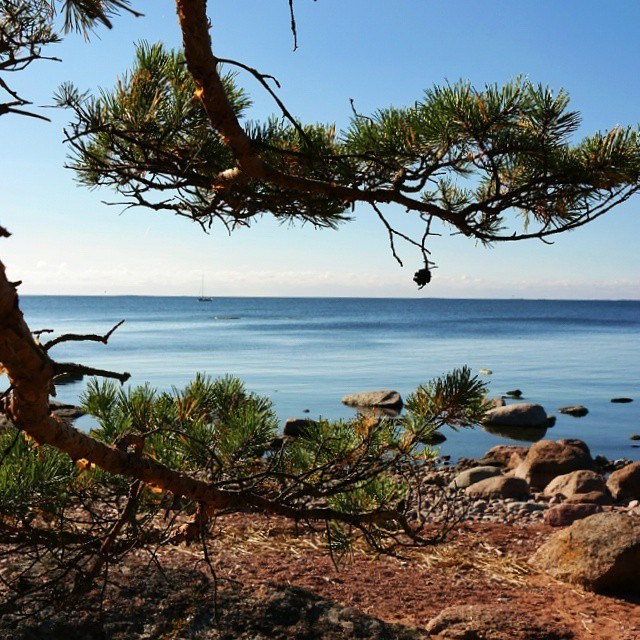 The islands in my country don't have white sandy beaches, but gorgeous round rocks, formed by the ice and water shaping them year after year. A side note: can you see how clear the water is? These pictures are taken in Porvoo, in the South East coast of Finland.
While the archipelago is my personal favorite, you can enjoy the water views almost anywhere in Finland. Yes, even miles away from the coastal shores – Finland is the country of tens of thousands of lakes. Whether it's lakes or the sea, Finns spent their summer vacations and weekends on the cottages by the water.
All you need is the nature, and of course a sauna and a dock so you can jump to swim in the (most likely) cold water.
Finnish design
Finnish design principle is that everyday object should be beautiful, yet not many objects are made only for decoration or for the show. Finns are practical people, and "to be beautiful" is not a function that is as highly appreciated in objects in Finnish culture as in many others. Yes, there is art, but the most known artists in the country are still more well known for their commercial work or the functional objects like home ware goods or furniture they've designed. The Scandinavian minimalism is at its best in Finland, and I can't say enough about Finnish architecture and design. Simple can be beautiful. I grew up in Paimio, where the world famous architect Alvar Aalto designed the now world famous hospital. The chair in the picture was designed for the hospital in the 1930's, and carries the name of my home town.
It is hard to believe that this chair that looks so modern, was already designed in 1930's. But that if something tells you of the long roots of minimalism and design in Finland.
Today's collectible everyday design in Finland looks something like this. A coffee mug made by Arabia with a picture of Tove Jansson's beloved Moomin characters, a Finnish literary stable. The first collaboration between Moomin Characters and Arabia was already in the 1950's, but the mass production of the collectible Moomin mugs started in 1990's and since then Arabia has released 2-4 new Moomin mugs per year.
Of course I have to mention glass art as well, from artists like Oiva Toikka.
Stay tuned for a longer post about Finnish design.
Small villages and small cities
Even the capital of Finland, Helsinki, is small compared to the cities of the world. Oh, how I love Helsinki. It has it's quirky sides, like knitted or crocheted street art, or over 50-year-old DJ in a Spanish Tapas bar, neither of you would think of seeing in Helsinki.
People follow their own fashion trends, and while part of it is fearing of not quite being on trend with the rest of the world, part of it really is just being who you are and just not caring what the rest of the world says. Some trends come to Helsinki a little late (first Starbucks just opened), but some trends are being created there (like Restaurant Day when everyone can open a restaurant for a day).
It would do such injustice to only talk about Helsinki though. It's like in most countries, there is the capital, and then there is the rest of the country, and they are not always the same, and you can perhaps see more of the real Finnish culture outside Helsinki. Although even in Helsinki, you can go in the market square by the harbor, and see all of the food stalls filling up every summer day, equally with tourists from around the world and locals on their lunch breaks. My favorite cafe the Cafe Esplanad is a Helsinki must do both for locals and tourists alike.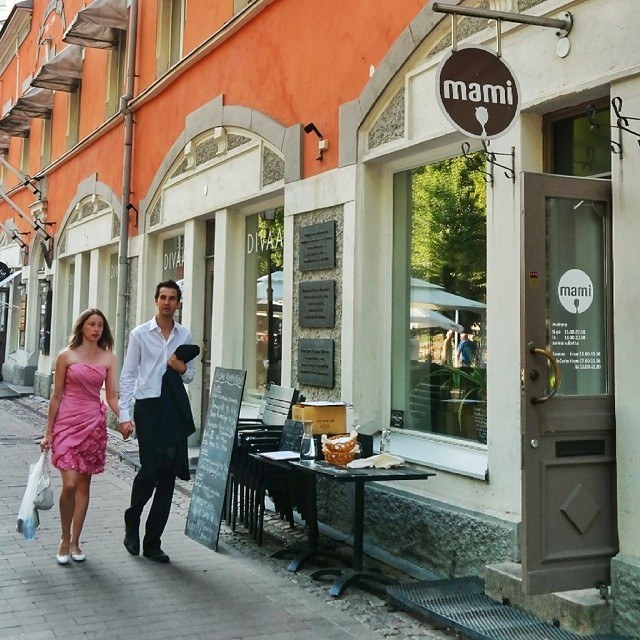 Turku in South-West Finland will always have a place in my heart. The Aura river flows through the city, and I just want to spend my day in the coffee shops, at the library, in the restaurants and the museums by the river. Just people watching as they bike through the city, sometimes taking the Föri, the small pedestrian ferry, cross the river with their bikes. Turku was the original capital of Finland, and you can still feel the powerful history as you walk the streets and discover the city. Of course, it's the Turku Archipelago that I love the most.
One of my newer loves in Finland is Porvoo in South-East Finland, only an hour drive from Helsinki. And yes, just like Helsinki and Turku, also Porvoo is a coastal town. I can't help it, but my Finland always has boats, and sunsets over the sea. Porvoo has a colorful history, and its old town is still today a charming place for people to go shopping and to enjoy their day in the coffee shops and restaurants.
Finnish Forest – serenity and outdoor activities
When in Finland, you can't escape from the forest, but you should escape to the forest. 78% of Finland's landscape is forest, and in fact, Finland is the tenth most foresty country in the world. Finland has the highest percent of forest landscapes among all European countries. Being close to the nature is important to Finns, and forest is a place for everything from soul-seeking to outdoor adventures to picking up berries.
Everyone has a right to pick up berries and mushrooms from the forests and enjoy the nature. The Finnish concept of 'Everyman's Right' gives a legal right for people to enjoy also the fruit of the green lush forests. Picking up your own blueberries or mushrooms for fall time dishes is as important as cooking the food. It's an experience of slower life, and appreciating it, even though you could easily pick up the berries from the supermarket.
While it might be more difficult to get to this close to the forest animals in the larger forests of Finland, it is easy to have animal sightings close to the cities. You will find forest everywhere in Finland, even in the capital, Helsinki. Read the
interview with Konsta Punkka
, the Instagram-famous squirrel whisperer from Finland, and how he shoots nature pictures in his secret forest location in Helsinki.
Forests, of course, offer the perfect playground for outdoor play. All you really need is good clothing and good walking shoes, and you can experience the best of the forests by going for a walk or hike, but that's really just the beginning. Orienteering is a big sport in Finland, mixing navigating and running in the serene forests, and of course when the winter time comes, the nature trails turn into ski and/or snowmobile trails.
The forest adventure possibilities in Finland are countless.
lapland Safaris
offer forest adventures in the most rural forests of the country – in Lapland. Closer to larger cities in the south,
Flowpark
offers tree climbing in parks that have been designed in the forest in a way that even if the park closes, everything has been built in the trees in a way that it will be easy to take down, and leave no harm for the forest. Forests are respected and everything is built around the forests in Finland. Of course, it is also a large industry in Finland, but that's an entire different topic.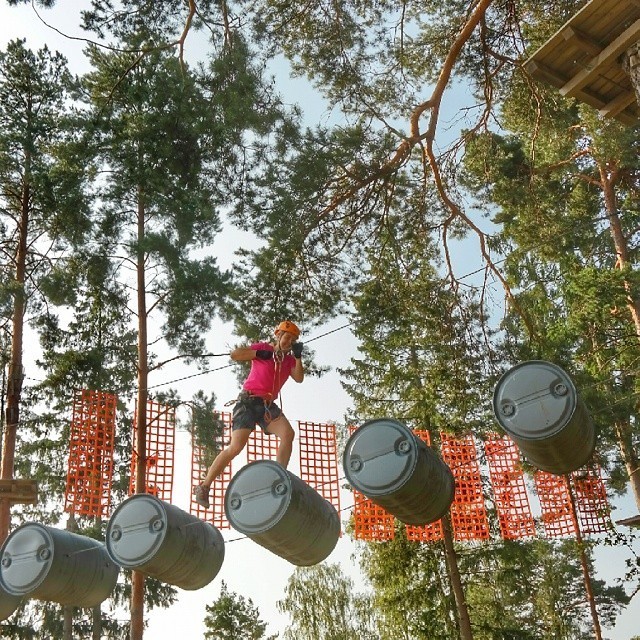 Food
Finnish cuisine may not be world famous, but Finland is worth to visit just to taste around the country for their unique flavors. Many of them involve the different varies of fish, cooked in different ways. One of my Finnish treats is dark Finnish rye bread with smoked salmon.
Stay tuned for more posts about Finnish food, design and places to visit!
Your Finland
What about you? Did these photos make you want to discover Finland on your own? If Finland is already known to you, please share how your Finland looks like with your photos. Use #skimbaco and #igtravelthursday in your Instagram photos.
More Travel Posts
Read more Instagram Travel posts from these new blog posts this month and add your own blog post. Linky closes on the last day of the month.
Link up, but read the rules first!

Instagram Travel Thursday
Join us every Thursday on Instagram by sharing your travel photos with #IGTravelThursday hashtag. Follow @skimbaco and @IGtravelThursday and we will feature the best photos on Instagram and on our Facebook page.
Instagram Travel Thursday is a fun community project to connect travelers on Instagram,
read more
.
Bloggers! Join the Instagram Travel Thursday and Host the Linky!
Bloggers, join us! Get email sent to you when the Instagram Travel Thursday linky post is up (
subscribe it here
).
GET A FREE EBOOK ABOUT INSTAGRAM
Also get my ebook
Instagram as your Guide to the World – How, What and Who to Search and Follow on Instagram to Help You Travel the World
FOR FREE when you subscribe to my newsletter.