Sometimes the best way to explore an area is to pedal your way through town on a leisurely bike ride. Our own
Satu spent late summer biking through Ireland
. Ok. She's more like a professional, but whether you are an avid biker or someone like me who gets on a bike very rarely, you will find that more and more hotels are giving you the option of experiencing cycling fun while on vacation.
"We believe getting on a bike is a great way to explore our property," remarked Theresa Chiettini, General Manager for the five-star, Relais & Chateaux property Fearrington House Inn in rural Pittsboro, N.C. "We've offered our guests the use of complimentary bikes for years because our property is so expansive. There are some great bike trails in Fearrington Village for our guests to explore. They can also hop on a bike and take a short ride to the swim and tennis club as opposed to walking."
The Fearrington House Inn is located about 8 miles outside of Chapel Hill, the home of North Carolina's first public state institution, the University of North Carolina. The Inn, located on an old rural farm, is the anchor in a small village, reminiscent of a European village with a first-class spa, gourmet dining, and adorable locally owned shops.
Over coffee at Roost outdoor café, cyclists pass our table in the village. Chiettini tells me that it is not uncommon before guests arrive at Fearrington to ask the concierge to make activity arrangements in the nearby towns of Chapel Hill, Durham, and Raleigh because they may think farm life may be a little to tranquil. "But, once they arrive and grab a complimentary bicycle, they usually tell us to cancel everything we scheduled for them, and they never move their car until they check out."
I even wobbled on a blue bike (girls get blue and boys get red) through the hotel's tranquil gardens on my recent stay. I say wobble because I need a lot more practice on a bike to feel comfortable going far.
Hotels are seeing that guests are enjoying the use of bicycles, and some offer special biking packages. The Wedgewood Hotel and Spa, another Relais & Chateaux property, located in Vancouver, British Columbia, offers guests a cycling package during the summer yearly. This hotel's general manager, Philip Meyer, loves cycling so much that he may just give you a private cycling tour of the city. Now that is making a guest feel welcome. I have a feeling he would leave me behind though. He is an avid cycler, and he graced the cover of the Spring 2014 issue of BC Cancer Foundation's "Partner's in Discovery" magazine.
The Wedgewood Hotel, under Meyer's leadership, even has its own cycling team, and over the past ten years, it has raised $2.5 million dollars for the BC Cancer Foundation in honor of the hotel's founder. If you want to bicycle around Vancouver, then the Wedgewood Hotel and Spa is the perfect place to check in to do so. California is known for its scenic highways. Resort guests at The Ritz-Carlton Half Moon Bay have access to complimentary beach cruisers while staying at the resort.
"Biking along the Coastal Trail is a great way to experience Half Moon Bay," remarked Kaitlin Crawford, a spokesperson for The Ritz-Carlton Half Moon Bay. "Guests can ride 7.5 miles from the resort all the way to Pillar Point Harbor. Once guests reach Pillar Point Harbor there are many coastal restaurants to grab lunch, as well as watching the surfers catch waves and a little shopping. Off the coast of the harbor is the legendary surf spot Mavericks, where the big wave surfing competition takes place." This bike trail is considered a paved, easy trail, but some portion of the trail is along the highway. So it may be best for avid cyclers, and not beginners like me. People like me may feel more at ease on Jekyll Island, Georgia, where there seem to be more people on bikes than there are in cars.
The Jekyll Island Club Hotel, rich with its affluent millionaire club's history, is in the center of all the action on this beautiful, coastal island. Hotel guests may rent bikes right at the hotel for $10 for half-day or $18 for all-day use. Bikes with training wheels and bikes with infant seats are in the inventory, too.
"It's always amazing in the busy summer months to go out and see the entire rack empty. That means everyone is riding around the island soaking up all the history and activities offered, " commented Brittney Strickland, social media coordinator with the historic Jekyll Island Club Hotel. "The interesting thing about Jekyll Island is there are over 20 miles of bike trails throughout this small barrier island. Just in the last few years the Jekyll Island Authority has added new bridges very close to our main entrance that allows guests to stay off the road if they want to go up near the causeway."
Guests can cycle to the beach, to the island's waterpark or around the trails of the hotel. I chatted with a family that had been exploring on the island for a few hours and also with a few people who said they had not been on a bike in years. The common theme heard a lot was that riding a bike made these guests feel like kids again.
With today's wellness trends, traveler, avid runner, and
blogger Elena Sonnino
seeks out properties where she can stay on track with her fitness goals. As a guest of the Lodge of Glendorn, a Relais & Chateaux property in upstate Pennsylavia between Pittsburgh and Buffalo, N.Y., she recently took advantage of the complimentary bikes the hotel provided to explore the property. I spotted her bike ride in my Instagram feed. In one day, she said, "I have fished, foraged, hit a clay target with a shot gun, ridden a bike and gone paddle boarding."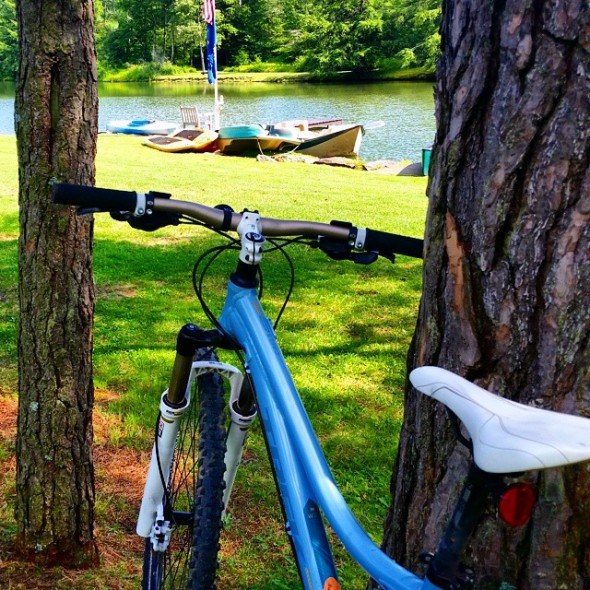 Now, I would say that is active. Knowing this fitness guru, she probably rode all 18 miles of bike trails. "Using bikes along the 18 miles of trails and roads at the Lodge at Glendorn is one more way to enjoy the resort, especially during the warmer seasons. The vast and beautiful property fosters wellness as the valley begs to be explored," stated Sonnino as we chatted over social media.
Whether you want to keep up your fitness goals or just explore more of the area you are visiting, luxury properties are making it easier for you to do just that. Next time you book a hotel, check to see if biking is part of the hotel's many amenities. You may find that two wheels are better for exploring than using your two feet. For more on the hotels listed in this feature, visit the following sites:
The Fearrington House Inn, Pittsboro, N.C.
The Wedgewood Hotel Hotel and Spa, Vancouver, B.C.
The Ritz-Carlton, Half Moon Bay, CA
Jekyll Island Club Hotel, Jekyll Island, GA
The Lodge at Glendorn, Bradford, PA
Photo Credits: Leigh Hines, Fearrington Village, The Ritz-Carlton, Jay Graham, Elena Sonnino
Part of this story was made possible by a media visit.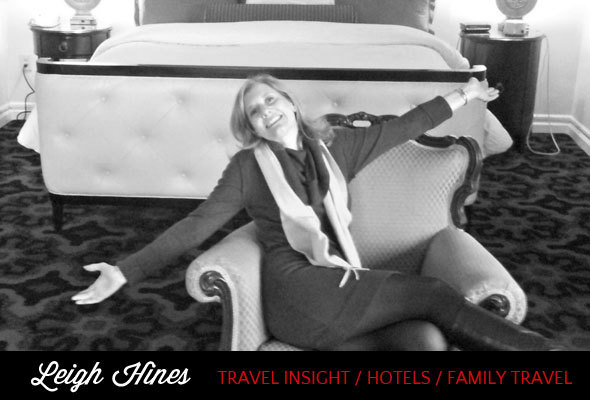 I live like a tourist in my hometown and my dream is to travel the world one luxury hotel at the time. If you love traveling as much as I do,
subscribe to Skimbaco Travel
, and never miss any travel content from our site.