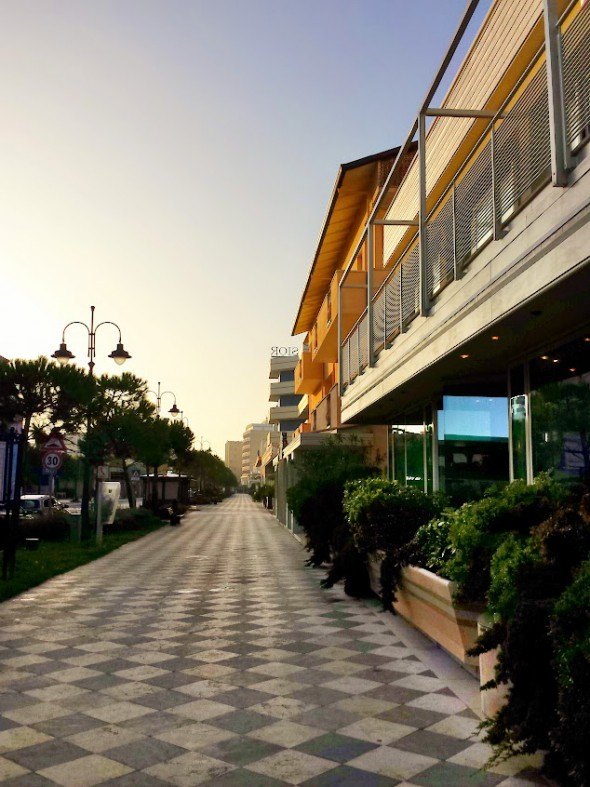 We were assigned
Hotel Nettuno in Cesenatico, Italy
. It was listed as a 4-star property with full-breakfast included. The website stated that rooms had been remodeled. Reading that was music to my ears, but the hotel was not listed in the top 100 hotels on review websites. I didn't know what to think about that because I rarely ever book a hotel that is not in the top 25 on review sites. However, reviews of Hotel Nettuno in my research were very favorable. I guess I would have to experience it myself to know for certain. I was the last team member to arrive at the hotel, and it was 2 a.m. in the morning because my plane in Munich broke down on the runaway. I had to be redirected to Venice, which was a four-hour bus drive away from where I needed to be. Luckily, I was traveling with a fellow blogger who lived in Spain, and spoke fluent Italian. She was able to converse with the Italian man at the hotel desk, who just happened to be on his first night of duty, and spoke no English. I handed over my passport, and hoped I would put it back in my possession the next morning. At this point, I was just glad to be in my room after almost 36 hours of traveling.
I took one look at my room, and took a few photos upon arrival.  I was quite pleased with the size and shabby chic, clean feel. I immediately crawled into bed. I was to be downstairs in the main lobby  again in less than five hours from my arrival. The next morning,I met one of the Ricci brothers in the lobby. The
Ricci family
owns several hotels in Italy. The business consists of the father, and his two sons.   The
family
has been in the hotel industry for 60 years.  Mr. Ricci immediately gave me my passport, and a wonderful cappuccino followed.
From this point on, I felt as if I was staying with the family. As every day passed, I loved this little family-run hotel even more. We arrived late after the conference one day, and the Ricci brothers were waiting on us with appertifs.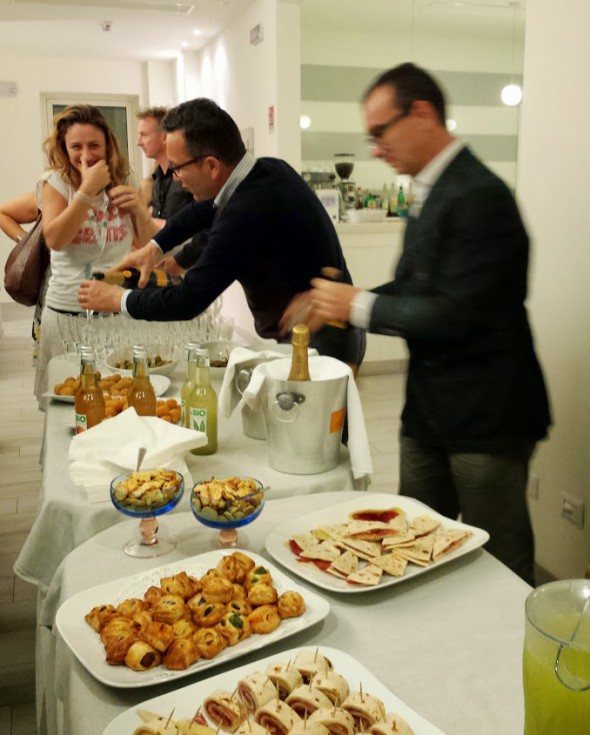 The brothers were there every morning for breakfast, making sure the wide assortment of pastries, fruits, and cereals were always well-stocked. Staff members remembered you, and by day 2, they knew I was that American that always asked for coffee with steam milk. Hot coffee basically arrived at my table before I even sat down. I love cappuccinos, but after the first day of downing the coffee in one gulp, I switched to Reeta's version of ordering coffee. I felt spoiled.
I did not not spend a lot of time in my room because that was the nature of the conference, but when I was there, I enjoyed it. It was comfortable, and attractive. The bathroom was large, and well accommodated. The hotel was also extremely clean. That impressed me a lot. This hotel has exceptional housekeeping.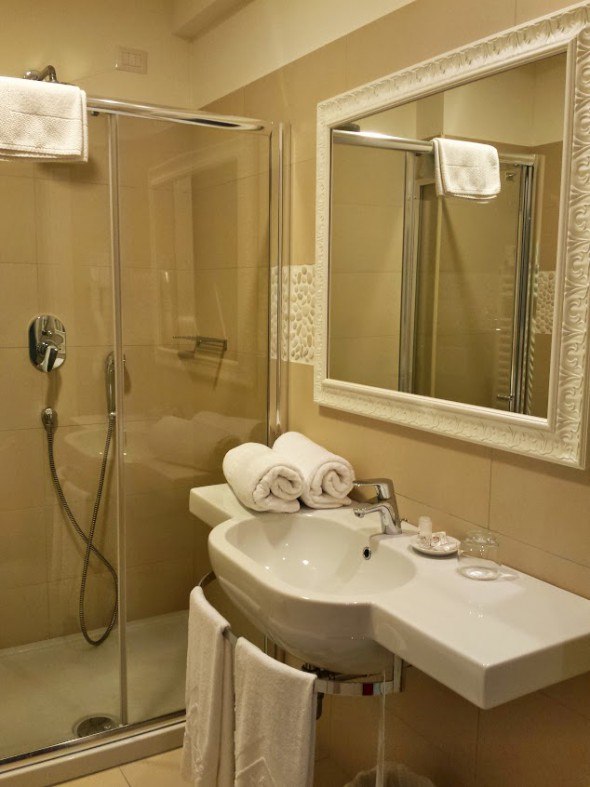 The common areas were pleasant, and we would hold Skimbaco team meetings well after 11 p.m. Katja lost her voice one night. The owner fixed her hot tea one evening to soothe her throat. That's service, and caring about your guests!  The common areas just felt cozy, and made you feel at home.
The more time I spent at this property, the more I fell in love. I really did. It's not luxurious, but yet is upscale. It has a very warm feeling about it, and when you're traveling in a foreign country, that is just a great feeling. Four star properties in Europe are a lot like our three-star ratings in America.  In my opinion, breakfast is more than what you find in America at 3-star  and some 4-star properties, but rooms are comparable in the rating.  Upscale in decor, but not really luxury. During peak season, the hotel restaurant serves farm-to-table cuisine for lunch and dinner.
Hotel Nettuno is a family-friendly property, and it caters to children during its busy months with a play area, swimming pool, and daily activities. If your travel plans take your family to Cesenatico, Italy then I think you would feel right at home at Hotel Nettuno. As a guest, I felt as if I was a member of the Ricci family. This family gem  is across the street from the Adriatic sea, and the Hotel has its own beach area.
This media visit was made possible because of TBDItaly
 Post by Leigh Hines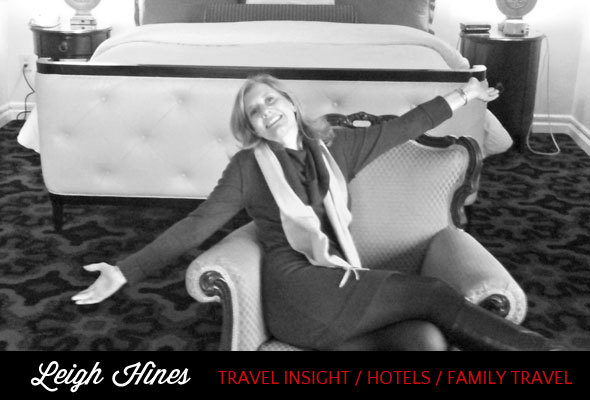 "I live like a tourist in my hometown and my dream is to travel the world one luxury hotel at the time. If you love traveling as much as I do,
subscribe to Skimbaco Travel
, and never miss any travel content from our site." Leigh Hines of Hines Sight Blog
Let's connect
Visit Leigh Hines of Hinessightblog.com's profile on Pinterest.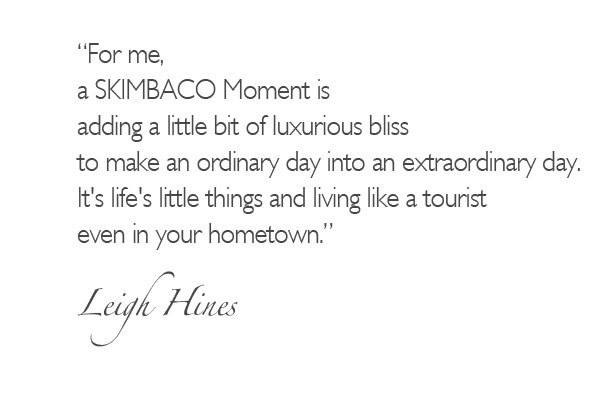 You all know that I'm the odd one on our Skimbaco team because I probably spend more time picking out a hotel for a trip than I do picking out a destination. Where I stay on a vacation is a big deal to me. I know I'm a little quirky in my ways and beat to my own drum, but my entire personal travel blog was established out of my passion for very nice hotels.  When I was selected, along with Reeta and Katja to attend TBDItaly 2014, I was absolutely thrilled at first, and then I became a little nervous because all my lodging would be selected for me. I curate a lot of my own media visits, so having no say in my lodging at all was very new to me. My Skimbaco team members will tell you that I stressed over this fact in our online team member meetings. They have learned to love me for all my flaws, but I'm sure they were very glad when our hotel assignment came in to us a few days before departure.