Slovenia, the little hidden gem next to Italy is well on its way on earning a great reputation for good food and award-winning wines, but it has so much more to offer – especially in terms of nature adventures. There is something for every season from water sports to hiking and biking, caving to skiing – and then some more (such as the current trendy sport paragliding)!
I got to discover the most South-Western corner of Slovenia, and the agenda was fully packed every day pretty much from dusk till dawn. The one thing I can definitely say is that Slovenia is a dream come true for nature-lovers with good quality roads for biking and getting around with not much traffic – and clean, beautiful and easily accessible nature with mountains, rivers, lakes and valleys everywhere, with small picturesque hamlets dotting the landscape. Just picture-perfect!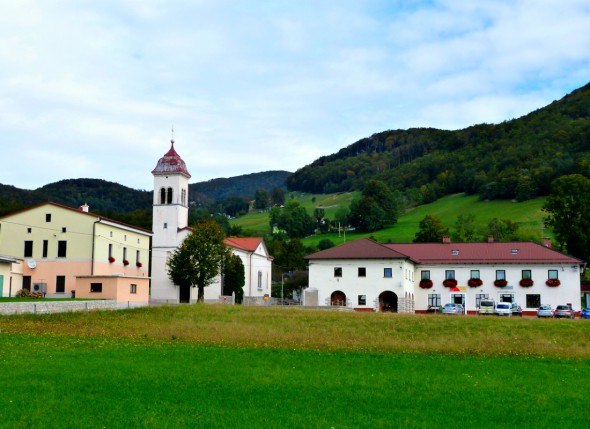 Another thing you'll notice is the lack of noise – although I live in the "English countryside" just outside London I can still always hear the motorway, a train, some aeroplanes, emergency vehicles or the neighbours' lawnmowers  – and random alarms all throughout the day, as well as night also. In Slovenia it was the birds and little trickling stream, Chinese tunes on the mountain-top where people were practicing taiji and just calm, gentle whistle of the wind. It was soothing and healing for the mind – a true detox from the city buzz and noise.
The first night we stopped atop Cerknina Mountains, near town of Cerkno to admire the sunset
from the award-winning mountain-top resort called Ski Cerkno
, which offers amazing mountain bike trails in the summer time, and a great, cozy environment for skiing in the winter. I was so excited to spot the tallest mountain in the Slovenian Alps, Triglav, bathing in hues of pink and purple, and then got to witness the sun setting in burning red, slowly fading to pink and blue in this perfect spot with 360 degree views over the surrounding valleys.
I would love to return in winter and stay in their cozy chalet apartments, where you can enjoy instant access to the slopes, great food and entertainment on site, all while being surrounded by this breathtaking nature (with no other touristic establishments nearby).  This was an amazing start for my first journey to Slovenia!
The following day we got to do some hiking in Vipava Valley area. This region offers a large network of short, as well as longer hikes along the mountain range (Slovenia has a total of 7000km/ 4350 miles marked trails) as well as great routes for mountain biking. The highlight of our hike leading across meadows and along the side of a mountain was a visit to the well-known natural window Olitško Okno, through which one can see most of the Vipava Valley. The views were beautiful.  Paragliding is also popular in this area and we got to admire several gliders silently speeding over the valley.
Another highlight on the trip was a journey back in time into a cold, deep, dark network of pre-historic caves, where there is no natural light or proper paths -and where ice age cave bear remains still lie untouched. Our journey took us to a lesser-known cave in the Green Karst area called
Križna Jama
, which is 8 km/5 mi long network of some 20 crystal-clear lakes, stalagmites and in winter bats and ice formations.
The staff provides all the equipment needed from special torches to wellies & helmets before the discovery to this natural paradise begins – all you need is some courage and warm clothing as the year-round temperate in the caves is 8C/46F. Normally it's possible to join the hour-long guided tour without a booking, but the 7 hour winter tour deep into the crystal mountain is limited to just 100 people annually, so you better prepare for your trip early and pray for some good luck from Lady Fortuna for the coveted tickets! So, if you ready to bike, glide, jump, run and crawl it's time to think of Slovenia as your next, unspoiled outdoor adventure destination!
 Disclosure: I was on a hosted press trip to Slovenia, but I am free to write whatever I want.