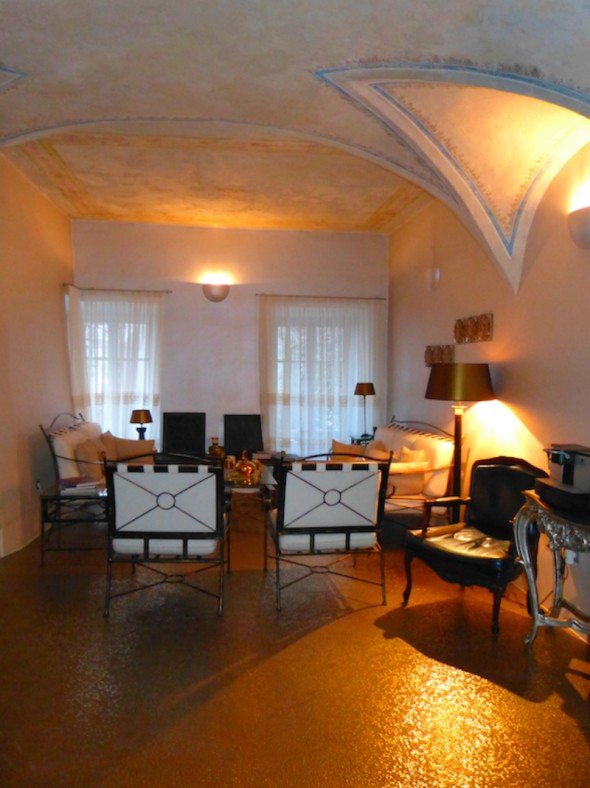 Ljubljana comes with an interesting history starting from early Roman influence to Italian and Austrian ones, and that is reflected in the town's building style with Baroque Venetian style being very dominant. Amazingly, one of these middle ages palaces now serves as a luxury hotel: The
Antiq Palace Hotel and Spa
, located in the heart of the historic Ljubljana town centre which is designated to pedestrians only. This little gem is part of the
Historic Hotels of Europe and Castle Hotels & Mansions
as well as the prestigious
Small Luxury Hotels of the World
 group.
When you open the door to the hotel you step back in time – you are transported to yesteryear's glamour accentuated by unusually high ceilings and fine details of craftsmanship. You'll be surrounded by beauty and history – tastefully mixed with all the mod cons one can expect from a high quality hotel. Although this boutique hotel has just 18 individually decorated luxurious rooms and suites and they look gorgeous, there is an on-going effort to maintain and upgrading these spacious, double-height rooms and suites to meet the demands of globetrotting travellers.
Currently Antiq Palace is officially rated as a 4-star hotel, likely due to its' small size and not having continuous dining and room service options on site , however they offer dinner options on most night via nearby restaurant. The rest of the service offered: the first-class concierge service, gym, beauty spa with La Prairie products and a private health spa area with a hot tub and three saunas guarantee a memorable stay. And these same services are the reasons why the hotel has gained top-notch marks 4,7 out of 5 on TripAdvisor by fellow travellers.
The common areas are a combination of high-ceiling grandeur and cozy vaulted rooms with reading areas, corners for resting and enjoying a snack and a cup of tea on offer – or a selection of local liquors, or schnapps, that Slovenia is famous for.
The inclusive breakfast was a delicious affair and not only because of the beautiful presentation but for the freshness and excellent taste of the food: selections of fresh breads and pastries, cold cuts, salmon, olives, fruits, mueslis, a press for oranges to make your juice, the list goes on. When I get a delicious coffee and my three little ones find plenty to fill their little tummies the breakfast is a success, and it's not always such an easy accomplishment. As my mantra goes, a great breakfast guarantees a perfect start for the day!
I stayed for an extended weekend with our three children in Antiq Palace and we absolutely loved the place. Normally it is hard to find hotels to accommodate a larger family, and we end up having to take two rooms – and many hotels don't even offer interconnecting rooms!
Therefore our suite with two bedrooms was heaven-sent, especially as it came with a large, fully equipped kitchen/ living room (yet still offered also mini bar products) and a lovely bathroom with a tub that fitted all three kids. And there was plenty of space for the children to play as well as a beautiful oversized desk with free wifi for working.  All important ticks on my family hotel wish list there.
When one thinks about an apartment hotel, the images that spring to mind are more of a bare kitchenette in the corner of a miniature living room which starts making one feel claustrophobic after two days. However, with Antiq Palace the effect is the opposite: you feel like at home, except that it's a very glamorous version of it with a daily cleaner, with no outside noise as it's located in a pedestrian zone and with such soft and luxurious beddings that one didn't want to get up in the morning!
Antiq Palace dates back to the 16th century and the owners appreciate its' rich heritage, some suites now have the original ceiling frescos restored as much as possible for the enjoyment of the guests. I was amazed to see some of those restored delicate patterns during my tour of the hotel.
The hotel has added more livable space to the original palace by making an attic conversion (which is more modern in style and has lower ceilings), and as over time other surrounding buildings have been extended, it has created a couple of courtyards for the guests to enjoy. I imagine they'll look stunning once the summer is back and in full bloom again – one can start the day by sipping coffee, or mimosas, in the garden while enjoying the first rays of the warm morning sun… All in all Antiq Palace is such a hidden little paradise in the midst of the city. It is a hotel that I'd highly recommend both for couples as a romantic getaway with luxury spa experiences, as well as for families and small groups looking for more space, yet in a luxurious hotel-setting – but with the added benefit of the self-catering ability which comes to the rescue for tired, little eaters at night as a minimum. As Slovenia is still a less-known destination, you'll be guaranteed to get value for money in this hotel also.
Disclosure: our stay at Antiq Palace Hotel and Spa was comped, but as always all opinions expressed are my own, and based on my personal experience at the hotel.