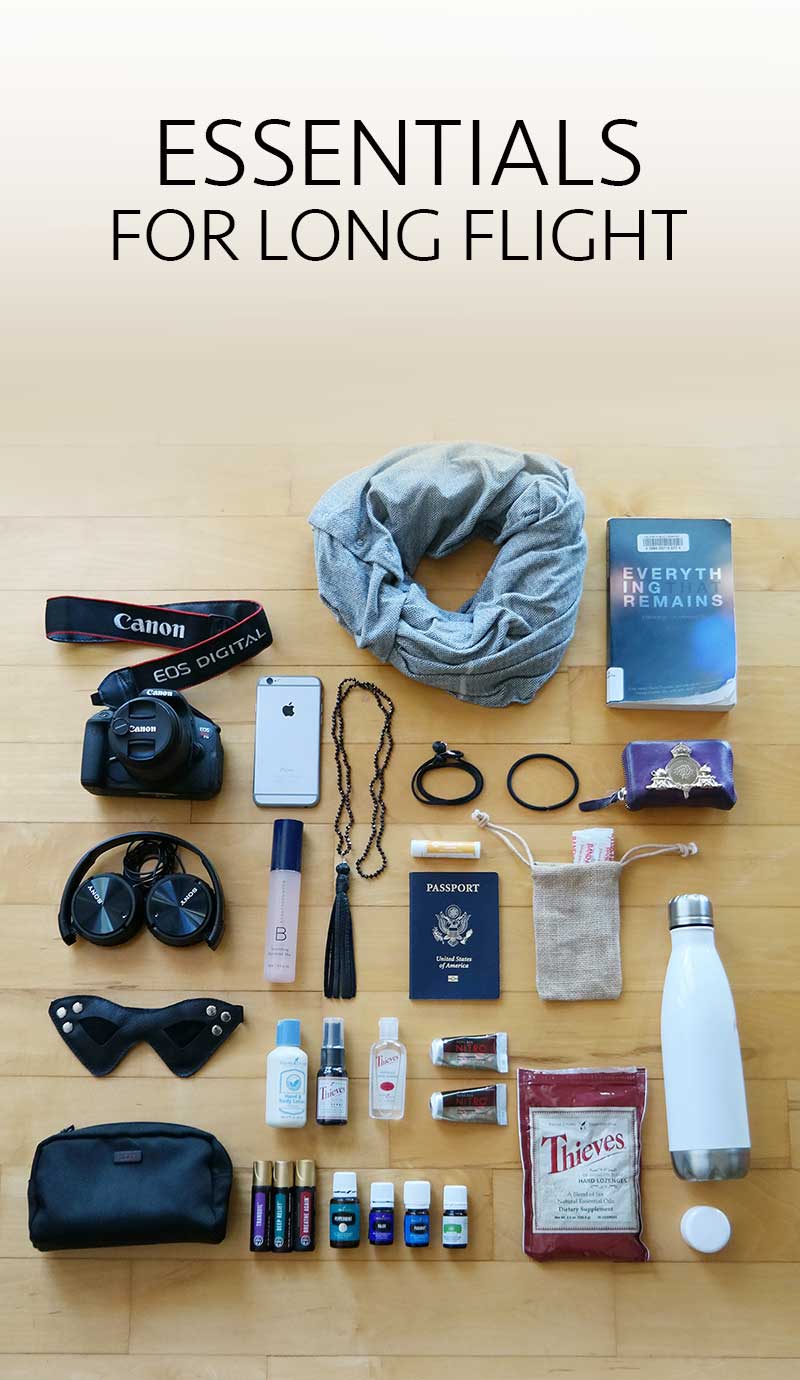 I'm packing for our trip to Sweden next week, and thought I'd give a look what I actually pack in my carry on for a long flight. A few things are missing, like I will still get a couple more snack bars, and probably return that book to library and buy another one for the flight… And the passport isn't actually mine – but maybe this one looks more like yours? :) But I wanted to give you a really realistic picture what I actually pack with me.
Essential Travel Accessories
Let's start with our own
diffuser jewelry
! The best way to get the benefits of aromatherapeutic essential oils during travels is to diffuse them in your jewelry. The essential oils stay in the jewelry's leather, lava bead or geode crystal parts actually longer than on your skin. You can enjoy the scent and the aromatherapy benefits, whether you need little extra help keeping it calm or keeping your energy level up. There are other ways to diffuse oils on the go, but diffuser jewelry gives out just the perfect amount of scent, and it is not overpowering for other passengers. Always be mindful of other people when you pull out your oils in public places!
Our team member Brooke packs her oils on the go too, and both she and I like traveling with our Converse too. And below is another packing tip and photo from Brooke: bring your Essential Oils magazine on board to continue learning more about the oils and perhaps sharing it with a fellow passenger!
Another accessory I never fly without: an over-sized scarf that works as a mini-blanket so I don't have to use the airline's fleece one. The
Vinyasa Scarf by LuluLemon
is one my favorite scarves, an older herringbone print is pictured, and it comes in 8 different colors currently. I've had this grey one at least for 4-5 years, and it's still in a great shape, I love how high quality it is. And talk about multi-use scarf!!!
Relax & Enjoy Your Flight
Tips for rested flight: add relaxing essential oil in your diffuser jewelry, or just get the Tranquil Roll-On to roll it in your neck, arms and temples. Play soothing music (noise-cancelling headphones are a must) and either read a book, catch up on movies or slip an eye mask over your eyes and get some sleep under your cozy big scarf/mini-blanket. I used to try to get work done during flights, but quit a few years ago to make them as relaxing as possible.
Travel with Young Living essential oils
One of the reasons I became a
Young Living member
was to utilize the benefits of essential oils while traveling (and to save 24% of all of their products). I never really have taken over-the-counter medicine, and try to eat and live as naturally as possible. But when I travel, my body needs extra help to keep going, whether it's been energy bars, products to help sore legs or sleep better because of jetlag etc. I've taken the past year and half to try to test as many of Young Living's products as possible, and of course, to find my
favorite essential oils and other Young Living products to travel with
. I have as many oils in my carry-on as I can, and I pack at least a double amount in my checked in bag.
Young Living actually has a great travel kit already, and this is now my makeup bag that I check in. Bon Voyage Travel Pack actually is compact and TSA-compliant, so I could fit it in my carry-on, and get through airport security with ease. But I don't need a shampoo or conditioner while flying, so I usually pack them, and I like to refill these bottles, so I don't have to use hotel shampoos.
Those who travel often, don't need a reminder, but just in case, here is the official 3-1-1 advice from TSA about bringing your liquids in your carry on.
Get the full list of my carry-on products below, but here are the Young Living products that I fly with. See how many products I can get from them? I love it! Also, scroll down and see pretty ahem, nasty infographic about airplane hygiene and why the Thieves cleaning spray and Thieves natural hand purifier are a MUST for flights.
Full carry-on packing list for long flight
1. Noise Cancelling Headphones
– I saved and got the
Sony headphones
for only $32.15.
2. Sleeping mask.
Mine is by
Burlesque Tsunami
.
3. Camera.
I like
Samsung Galaxy NX
($1,299.00 ) for Instagramming on the go (I edit photos first on Snapseed, then post on Instagram – right from the camera), and
Canon EOS Rebel T5
($499.95) is a good basic digital SLR.
4. Small cosmetics bag.
Mine is just a Tumi-freebie from Delta's first class.
Shop Tumi.
5. iPhone.
6. Nourishing Rosewater Mist
by
Beautycounter
($35) is SO good, I love it for my face, and mist it several times during the flight.
7. Hand & Body lotion to fight the dry air.
This travel-sized one comes in the Young Living's
Travel Bon Voyage Pack
with everything you need for travels. ($72.37 retail / $55.00 for members*)
8. Thieves Spray Cleaner
($11.84 retail or $9.00 for members*) is toxic-free natural cleaning spray for all surfaces.
9. Thieves Hand Purifier
to keep hands clean ($6.58 / retail or $5.00 for members*). Also comes in the
Travel Bon Voyage Pack
.
10. Tranquil Roll-On
essential oil blend ($37.83 or $28.75 for members*) is a mix of Lavender, cedarwood and roman chamomile and will help you to snooze off during your flight.
11. Deep Relief Roll-On
($35.20 or $26.75 for members*) is an essential oil blend that includes Peppermint, Wintergreen, Dorado Azul, and Helichrysum, and I add it to my legs and back of my neck during flights. Helps with travel tension and makes my legs feel better during the long flight.
12. Breathe Again Roll-On
features four types of Eucalyptus essential oils, Peppermint, Rose Hip, Blue Cypress among other oils. I add it on my chest and behind ears before take-off and landing.
13. Peppermint Essential Oil
($28.29 retail or $21.50 for members*) is another great oil to feel energized, and also gives a cooling feeling for head, neck or legs. While Deep Relief and Breathe Again blends are my must haves, and work better, you could easily also just take Peppermint as your "one do it all" oil.
14. I never travel without PanAway
($46.38 retail or $35.25 for members*) with its Wintergreen leaf, Helichrysum flower, Clove bud and Peppermint essential oils, it works for any kind of tension my body might have during the long travels. It is pretty strong scent, so please be mindful of other passengers during flights!
15. Valor II
($29.93 retail or $22.75 for members*) keeps me calm and centered during my trip. Whether I am standing on the TSA line, or worrying I am missing my connection… Valor helps me to stay focused and less stressed.
16. I always bring a Vitality-line oil to add to my water so I remember and want to drink enough.
One of my favorites is the
Lime Vitality by Young Living
($7.57 retail or $5.75 for members*). Even the scent of Lime Vitality is uplifting when I add it to my water bottle!
17. Be mindful when you use essential oils during flights. I use diffuser jewelry to diffuse mine.
The leather keeps the scent longer than my skin, and it is not overpowering for other passengers. I like to add Valor to my jewelry.
18. I never travel without one of the ENJOY LIFE diffuser jewelry collection's Wear Your Courage bracelets
($41). It also turns into a necklace giving me more choices for my travel outfits.
19. Long-hair? You get why extra hair-tie
(
36 for $3.99
) is on the list!
20. Lips are going to need some extra treatment due the dry air on planes. I never travel without a lip balm.
Also comes in the
Travel Bon Voyage Pack
.
21. Passport and wallet!
Mine, pictured in the feature image, is an older, much cuter version of the
Medium Zip Around Wallet by Mulberry
. (£275 – yes, a splurge!)
22. The jute bag
actually comes for free with our
diffuser jewelry
– I use it to bring bandages, the lip balm and other small stuff.
23. Your trip really truly just begins when you land! I want to be ready to GO, so I take a Young Living NingXia Nitro
before landing to give me extra energy boost, to stay alert and ready for an adventure. NingXia Nitro is $50.99 retail or $38.75 for members* for 14 tubes, it's not cheap, but worth it. You don't want to drink caffeine in the form of coffee or soda during your flight, it just dries you out, and the sugar in soda (or coffee) just makes you tired after the initial high. Trust me on this one, Nitro is the way to GO!
24. I also always keep Thieves Hard Lozenges
($24.34 retail or $18.50 for members*) with me to suck on during take-off and landing. Thieves Lozenges use pure essential oils and natural ingredients instead of sugar or artificial flavoring for a great, refreshing taste – and effective support without dyes, artificial flavors, or preservatives!
25. Summer lotion or sunscreen
in a small bottle. I never travel without it!
26. I also always keep a snack bar with me,
just in case. This one:
Cliff Bar
.
27. Book or two!
I have Kindle app on my phone, and sometimes I also bring a
Kindle
, but I still love bring a book too, in case battery dies, and it's just nicer to read a book. I recommend the
Everything That Remains: A Memoir by The Minimalists
by Joshua Fields Millburn and Ryan Nicodemus.
28. I always travel with a multi-use scarf
, that also works as a blanket for flights. One of my favorites is the
Vinyasa Scarf by LuluLemon
.
29. Lastly… I always carry a water bottle.
The
ICONIQ Stainless Steel Vacuum Insulated Water Bottle in White
goes for $16.95. * As you can see, Young Living members save 24% of all purchases, and you can join by getting a
Premium Starter Kit
.
Truth about airplane hygiene
Check out this infographic by
Travel Math
and their study which concluded that airports and airplanes are dirtier than your home (NSF, 2011). Surprisingly, it is the one surface that our food rests on – the tray table – that was the dirtiest of all the locations and surfaces tested. Since this could provide bacteria direct transmission to your mouth, a clear takeaway from this is to eliminate any direct contact your food has with the tray table. Thus: pack the Thieves Spray and the Thieves Hand Purifier for any other dirty surface you may touch along your journey. Take a look at all of the results from the study to learn the other locations and surfaces you should steer clear from.