Did you receive my latest newsletter? If you did not get it,
please subscribe for my next one
. In my latest newsletter I wrote more about attending the Disney Social Media Moms Celebration, and I included some quotes by Walt Disney himself. All travel should inspire you, but
Disney travel
should give you extra magic, right? Since my latest trip was business related, my biggest inspiration also comes in a form of business tips for you. One of the speakers at the conference was Jenn Fickey-Baker, she is the Editorial Content Manager for the
Disney Parks and Disney Parks Blog
. The conference had several other inspiring speakers, but Jenn Fickey-Baker's message resonated the most with me. Here are some of the tips she gave in her speech, and I think they will resonate also with many of the Skimbaco Lifestyle readers – whether you are a business owner, content creator or leader, or simply a social media fan or influencer.
1. Master the difference between writing and storytelling.
What is your story? How do you want people to feel after hearing your story? What do you want them to feel? Any small business, or a personal brand has to have a "story." Even if you think you don't have one, but ask your customers or friends, and they will be happy to tell what your story is all about. If you want to try to control what people say about your business or you, learn to be a better storyteller to tell stories that make people feel how you want them to feel about you. Your story is uniquely yours, don't try to be like anyone else.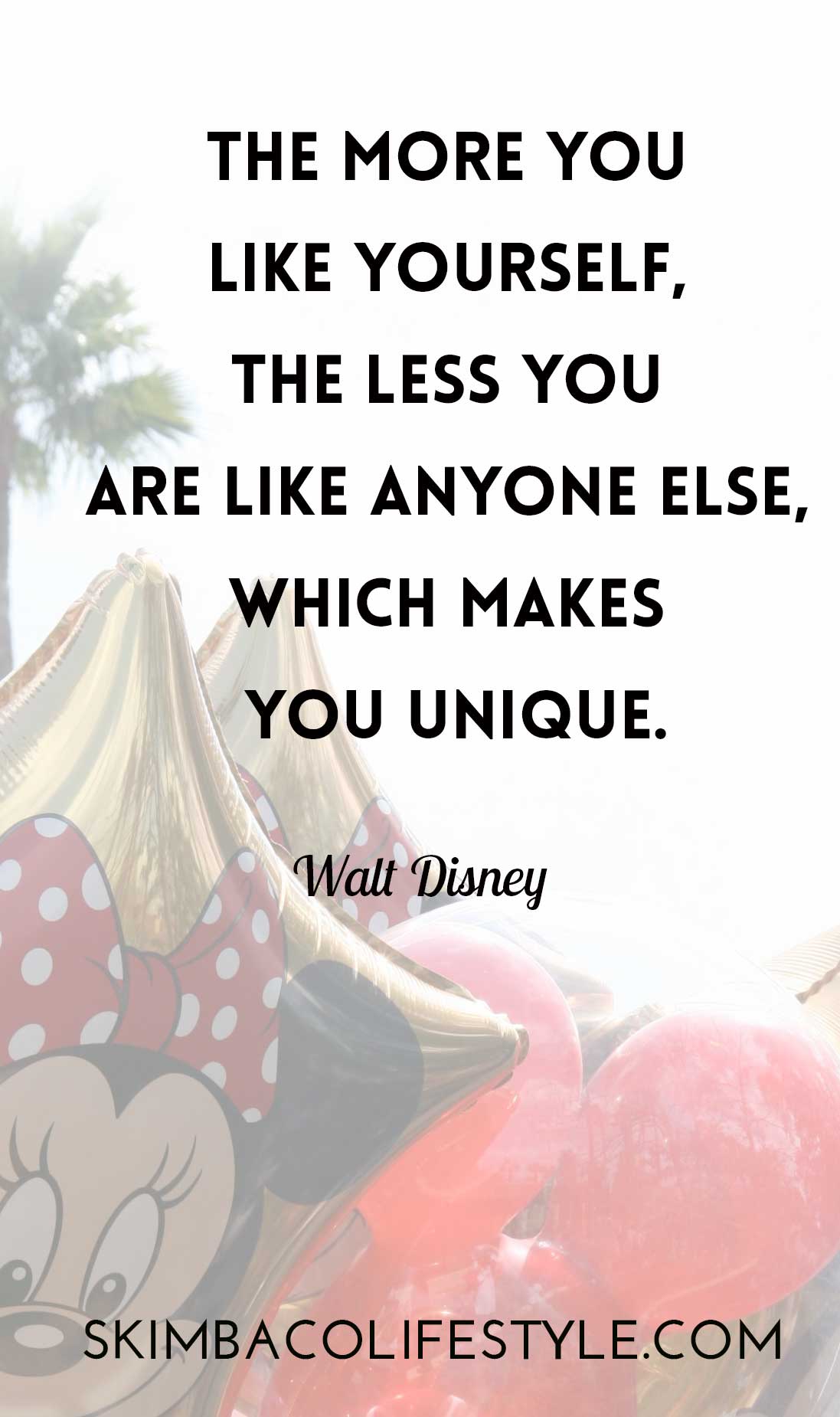 2. Write about something you are passionate about.
Passion heightens your story telling and your work and results are going to be better. Or post photos about something you are passionate about, or sell what you are passionate about — do what you are passionate about. The only way to gain genuine credibility is to be passionate, authentic and real. This also means that whatever your goal (your personal or business goal) is, go all the way, and believe that YOU CAN. This theme of "believing" is a recurring theme for example in Disney's movies, and for a reason. You will have to believe in yourself in order for anyone else to believe in you. Only way you truly believe is to only do things you truly are passionate about.
3. Key to success is curiosity.
Figure out how to be curious, and it will help you to think of new ways to solve old problems. Content creators never run out of ideas what to write about, when they stay curious, keep asking questions, and keep stretching their imagination.
When you're curious, you find lots of interesting things to do. We keep moving forward, opening new doors, and doing new things, because we're curious and curiosity keeps leading us down new paths.
said Walt Disney.
4. Make friends.
Create a team of friends, and support your team. Look for people with same passion and who have talent different than yours. Make friends in your industry, and even with competitors. You never know who is working for whom the next year. But to keep your ideas fresh, and your mind sharp, you need friends who are not in your industry, and who can give you unbiased opinions outside the normal circles. Make friends, and be a good friend. Help others before asking anything back.
5. Have fun with it and show your personality!
Nobody looks stupid when they are having fun. Joy is contagious. People want to join in. Don't take life – or your business – so seriously. When you are having a good time, you will start attracting people, without even trying too hard!
6. Get out of your comfort zone.
Great things never come from comfort zones. The more you push, the wider your comfort zone becomes. We often write about being adventurous here, and with that we don't mean mountain climbing and zip lining. Maybe that TOO, but not
only
that. Being adventurous means that you get out of your comfort zone, even if it is one tiny step at the time. Nobody run a marathon on their first jog. One step at the time you can stretch what your comfort zone looks like, and one day you will realize how far you have come from your original comfort zone.
What are you waiting for? Ending this with Walt Disney's words:
The way to get started is to quit talking and begin doing.