The Next Big Thing in Lapland: Aurorahut
Have you ever visited
Lapland
, the most northern part of Finland? Lapland is the land of magical moments and unforgettable experiences – all year round. Without a doubt, its most valuable assets are fresh, non-polluted air, and safe, clean, untouched nature.
I will tell you a secret how you get the most out of our precious nature. The secret is
Aurorahut
. These new eco-friendly glass huts are going to be the next big travel trend in Lapland. Aurorahut combines:
Hygge
; a Danish and Norwegian word for a mood of coziness and comfortable conviviality with feelings of wellness and contentment, and
Lapland;
the most wanted destination for, in particular, seasoned travelers as it provides you with unique nature and experiences you cannot get anywhere else.
Well-Equipped Cabin On the Go
Whether you prefer active holidays or relaxing stays, Aurorahut makes them both possible. Although the hut is very cozy, it is still very practical. It has a storage room, a mirror that actually hides a small cabinet and by pushing the mirror up in the middle, it actually opens up to be a bar table. There's also a kitchenette as well as a fridge hidden underneath the floor (there's a lid you can open and it reveals the spacious fridge that fits plenty of food).
In Aurorahut you will stay warm, sleep well under the stars and watch the northern lights dancing above you. Finnish nature will provide you with all the entertainment needed. Aurorahut has an A/C as well as heating system, it's independent in terms of water and sewer, it even has its own little toilet. During summer the hut can be placed to float on the river – yes, it floats! For a floating Aurorahut, a floating patio will be attached providing you plenty of extra space. During the winter when the hut is on the ice of a river or a lake, you can extend your living area outside. You can even do ice-fishing inside the hut! There is an opening (round hole) on the floor for ice-fishing. All you need is an ice-fishing rod. But no worries, the well-equipped hut includes them as well.
Once you receive that tasty, fresh grayling or trout, you can take it outside and fry it in the fire pit. What, fire on ice? Yes, the fire pit, and all the necessary equipment for grilling will come along with the hut. Aurorahut's most special features are its glass walls and ceiling that give you stunning views all day long. Another very special feature about Aurorahut is that it can be transported to any spot. The hut can be transported to stand on ice by tolling it with snowmobile. During summer time on a lake, all you need is a motor boat, and when transporting along the road, all you need is an extra wide trailer and a car to do the work.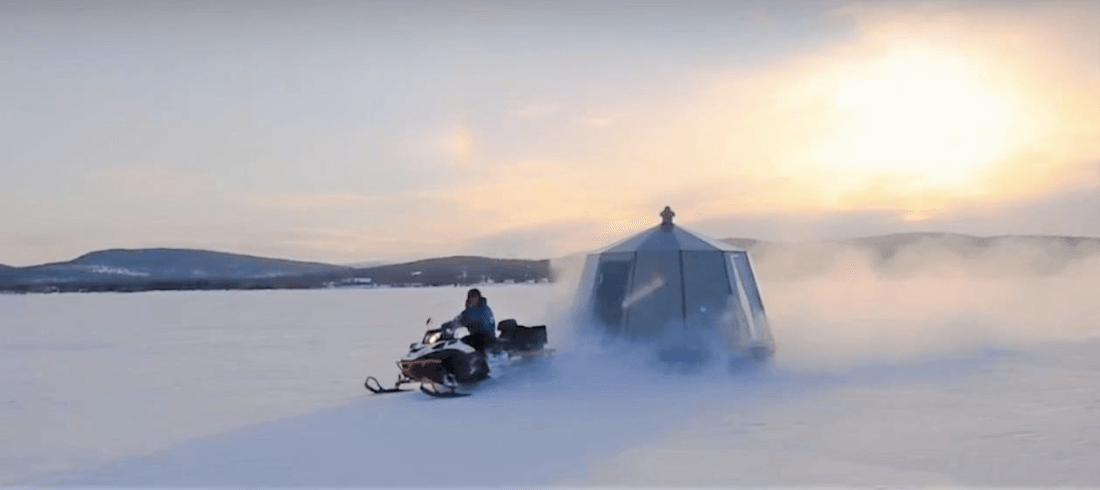 How to Get Your Aurorahut?
Aurorahuts are designed and manufactured in Finland, and the company has just started selling them. 
The current ones are still in prototype and testing mode, and the final Aurorahuts once they go into production might have some minor changes in the structure or amenity level.
Aurorahuts are great for tour companies, holiday villages, safari companies – basically to anyone that needs either just a hut for pitstops along a hiking or safari route. An entire holiday village can quickly be set without destroying any nature – no need for construction or cutting down the trees. You get to enjoy the nature without destroying the nature because of these huts. Aurorahuts' independent nature appealed to me as well; they are independent from running water, electricity, sewer, road systems and the best part is; they are truly eco-friendly with no building sites around you which allows you to enjoy your peace and nature. This new, eco-friendly way of staying in the heart of nature is going start a whole new era in Finland's, particularly Lapland's travel and tourism industry, and I can't wait to see it happening! Learn more at
aurorahut.com
.
Photos by Aurorahut & the last one by Mia Niemelä
Guest post by Mia Niemelä of Touchse blog. Mia is a luxury hospitality, travel, customer service design and social media consultant, who is also very passionate about traveling herself. So far, she has visited almost 50 countries and 300 hotels worldwide. She has a gypsy soul and yet a heart of a Lappish girl who loves nature, hiking, sunrises and photographing.