Marski by Scandic in Helsinki
The new
Marski by Scandic
is a place to experience authentic, unique and creative Finland. Located right in downtown in the mix of culture, shopping and dining, Marski will be the place where visitors can enjoy the best of Helsinki, and locals can hang out. The entire hotel is under renovations at the moment, slotted for grand opening in early June. Marski by Scandic will be the first signature-hotel of Finland.
Marski Hotel was originally opened in 1962. Marski Bar was a local institution, and ideas were wild, thinking free and in the 60's everyone stayed at Marski from politicians to world class stars. Marski by Scandic has incredible legacy to live by, and it will pride it's heritage, but with much updated attitude, more suited for today. Marski is located on Mannerheimintie, both the hotel and the road are namesakes for Carl Gustaf Emil Mannerheim, who is called the father of modern Finland, the greatest Finn of all time and much more – he was the greatest military leader, president and commander-in-chief of armed forces during the times Finland fought in war against Russia (and won).
Marski by Scandic appreciates tradions – but it completely renovated in a new modern Finnish design. The basic idea behind Marski is conscious happy living and Finnfulness. Finnfulness mindset is divided in three different things:
Pride in originality
and where we came from – Finnish history,
sisu
(grit), Finnish quirkiness, local design, personal space.
Curiosity for cultures
– stories, redefining traditions, and being an active part of city's happenings.
Live consciously
– time alone but also bringing people together, embracing seasons, closeness to nature, conscious choices, holistic wellbeing, and sharing. We of course like the appreciation of Finnish culture, but also the commitment to conscious living. Conscious living and sustainable choices could already now be seen in the details. The hotel is aiming for 100% recycling, and many of the building materials, and building heating are eco-friendly. Same goes with other product choices. For example the restaurant napkins, and the hotel staff uniforms are made out of sustainable fabrics from upcycled plastic bottles. Not just that, but the linens need 80% less water when washed, because the lines are made out of smart textile made out of upcycled fibers. Also, the vegetarian and vegan food choices made out of locally sourced foods will be found in bounty from the hotel's restaurants.
Restaurants
The classic Marski Bar
will be back with high quality cocktails, where both locals and visitors will be welcomed with world class service in an laid back atmosphere. The focus is on locally sourced high quality ingredients and drinks.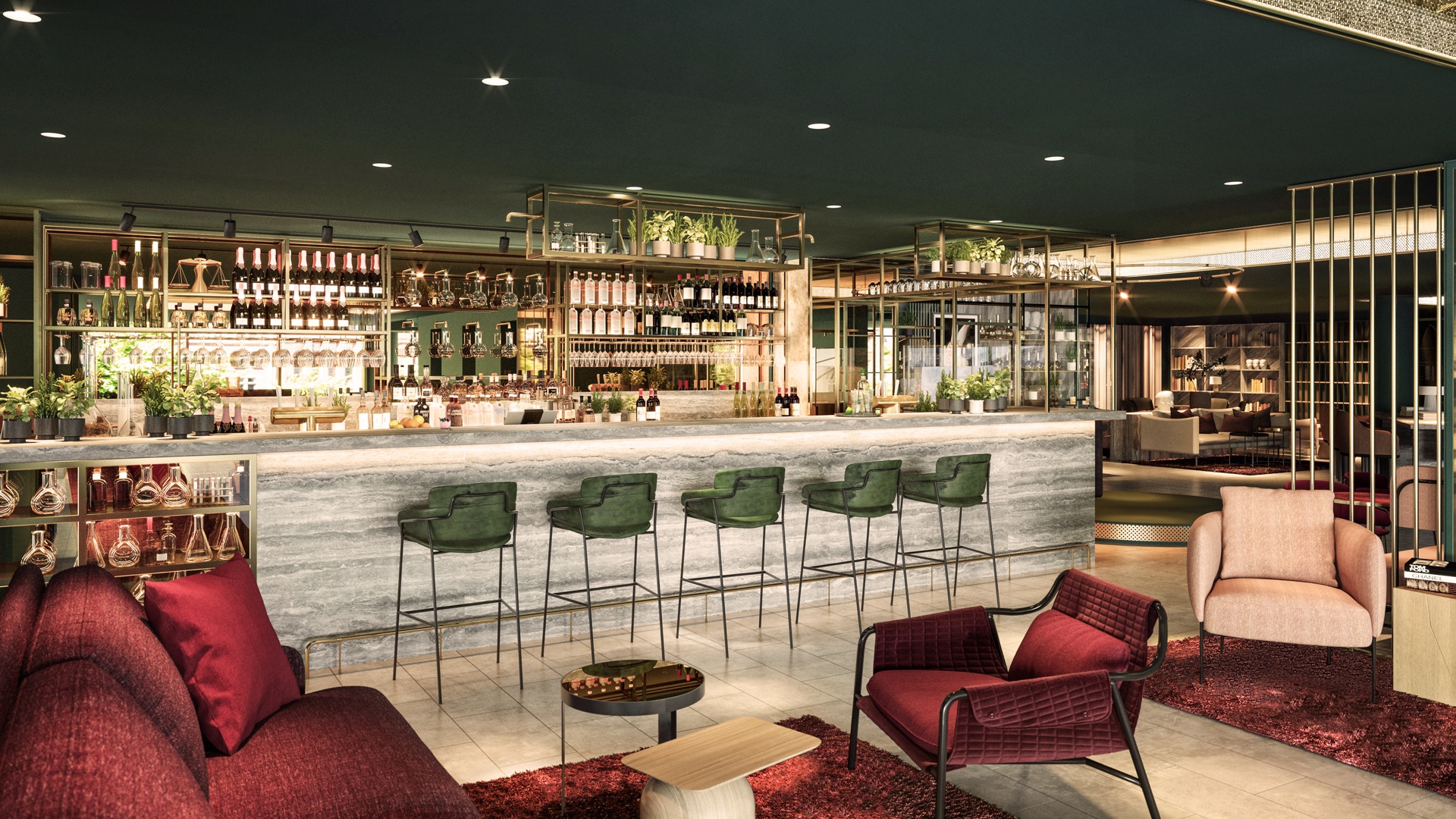 Kuusi Palaa restaurant
will be a culinary journey to Finnfulness. Funny fact:
Kuusi Palaa
is a pun and means both "Six Pieces" and "Fir Burning". The menu promises to be as playful as the restaurant's name, and they will serve Finnish comfort food like macaroni casserole (not to be confused with mac & cheese) and mocha squares (better than brownies) and fusion dishes like sushi made out of Finnish cold smoked salmon and spring rolls with traditional Finnish flavors.
Cafe 7:01
will be perfect for getting quick breakfast on the go, long breakfast on your vacation, or perfect afternoon coffee with friends. Why 7:01? Mannerheim enjoyed his morning coffee every morning at 7:01. Not 7:00 or 7:02, but always punctually at 7:01. Of course they serve their signature coffee 7:01 made by small batch roastery Kaffa Roastery in Helsinki.
One of the many unique bites we had at the hotel preview was flavored pop corns… Blueberry, lingonberry and pine!
We look forward bringing our visitors from the USA and around the world to Marski by Scandic, and as locals we can not wait to utilize the co-working space. Yes – the hotel will truly become a living room for the locals as well. Get ready and make your reservation now at
Marski by Scandic
.
Photos: Isabella Presnal and Marski by Scandic.
Follow Isabella on Instagram as @IsabellaPresnal.