Currently, the fashion industry is in this rapid-fire fast fashion cycle. Clothing is made quickly, in countries where labor is cheaper and exploitative, with lower-quality materials and less attention to details. Clothes are unlikely to last even a season much less for years, resulting in a flood of clothing in our landfills. 
The vast amount of energy and material needed to make garments. This results in the fashion industry creating nearly 20% of wastewater often filled with toxins from dyes, the incineration of over 80% of fibers used, and responsible for 10% of all carbon emissions globally. Roughly 1% of clothing is recycled. (via The World Bank)
Many of us are recognizing that we need to end fast fashion and micro-trends, and brands are waking up. However, there is a difference between actually sustainable clothing versus using the climate crisis as a promotion tactic – ie greenwashing. 
H&M is the biggest example of a large corporation using the climate crisis as a campaign to make itself look better, without actually taking action to improve its use of child labor, polluting toxins, and over-production of cheap low quality clothing.
So how can the fashion industry work toward a more sustainable, better future? 
There are many who are looking to create a more sustainable industry, from influencers who share thrifted or DIY outfits, designers repurposing fabric scraps, to brands supporting initiatives outside of their products to better the planet. 
Sustainable fashion is not just vegan or vintage, there are many solutions for sustainable fashion. It is also not just the material. Sustainable fashion refers to how a garment is made, who made it, and every step it takes between the initial design to your closet. 
It is deadstock fabrics, repurposed items, fair wages, safe working environments, using every bit of fabric, recyclable or compostable packaging, and so much more. It is a cycle of continued use and repurposing, not a line to the landfill.
In Helsinki, a local event was founded in 2016 with the intention of spotlighting sustainability.
"I wanted to make sustainability mainstream, commercial, beautiful and sexy. I thought it was the most important next direction to take anyway, whether in terms of fashion or its impact on climate change."  Evelyn Mora, the founder of HFW, Helsinki Fashion Week (via WWD). 
Helsinki Fashion Week has always selected designers who create pieces ethically, resource efficiently, and with innovative material sourcing. In 2018, HFW created an eco-village with solar power, purified sea water for drinking, and Tesla cars for transportation.
The year after, Cosmopolitan called Helsinki Fashion Week the "most sustainable fashion week in the world", and became the first fashion show to ban fur and leather.
Sustainable also means selecting a cast of diverse models to show beauty in an all-embracing way and using hair and makeup products that are natural rather than synthetic.  
Helsinki Fashion Week 2022
This year Helsinki Fashion Week returned to a physical format and was held from August 5th to 7th at The Train Factory and Hotel Mestari in downtown Helsinki.
The focus of 2022 was social and cultural sustainability, and mental health in the form of digital sustainability. A total of eight designers and brands showed during the event in the Finnish capital, each chosen based on their sustainability practices and future goals.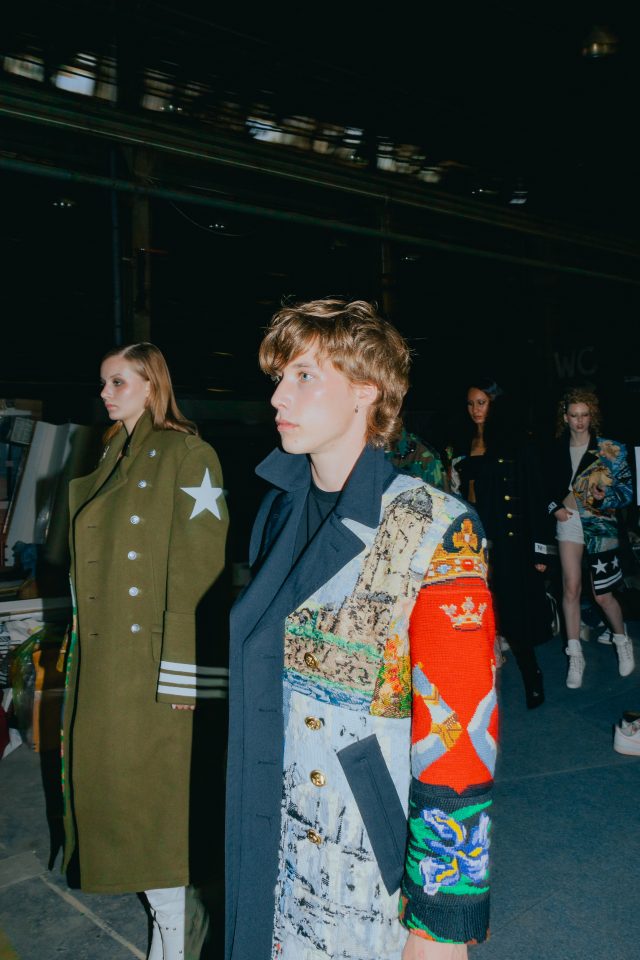 The digitalization of the fashion industry is impacting physical fashion, something we've seen particularly in recent years.
Saga Weissmann, HFW's executive producer, sees that digital and physical fashion should go hand in hand, rather than as separate entities.
One brand, Only One On Planets' (OOOPS) used digital technology to explore sustainability. OOOPS offered one-of-a-kind vintage items both physical and digital garments, using non-fungible token (NFT) technology. 
Something to ponder is how sustainable is digital fashion, and how we compare the physical footprint to the digital footprint. 
Slow fashion and craftsmanship 
Weissmann told FashionUnited:
"This season our focus was also on slow fashion and craftsmanship. The pandemic has slowed a lot of things down, and our consumption is one of the things that should stay that way. We see craftsmanship as the future of physical fashion, as people are starting to see the value behind clothing, supply chains and being more aware of where their garments come from." 
I had the pleasure of walking for the family-owned brand, KRIS MARÁN, which particularly focuses on quality garments that represent the artisanal values of Ukrainian craftsmanship. Inspired by the late 80s, the brand balances feminine and masculine forms by blending strength with sophistication. The brand is known for its minimalist approach focused on textures and fabric. Their factory and headquarters are located in the same space, allowing for close supervision to ensure every product is up top-notch.
Many of this year's designers explored eco-fashion through various means of upcycling and repurposing. 
One designer's work was presented as part of the runway space. Sini-Pilvi Kiilunen, an Aalto University Master's fashion student, showcased a collection of garments utilizing leftover and recycled materials. While her previous work has been characterized by elaborate materials and described as romantic and intense colors, this collection is focused on construction. Utilizing second-hand shirts and leftover materials, the designs combine masculine and feminine characteristics and shapes.
Hailing from Accra, Ghana, BOIE&BILL by Ellisha Boie is a fashion brand that is focusing on sustainable development by preventing and putting to use discarded plastics and second-hand clothing imported into the country's landfills. The upcycled collection is made up of plastic waste and second-hand clothing from the markets of Accra. Additional materials include broken mirror and glass pieces, fabric and plastic scraps, etc. The brand created an innovative clothing line of raincoats and jackets, to be donated during the rainy season, and tie/dyed second-hand jackets, sweatshirts, jeans trousers, and more. The aim is to promote and draw attention to upcycling and sustainable fashion in Ghana and Africa as a whole.
7585's collection
Middle Voices
explores recycling through avant-garde designs. The collection includes 7585 EAST line basic essentials in white, nude, and black colors and 7585 WEST deconstructed upcycling one-of-a-kind garments. During the show, the brand premiered its first film "MIDDLE VOICES" directed by Alla Lepnina and Anya Biarozka. It investigates the many aspects of plastic waste pollution. The film speaks about recycling, human health, and how overconsumption is killing the planet. The aim is to educate through art and fashion in order to address social issues.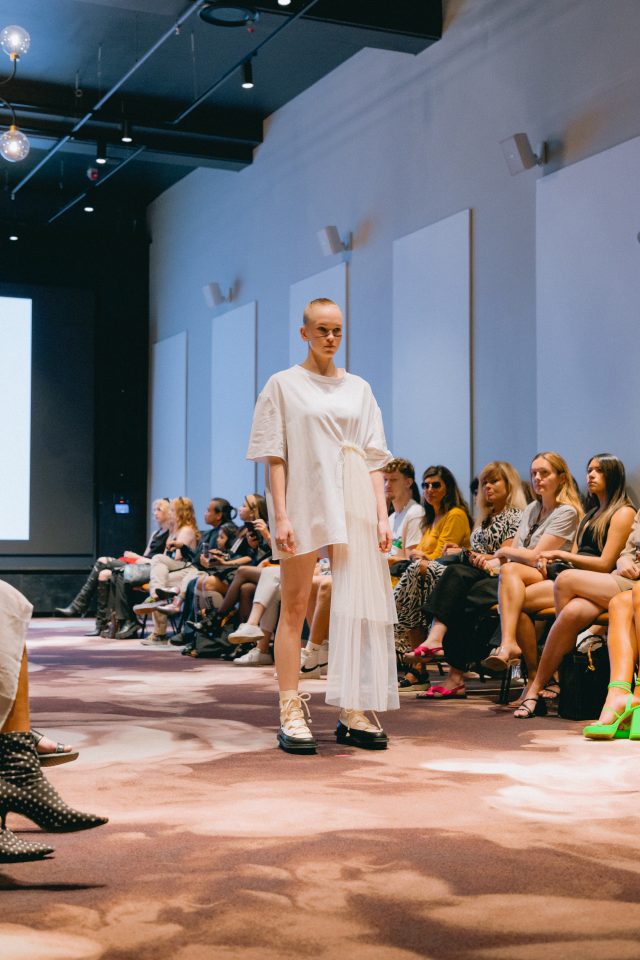 HFW also strived to support Ukrainian designers and brands. The ongoing situation of the Russian invasion of Ukraine has sparked designers to dedicate their entire collections or shows to highlight the war. 
Helsinki Fashion Week started with Ukrainian brand CHERESHNIVSKA's sustainable collection
2402
. Designer, Anastasiya Rozava, describes the collection:
  "First of all, I wanted to support everyone who is currently experiencing [fighting for a normal life] and remind them that they are not alone in this 'journey'. At the same time, we want to once again draw attention to the war in Ukraine. After all, art is also a weapon."
The collection mirrors different stages of war through the use of color, material, and repurposed secondhand items, and features collaborations with Ukrainian textile artists. The collection is a symbol of the nation's emotional state –
desperately fighting for a normal life.
"I worry that the topic of Ukraine has tired people abroad a little. I think about how to talk about it differently, to remind us that we need help. Every week, every day, we receive news about friends and acquaintances who have died. This is too high a price to pay." Irina Kokhana, co-founder of  CHERESHNIVSKA.
Helsinki Fashion Week's Designer of the Year was Ukrainian designer Jean Gritsfeldt, who celebrated the 10-year anniversary of his brand during the show. His 10-year career was presented in a reminiscence collection described as a "bridge to the future". 
Ten years ago and today, my work is permeated with the same ideas: thoughts and dreams about love, struggle, and freedom — in art, desires, and self-expression. About finding yourself and faith in tomorrow.
The collection features his work created after February 24th, 2022, a turning point for Ukraine.
The show ended with a rally of people holding signs in reference to the war in Ukraine: "United in love, united in fight", "Free people must stand together", "We are fighting for our land and for the values of the entire independent world", "What's next?", and "Stay proud, stay ready".
As part of his demonstrative work, Gritsfeldt offered a capsule collection of tote abgs with similar quotes, of which 50% of proceeds with going to the Fedor Shpyg Foundation to support its efforts in restoring Ukrainian children's cultural institutions destroyed in the war. 
"Every famous Ukrainian is an ambassador of freedom and independence in the world and whose mission is to draw attention to important topics," says Jean Gritsfeldt. 
Helsinki Fashion Week shows that fashion can be sustainable, and offers a platform for many designers to showcase how they are doing it. Fashion has and can inspire solutions for global challenges. The climate crisis is a global issue that needs multi-disciplinary solutions. The climate crisis is bigger than fashion week, bigger than the fashion industry, and yet fashion is one of many ways we can create solutions for social sustainability.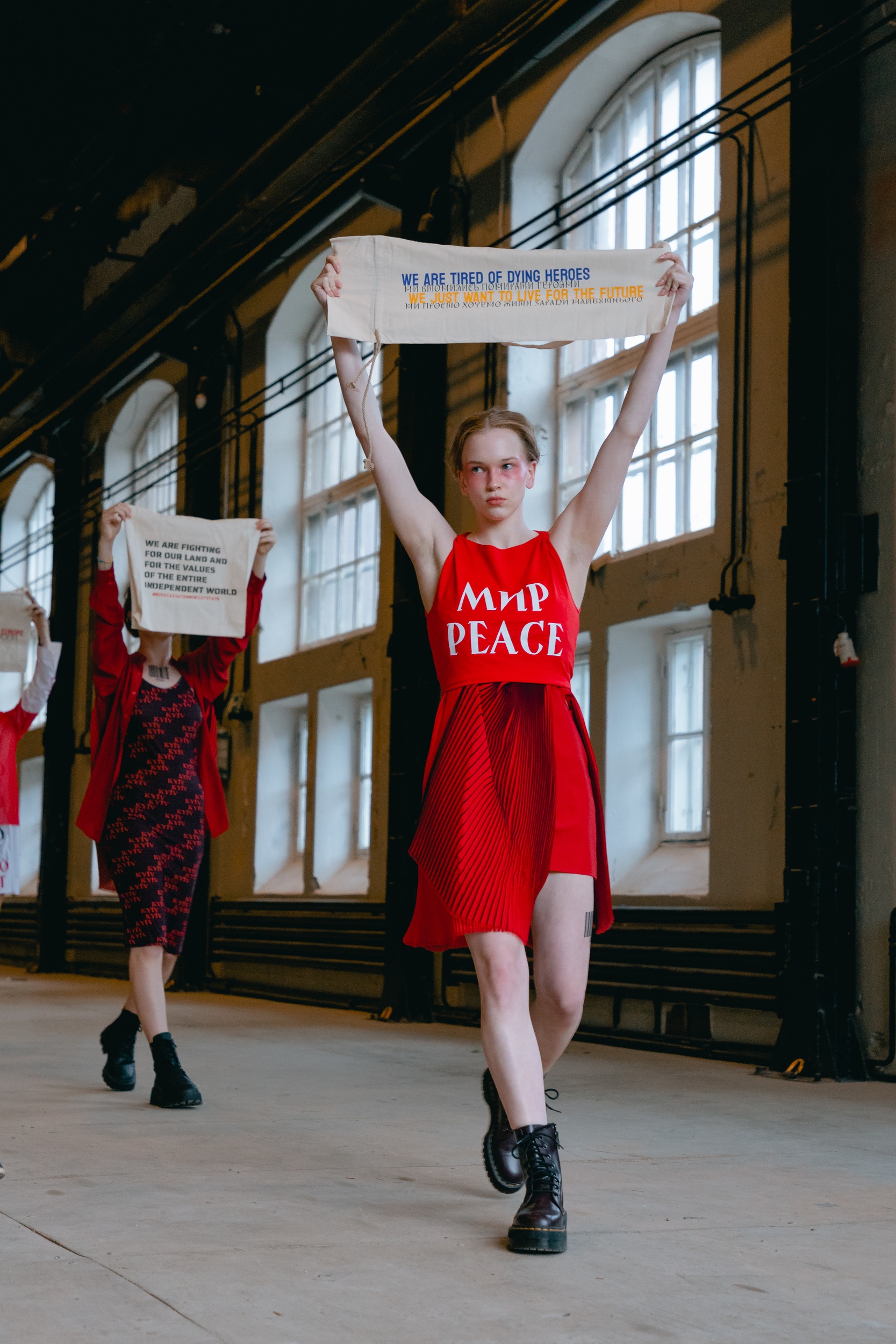 All photos by
Kristian Presnal