Helsinki Fashion Week
collects together some of the up-and-coming brands each year, and one of the unifying factors is a commitment to sustainability.
Studio Lamea
, a fashion brand driven by values, creativity, and a commitment to sustainability, took the spotlight at Helsinki Fashion Week. Their fashion show was a bold testament to their unique blend of style and provocation. With a mantra of "saving the planet while looking fabulous," Studio Lamea introduced a thought-provoking collection called Pure/Provocation that challenged societal norms and celebrated the power of individuality. Studio Lamea's journey began with a vision to transform the fashion industry and the focus is clear: ethical sourcing and timeless creations. They are guided by values: empathy, responsibility and inclusiveness. The brand's commitment to sustainability is evident in their meticulous selection of pre-owned materials.
The Collection: Pure/Provocation
At Helsinki Fashion Week, Studio Lamea's collection Pure/Provocation collection was a striking exploration of duality, blending purity with provocation. The garments featured beautiful velvets, fringing, laces, and crosses, creating a rich and alluring tapestry of colors and textures. The craftsmanship within the collection was striking. The pieces combined rich reds, greens, and blacks with sparkling jewels, cheeky cutouts, and just the right amount of skin exposure to make a powerful statement about the coexistence of opposing qualities in an individual.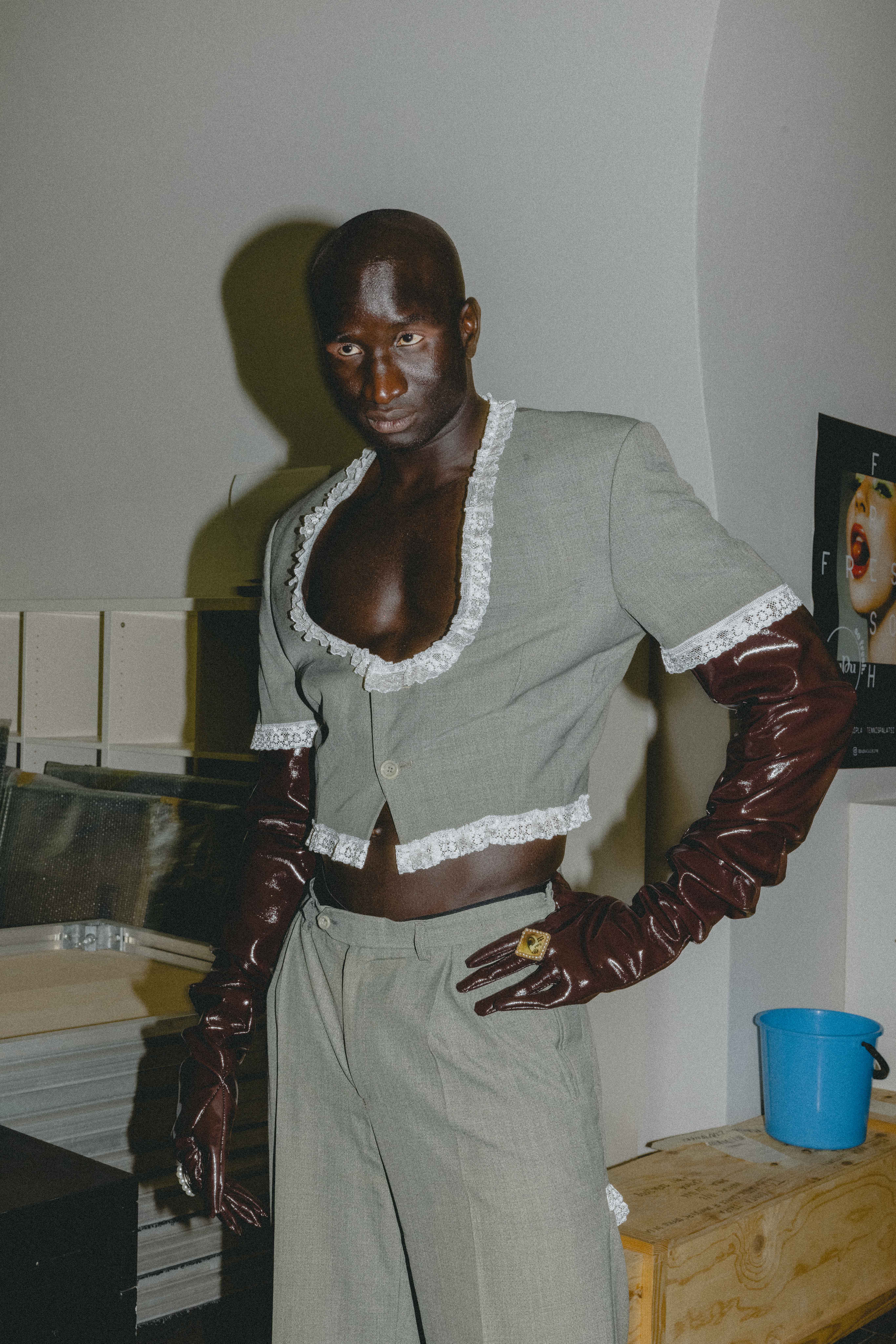 Notably, a pair of burgundy lace leggings and a veil dripping with crosses and the word 'pure' accompanied by oversized velvet-bowed stilettos made a profound impact, merging mystery, sensuality, and defiance.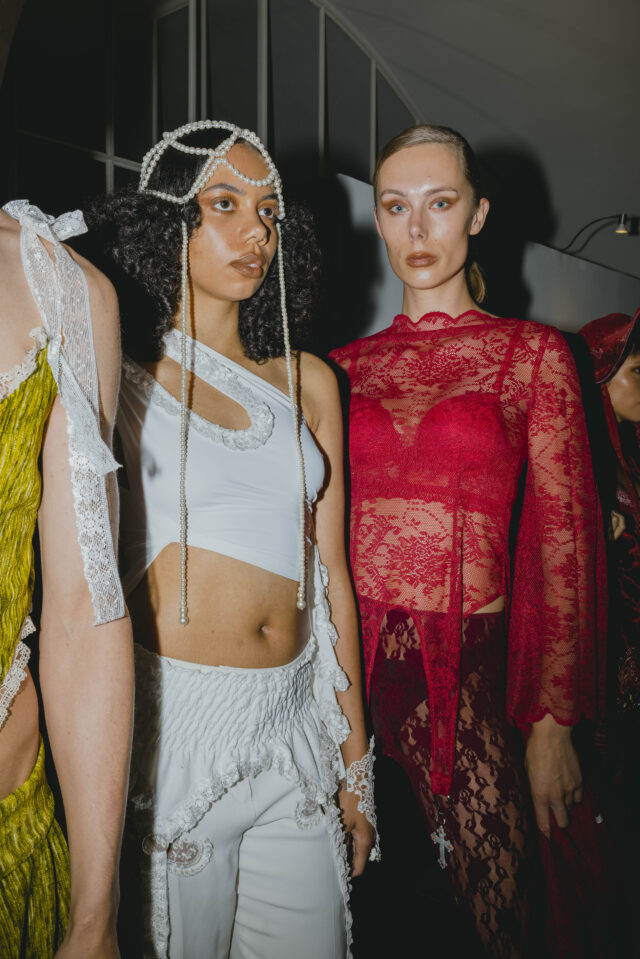 The showstopper was the Virgin Mary look with a see-through lace dress and the Virgin Mary cape with the text "Virginity is a Myth" stitched in the back. Very Catholic priest on the back, but seductive confidence in the front.
Isabella Presnal also walked the show, and she wore a white lacey dress combined with black flowy pants, but the real attention piece was the black veil with golden embellishments.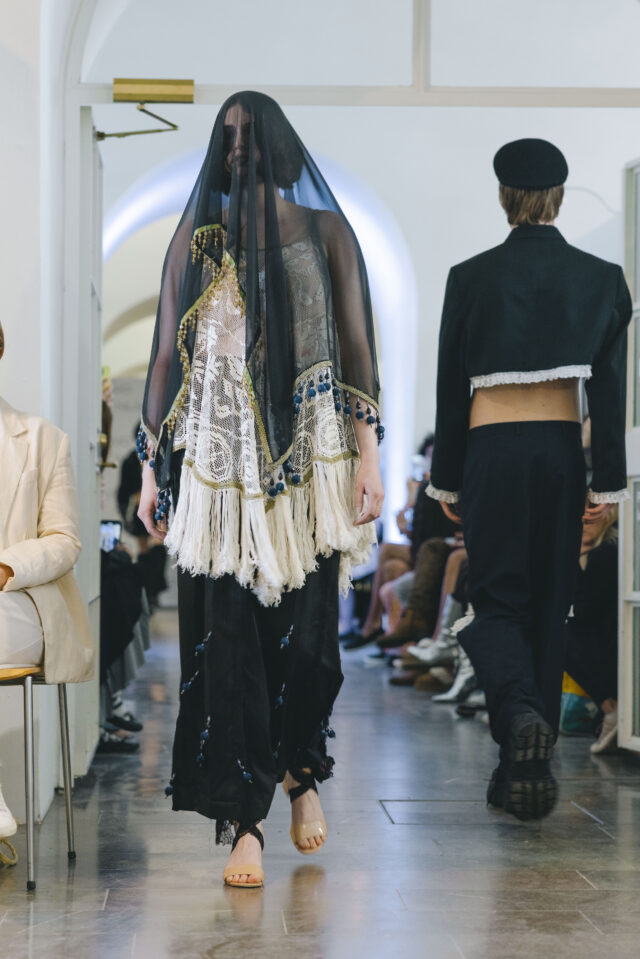 The collection also showcased a look with a lace with chaps. Studio Lamea's approach was thought-provoking, shedding light on the way society imposes ideals on individuals, often through the male gaze, dictating how they should dress and be perceived.
Like A Virgin reimagined. The show reached its crescendo with a runaway bride, complete with 'pussy cat' knickers, reminiscent of Madonna's iconic 'Like A Virgin' era. This playful finale was the icing on the cake, emphasizing the brand's commitment to breaking boundaries and defying traditional expectations.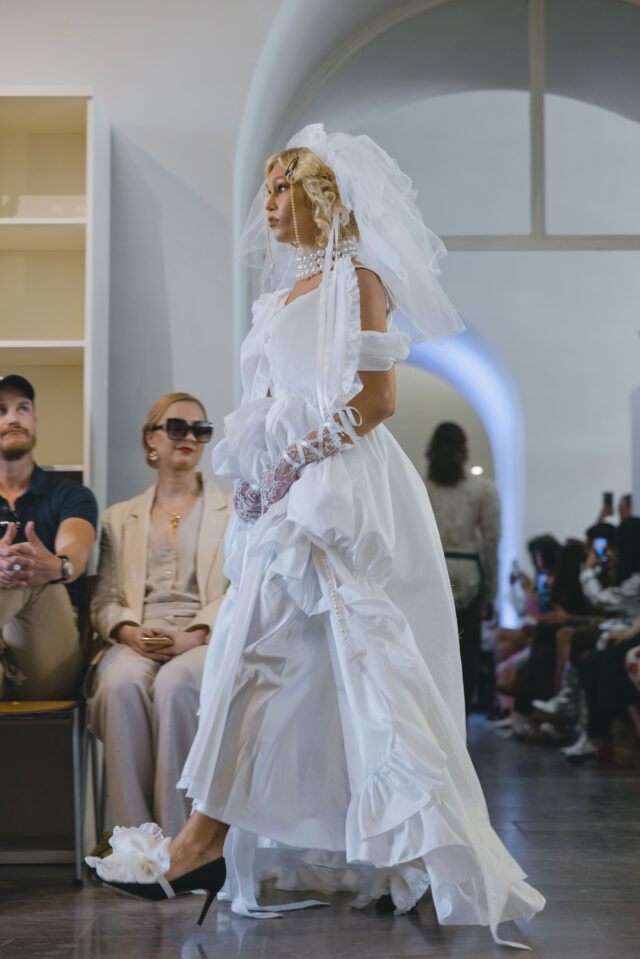 Studio Lamea's fashion show at Helsinki Fashion Week daring exploration of the "Madonna-Whore" complex set them apart at the fashion show. The brand's vision is to blend style seamlessly with ethical practices, and they brought it to life in their collection. Studio Lamea's willingness to challenge conventions shows that fashion can be a powerful medium for change, a message that resonates beyond the runway.
Photos: Fashion photographer Kristian Presnal
In the heart of Helsinki, a fashion revolution is underway.