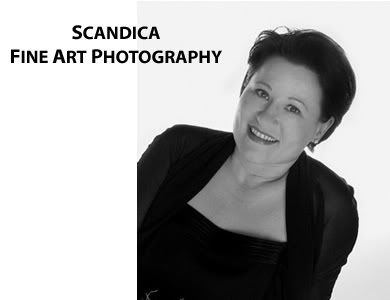 I would like to introduce you to my dear friend Marianne McNamara, the lady behind the camera –
Marianne of Scandica
.
Marianne is a professional photographer and you might have seen her work, if you live in the Chigaco area. She owns Scandica Fine Art Photography. She is the child-photographer for the
Baby loves Disco
. And she also takes all those pictures you rarely see, but which are always highly appreciated – the nude portraits.
Marianne just recently launched her new website
Scandica – Fine Art Photography
, and before you read on, please visit her site.
Marianne is from Finland, actually we used to be almost neighbours, but never knew each others in Finland. Marianne's site is a tribute to our Finnish heritage. I have watched her site intro a hundred times. The first time I couldn't read all the text from my tears. The second time I watched it I was balling because I could read the text. The hundredth time, and I still get goose bumbs.
I was lucky to have a virtual cup of coffee with Marianne and ask her a few questions about her photography business.
Katja: Tell us a little bit about your business.

Marianne:
I am a one woman – one camera portrait photographer from Chicago. I take maternity portraits or 'belly pictures' as I call them. I photograph babies, children and families. Engagement portraits and anniversary portraits are my favorites as well as classic nudes. Quality and customer service are the keys and corner stones of my business. Every client has my undevided attention and focus. I listen, take notes and then provide what they asked for.
Katja: When did you know you wanted to be a photographer?

Marianne:
When I got my first SLR at the age of 15. I saw so much beauty around me and I knew I had the talent to capure it. The morning sun above the horizon, the lingering mist on the fields, the first frost…It was all so breathtaking beautiful.
At the age of 18 I was invited to every family party there was, with a reminder to bring my camera with me. I was flattered. I didn't have the courage to pursuit my passion back then, I chose to study a 'decent profession' instead. When I moved to Chicago seven years ago, the time was right to pursue my dreams. I was old enough to know what I wanted, I had had my share of corporate world and did not find it appealing or desirable anymore. I took the big leap from corporate world to become a small business owner and have never looked back.
Katja: What influences in your photography style the most?

Marianne:
The beauty of imperfection. Perfection, in form and in life in general is boring. Picture perfect, digitally enhanced cute portraits of perfect babies with rosy cheeks, sleeping on white fluffy lamb skin might be nice to look at. For five minutes. After that it's boring.
I want to provide memories of real life, not some staged pretty images. I want parents to show my portraits to their children in 20 years and say "This is how you looked when you were six and had just lost your first teeth and you were wrestling with you little brother in the living room." Not "This is how you looked when you were six and we dressed you up for the occasion, combed your stubborn hair, told you to smile and airbrushed your missing teeth back on." Children are God's creations, perfect and precious just the way they are. They
don't need to be staged
, airbrushed or made into something they are not.
Katja: What kind of photos do you like to take the most?

Marianne:
Classic nudes. Tasteful, artistic nude photographs of women who are in peace with their mind and body. That's where the real beauty is. It has nothing to do with age or the dress size. It is all about accepting and loving yourself.
It is so easy to compare ourselves to airbrushed images we see in magazines and in advertizing and feel bad about ourselves without understanding that those images are not real.
Katja: What kind of camera do you use?

Marianne:
I use
Canon 350 XT
, also known as Digital Rebel. It is very easy to use, simple and does not need much technical skills. I am not a very technical photographer, my strength is in the feel of the photograph. I am good at seeing the beauty in the everyday life and showing it to others. I was relying on my 20 year old film camera Minolta X-500 SLR until a year ago. I still use it for my art projects or when shooting in the technically difficult conditions.
Katja: What kind of legacy you would like to leave behind?

Marianne:
I would like people, women especially to appreciate themselves a little more. Give themselves a little pat in the back. We give so much, we do so much and we still think we should always give little more and do little more.
Katja: What is the most important thing for you so far in your career?

Marianne:
The most important thing for me was the the first thing I did as a professional photographer. I joined ACPCG, the
American Child Photographers Charity Guild
. We go to NICUs and the hospital wards to photograph terminally ill or extremely premature babies at parents' request and free of charge. As a mother it is heartbreaking to even think about the possibility of losing my child, but it is reality for many parents. I can not do much compared to the doctors and the medical science, but at least I can do something. I can provide series of photographs of this little child and help parents cope with the loss, when everything is over. I do a lot of charity work through various children's organizations but ACPCG is the most important to me.
Katja: Where do you see yourself in ten years?

Marianne:
In ten years I will live in Chicago and be a photographer. In twenty years I still want to live in Chicago and be a photographer. There is nothing else in the world I would rather do. No other city I would rather live.
I do have a dream I wish to fulfill one day. I would like to publish a photo book I already titled "Beauty of women" . I would like to photograph a series of strong, smart, powerful women, innocent young women, old wrinkeled women with wisdom in their eyes and warmth in their hearts. All shapes and sizes, all perfect and beautiful in their own way. No silicone or botox needed.
Katja: That sounds like an amazing idea! I can't wait for the day you publish it. Thank you so much for your time and for spreading the Scandinavian spirit in such a beautiful way.

Marianne:
Thank you Katja, it was my pleasure.

You can see Marianne's work at her website Scandica – Fine Art Photgraphy and she is right now booking for the Holiday portraits.