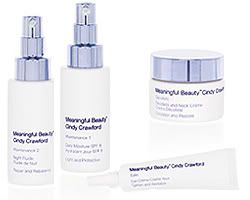 But at least now I can get her beauty products and feel like a super model.
Cindy Crawford's Meaningful Beauty cosmetics series is high quality skin care, designed in France and tested by Cindy Crawford herself for ten years before hitting the infomercials on TV. I wouldn't even know about the Meaningful Beauty products, unless I hadn't fallen a sleep on the couch one night, and woken up a few hours later by Cindy's voice in the Meaningful Beauty midnight infomercial.
Cindy was inviting me to try her skin care line.
I thought "why not", I'm too busy to go to the department stores to get my skin care products, and logged on the
Meaningful Beauty
website right away to purchase the skin care line. I was actually impressed that the line wasn't sold at the premier department stores with a high price tag and a picture of Cindy on the bottles. It must be as good as she says the line is, since there is no hype, no flashy billboards.
Cindy Crawford does not offer disappointments. Neither does her Meaningful Beauty skin care line.
They actually call it "Age Maintenance System", and for a reason. My skin didn't just stop getting older, it started looking younger!
The age maintenance series comes with a cleanser, day and night moisturizers, eye cream, facial masque, and a décolleté and neck cream. After just one week of using the Meaningful Beauty line, I started getting compliments like "your skin is glowing".
I was impressed. Finally a skin care line that gives enough moisture, without being greasy, and giving me this soft skin, with the best complexion I've had for years.
Meaningful Beauty products are packed with nutrients and vitamins, and the key ingredient is an advanced antioxidant complex containing a patented extract from a rare French melon, which helps the skin to renew itself. This melon extract is naturally enriched with coenzyme Q10, lipoic acid and minerals that are designed to help restore skin's youthful radiance.
Unfortunately you can't just order one or two products of the line, you need to get the whole line. But the price is only 29,95$ for one month's test package, and same 29,95$/month after that, if you sign up for continuous delivery. Now my skin care is solved with once a month arriving package from Cindy.