I've gotten e-mails saying I need to post more pics of the kids!
I also wanted to show a few of my kids' favorite outfits from the Fall/Winter 07 collections.
But it was a mission impossible. My models kept climbing in the trees.
Isabella wearing
Edenstar Ballet Wrap
(77$), Wati school girl
skirt
(46$) and Fairy Princess
tights
by MP Socks (25$). Boots are from last year, and they are by ESPRIT.
Too fast for the camera. And loving the
poppy dress
made of luxurious silk by Fable & Lore (110$). She is also wearing the Edenstar
cropped pants
, at the moment the only pants she'll wear for school.
More
Edenstar
merino wool styles. And remember, this is my daughter with very sensitive skin and eczema – she loves the soft merino wool on her skin. And she prefers to wear nothing under it, because the material feels so comfortable.
The other two kids..?
Well, here is my goofball Gabi.
Wearing
Riiminka Design dress
(29.99$), withe the
ruffle skirt
under (9.99$). And
Lelli Kelly
shoes (42.99$) and Lola et Moi
handbag
.
And this boy… Supporting Britney with his
Gimme Gimme
tee (12.99$)? And giving me attitute "I don't wanna model".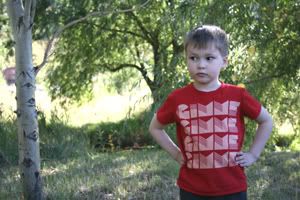 Ok, I was trying to take some photos of my kids..