For many the ski season is right now – it's spring break time! For us – we are already fearing the second week of April, when the ski season is officially over for this spring. But making it at least a little bit more fun – We are planning on having a End of Ski Season-party and inviting all our friends.
Our house is a mess, mainly because we have been skiing every free hour of the winter. But I have made a promise that all the snowmen decorations (we've had since Christmas) will come down as soon as the ski resort closes. I know, I'm bad at this cleaning stuff. But what a better way to make yourself to clean the house, than having a party? (Sorry kids, you didn't have birthday parties this winter because mommy was too busy not to clean and embarrassed the snowmen are still up).
Me and kids are addicted on watching Food Network and getting recipe ideas (I end up googling them, but Isabella actually writes them down from TV), and one of our favorite shows is
Ace of Cakes
, a reality show with amazing bakers of the
Charm City Cakes
of Baltimore. So for our end-of-ski-season-party – we want to make a special cake. Baking here at the high altitudes is a challenge, but it's about the time, we'll make a decent cake.
I was looking for ideas for ski-related cakes and here are some pictures. Way out of my alley, but hey, always aim for higher than you can do ;)
One idea is a chocolate mountain cake – other side white ski slope, other side already summer? Like "melting mountain"? Wilton makes a
snowflake cake mold
, but I don't think snowflakes work, since it's end of the season cake. Snow is easy to do also with real whipped cream and coconut, but it's pretty plain – then I'd need lots of decorations for the snowy slope.
What do you think? Which one is your favorite, and do you have some ideas for a end of ski season cake?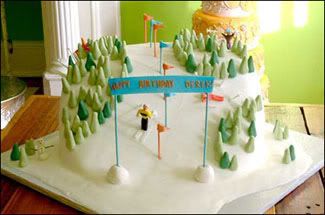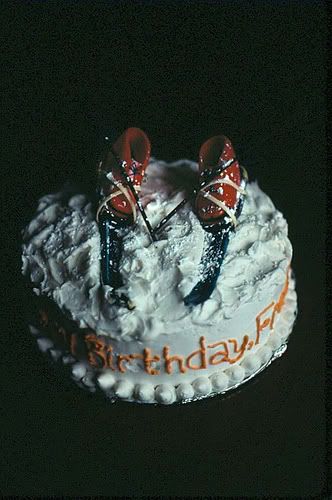 Photo Sources: click the photo to find the source
If it's your photo and want it removed, let me know!