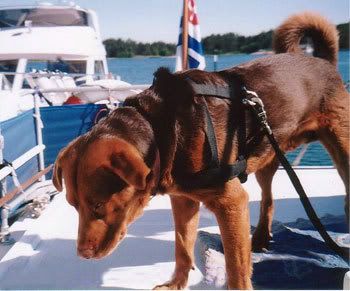 Frank was our first surprise baby.
The day after Matt proposed me (without a ring) he took me for a drive. I thought to buy an engagement ring. But I was a bit surprised the place Matt wanted to take me was on the side of a country road, and it said "Humane Society". I had come to the US one week prioir and had no idea what Humane Society was.
But the second I saw the back yard, heard the barking of puppies, and understood why we had just visited a pet store, I knew what the place was. It was a place where I would meet my first four-legged son. My fiancee was getting me a dog!
They had three puppies, two girls and a boy. The girls were nuts, "take me home now"-type, cute, looked like Rottweiler puppies with black backs and tan tummies. The male puppy looked shy and had a bumb in his head, and maybe it was the slightly dumbass look he had in his face made us want to save him from the crazy sisters.
His name was Floyd. He and his sisters were found by firemen in a burning house. They were the only ones to survive the fire, so nobody knew what breed he was. Mutt, of course, but of which breeds, no idea.
We knew right away, a name like Floyd wouldn't do. He looked like a little sausage with his pot belly, a Frankfurter of his own breed. Me and Matt had met in Frankfurt, Germany, only a few months before, and the picture of Frank Sinatra looked approvingly from the hallway wall when we bought our first baby home. There was not much discussion, the name Frank was perfect for him.
Matt spent days in the flight school, and I spent days of taking photos of my new puppy and send them back home to Finland. My parents were happy about the engagement, but they had never even met Matt. "He is smart I can tell" said my dad about Matt "he knows you already so well that he knows you could leave a man, but you could never leave a dog".
And we never did. Frank followed us back to Germany, and loved running on the corn fields of Northern Bavaria, getting into dog fights with the snobby German Sheppard and just looking at the view for hours of the Main river valley from our balcony. Frank had his own passport, and even took a cruise boat for a few times to Finland to meet my family.
The first time we went to Finland was nerve-wrecking, not for me or Frank, but for Matt and my dad. We had been married for a year, I was already pregnant and they had never met. My letters back home had told everything about Matt and Frank, so I was sure the visit would go just fine. But I knew how nervous my dad was when we drove to my parents' yard and my dad greeted Matt by saying "Welcome to Finland, Frank!"
Frank was in Finland with me 5 months later too, when Matt was already deployed in Kosovo, and I was 7 months pregnant. I remember thinking, I must feel this same kind of love to my child as I feel to this innocent hairy boy. (Little did I know, and unfortunately Frank has had the second spot in my heart ever since my daughter was born).
Frank loved snow in the North, but wouldn't swim in the cold Baltic Sea. He enjoyed swimming though at the sunny beaches of Florida when we moved back to United States. He has always been a great traveler, and has always been on a vacation with us, moved with us from here to Europe and back, from the Southern States to Upstate New York. If we couldn't find a hotel taking pets, we would keep on driving until there was one. If it took three vet visits and lotsa dollars, we booked him on the flight and made sure the import/export papers were fine. And flew with a baby or two or three and a dog in a carrier.
He has gotten us evicted from an appartment (more than once). It always surprises me that people think we would rather give up our dog and live in some temporary appartment than just move to a new one (while waiting on closing a house, or another move).
But he is our first baby. Frank is part of our family. He might little nuts, but being goofy and being crazy are a big bonus in our crazy world taveling family. Maybe he even got it from us.
We have noticed some more than just common goofiness in the past year. Frank has gotten old (over 10 years now), and crumpy, and even started showing his teeth in a not good manner to some people. He still likes running after bunnies at the Rocky Mountain mountain side, but he sleeps most of the day now. We knew something was going on, but the vet visit last fall went well, and he seemed to be healthy for his age.
But the past couple of months, he has started doing some disgusting things, he has never before done. Drooling like a maniac, drinking from the toilet, eating paper, trash and toilet paper. And smelling really bad. From both ends. This weekend he started coughing and having like breathing difficulties. I though he must have a chicken bone or something stuck in his throat, from digging all that trash outside.
Matt took our four legged son to a vet this morning, and as it seems, it wasn't a chicken bone in Frank's throat.
It was a tumor in the back of his tongue.
Nothing they can do, not many days/weeks left.
And this is the part I get too teary and I need to stop writing.
And just so my dad can understand, in Finnish:
Frankillä on syöpäkasvain kielessä, jota ei voida leikata.