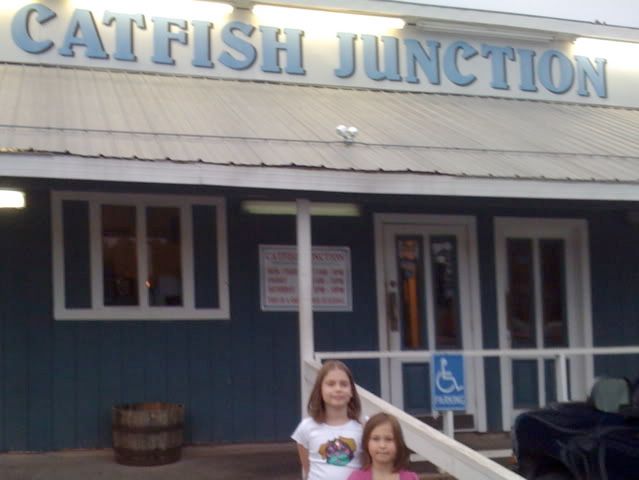 MOVING TO NEW YORK
, day 27
We drove from Texas to Louisiana yesterday and arrived to a small town close to Fort Polk military base. I might as well say we arrived in the middle of nowhere in Louisiana, and were greeted with a small town full of fast food restaurants and Walmart as the pride of the town. There is a "historic downtown", which is surprisingly cute and well taken care of. You know how "historic district" too often is just that – historic – and old general stores and the old diners are empty, occasionally turned into office spaces. I made a mental note that I will have to take my camera and take some pictures before we leave.
After driving the town from one end to another and trying to find a place to eat dinner, we finally decided to eat at a place next to train tracks, called Catfish Junction. Forget about the valet parking like we had last week when dining in Dallas, but the parking lot was full, and gave us a promise of locals' favorite joint and good food. Well, let's just say it was interesting, trying to be diplomatic here… The floor was covered in peanut shells, which I had seen in other bars and watering holes before, and reminded me of the time we lived in Alabama and were surrounded by peanut farms. In the middle nowhere of Southern Alabama had been another interesting experience, and after that I had never really liked peanuts. I wanted to show kids though how excited I was about the "food adventure" we were just about to have in the deeps of Louisiana.
Being brave and wanting to show kids I didn't just preach I ordered the sampler platter of local favorites. Including frog legs, alligator, shrimp, crab, oysters and catfish. I was proud of my children trying all these exotic foods with me, but happy that nobody finished their plates of the little bit too deeply deep fried dishes. After the dinner we drove the town from one end to another once again, and I counted days and places where could eat dinner the rest of our stay here. The "Oriental Food Store" selling "Spanish Food" sounded again
interesting
, and normally Japanese Steakhouse & Sushi Bar would have gotten my vote, but here… I wouldn't be quite that brave that I'd try the sushi. Tonight we'll probably try an All-American stake house, and hope their menu offers dishes for more than one dinner, because I can not even think of eating at fast food places. But it's quite impressive I guess – they do have every single fast food joint you can just imagine serving hamburgers and fries. Must be the perks of being next to a military base.
Oh, the Matt's new job and the reason we are here.. he'll be a helicopter test pilot and site manager in New York, and the army base here has his helicopter type, thus he needs to visit here. We'll be here until next week's Friday and then drive back to Dallas for a few more days. This trip just seems to get longer and longer.. but I am determined we'll get to New York before the end of August, since the school starts at September 2nd. It's hard enough for kids to start in a new school, and Kris to start Kindergarten, I don't want them to miss the start date.