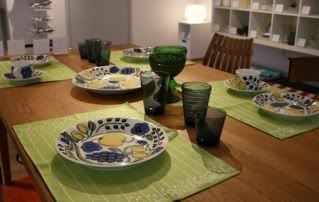 This table setting is from
Just Scandinavian
store in Tribeca, and I was able to recognize every other item, but the place mats.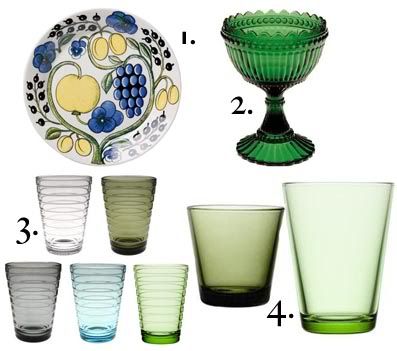 1. Arabia Paratiisi gives nice bunch of color without being too overpowering. One of the most popular sets from Finnish Arabia. 2. Iittala Maribowls
(starting $34) are an iconic Finnish table top decoration and serving dish, from Marimekko. The glass bowl comes in several different colors to fit your table setting. 3. Iittala Aino large tumbler ($22.50 for a pair) glasses also come in several colors and sizes. Timeless design for every day use. 4. Iittala Kartio Tumblers
start at 20 bucks for a pair and come in several different colors (two shades of green) and different sizes.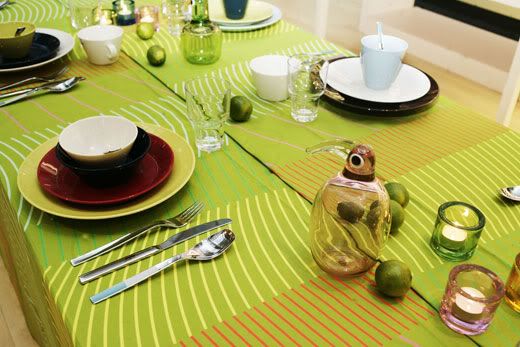 Picture: Kotiliesi
This time I know the table cloth.. it's Marimekko's Dahlström-table clothe, made of Vågsvall-fabric, unfortunately I didn't find it available online. But note the different colored dishes in the setting. I really like that when you use simple design, you can mix colors pretty randomly. Most of the elements in this table setting as well the table setting before come in variety of colors, and you can mix them easily.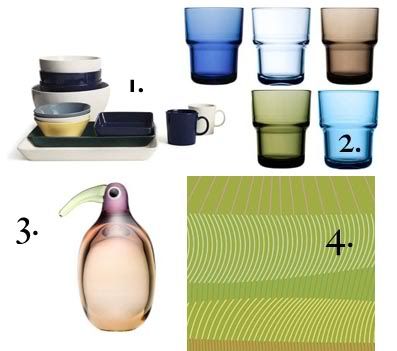 1. Iittala Teema
is iconic Finnish collection, designed already in the 60s. From school cafeterias to restaurants to everyday use in homes – Teema has been everywhere since it's debut. Available in several colors. 2. Iittala Ote glasses
are featured in this table setting in clear, but like 3. Iittala Birds ($366) are popular collectibles that make stunning center piece to your dining table. Available in several designs & colors, and yes, all with fairly high price tags. Iittala Birds are highly sought after collectible in Finland. 4. The unfortunate Marimekko fabric that I couldn't find available online in green.
This table setting has a nice Finnish-Swedish mix. The simple white Finnish Arabia's 24h-series' dishes are mixed with Swedish plates that offer a little color to the mix. The Josef Frank's bird fabric is really the key element to this setting – adding any more color with dishes would have been too much (for Scandinavian look).
1. Gustavsberg Adam plates (small plate $55) with blue dots is old and new at the same time. Great retro look that is easy to mix and match with other series. Finnish Arabia made a similar type of pattern, but it retired years ago and is now a very sought after collectible. 2. The simple white Arabia 24h series
, starting at X $. 3. Iittala Senta Wine Glasses
, starting at $25 for a pair. 4. Did you see
Mamma Mia!
movie? If you adored the fabrics, they are designed by a Swedish designer Josef Frank, here featured the Green Birds linen fabric.