Isabella and Kris, my little Hanes fans.
Note:
If you are interested in the Hanes Comfort Crew as a Social Media Case Study, make sure to read the "notes" – otherwise, go ahead and skip them!
I was selected to be part of Hanes Comfort Crew last spring. I am thrilled to be part of it, I am all for living life to the fullest comfortably! As a mom of three kids, and as a former clothing retailer, I know high quality clothing, and I expect high quality on every day wear (like underwear) that lasts wash cycle after wash cycle. That's why Hanes is our family's comfy everyday brand. But it's not just the fact that I love the brand, why I am so proud to be part of the Comfort Crew. There is more.
Note:
Choosing a blogger; I am a true brand evangelist, have some sort of expertise of clothing, as well of blogging and social media – a great fit for the brand.
The Comfort Crew program kicked off at Walt Disney World last spring. The experience was amazing; we were invited to bring our families with us, and I did. It was the first ever business trip with family, and now I am confident to do more (many more!).
Note:
They know their target audience/me, and what is the most important to me: my family.
Design-A-Tee Store
I loved our roundtable discussions about Hanes, and the guided tours of Walt Disney World and experiencing the must-see attractions like the American Idol Experience and the Rock 'n' Roller Coaster to less-known gems like dining and the shows at the Disney's Fort Wilderness Resort.
Note:
Genuine interest what I had to say about the brand and their products.
The Comfort Crew
is 50/50 old friends like Melissa of
Consumer Queen
and Allison of
Blissfully Domestic
, and new friends like Simon of
IncSlinger
.
Note:
Great mix of bloggers from different niches and with different target markets.
Highlights of the Walt Disney World trip.
I hear you are asking so what does Hanes have to do with Disney; funny that you asked, because I was just getting to that part. Hanes and Disney Parks signed a ten year contract already two years ago, and I'm sure they didn't tell me what all it will entail, but for example the Rock'n'Roller Coaster is Hanes sponsored and branded and Hanes also has the Design-A-Tee store on Downtown Disney at Walt Disney World Resort, where you can -like the name suggests- design your own souvenier t-shirt. Champion, a Hanes brand, also has naming rights for the stadium at Disney's Wide World of Sports Complex, the nation's premier amateur sports venue. The tees that sold at the Disney Parks? You guessed it, they are/will be co-branded with Disney Parks and Hanes labels.
Note:
Great way to integrate this Hanes / Disney marketing message into all of the blog posts about the Comfort Crew organically was to take the Crew to Disney World.
The Comfort Crew and Hanes at the Walt Disney World
I have been an "ambassador" or sat in advisory panels or been part of blogger programs with other brands too, and one of the ways this Comfort Crew thing is different is that it is more about my
relationship
with the brand than being part of any marketing campaign(s). I haven't been asked to post blog posts (like this one – this is not a paid post, nor they know I am writing this right now), or tweet about Hanes products, nor advertise or endorse the brand in any way. They have kept me in the loop of some of the exciting news, like about HanesPink.com – the campaign of supporting Susan G. Komen for the Cure, and I even got some special t-shirts made for me to support the cause, but never they asked me to blog about anything. I have though – I have hosted giveaways, written about their product news and shared my experiences.
Note:
Hanes does not force anything, they simply master the communication, and I feel like I am being the first in the know to tell their news to my readers.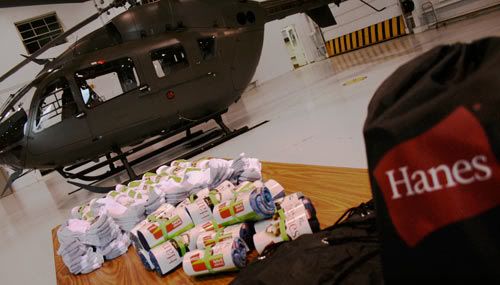 Hanes was one of the sponsors for a charity lunch I hosted.
Like said, it's been about a
relationship
. In May I hosted a
Hot Dog Lunch for Soldiers
at the West Point Military Academy Flight Detachment's aircraft hangar together with Sikorsky Aerospace Maintenance and asked if Hanes wanted to be part of it. They did – and they donated products for the soldiers. It meant so much to me, that Hanes wanted to help me to give something back to my community, and do something that means a lot to me: to support our troops.
Note:
Creating blogger specific opportunities, not campaigns. Oh, and "help me, help you".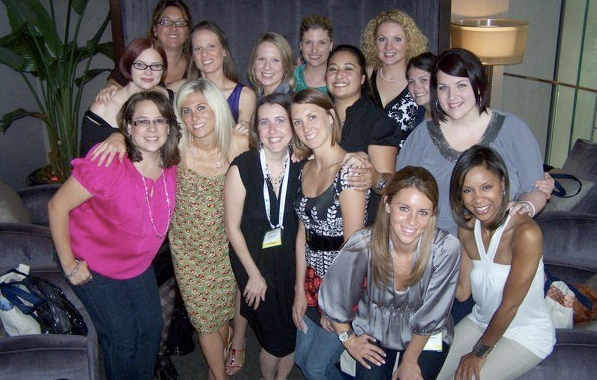 Hanes event in Chicago during BlogHer Conference. Photo by Toni Patton
Another way how I know Hanes is
listening
to my community, the blogpshere, Hanes was at BlogHer Conference this July. They also hosted a fun evening for the Comfort Crew women in the conference and let us invite our friends there too. It wasn't about trying to "sell the brand" or products for us or our friends, no sales pitches, nor requests to blog about the event. It was about celebrating our friendships and relationships with the brand and our friends. Or, and of course, it was getting glammed up for an evening of fun, and we all need that every now and then!
Note:
Being part of my life and my community and supporting what I do. And saying thanks for me supporting them.
Gaby modeling for the Hanes catalog cover.
Little did I know that one of the ultimate highlights of being part of the Comfort Crew was still ahead. Hanes contacted me later this summer and asked if our three children were interested in being in the upcoming Hanes catalog as models, and the photo shoot took action on
Disney Wonder
, on a Disney Cruise to Bahamas early this fall! This was my children's dream come true. My children
auditioned for a Ben Stiller movie
and they had done some modeling for my own company when I still had my children's clothing store, and I know a little about modeling too from my childhood. Hanes and their PR agency Weber Shandwick knew all this about my kids and me, plus they had met my children back on our Comfort Crew kick off trip, and seen how easy to work with they are.
Note:
Providing once in a lifetime opportunities in a way that it is a great fit for the brand and the blogger.
I don't know what is next for the Comfort Crew, but I can't wait to see the upcoming Hanes catalog in January and send it to everyone I know. Because I'm so proud of my kids to be on it – and I'm so proud to have this
relationship
with one of our family's favorite brands.
Isabella modeling at Castaway Cay, Disney's private island in Bahamas.
Full disclosure: Hanes invited me and paid most of the costs of the Disney trips mentioned in this post, and provided free products for my family and me, but no monetary payment of any kind has been made.