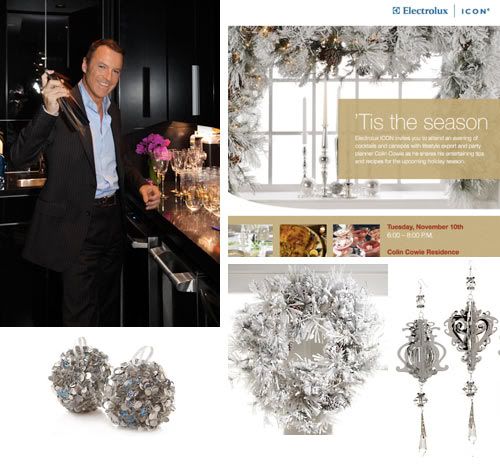 I had an opportunity to visit a lifestyle expert and celebrity party planner Colin Cowie in his amazing Manhattan penthouse last month. Colin was throwing a party together with Electrolux ICON, and he shared some of his easy cocktail party tips and recipes, and showed his apartment to us. I admired his impeccable decorating taste, and loved the way he hosted a simple, elegant and such a classy cocktail party.
COLIN COWIE'S EASY COCKTAIL PARTY TIPS
– Stay organized; make lists of what needs to be done, do as much before hand as you can. – It's OK, if you have to mix and match; you don't have to have matching china for all guests, just make it work by mixing pieces! – Prepare menu in advance, again mix and match – both homemade and store bought dishes (to make it easy for you) – Set the mood, candles, music and dimmed lights do wonders and keep it simple. – Specialty cocktail. Make something just for your party to make your guests feel special, plus it makes it easy for you just to make a pitcher of something fabulous. Get the Pear Passion recipe below for autumn and holiday time treat.
RECIPES & EASY FOOD IDEAS
Some easy quick tips what to serve if you have a last minute party and need to get things together fast for a party. I have added few easy and delicious recipes by Colin below, but here are a few other ideas. – Shrimp cocktail – easy and always appropriate for any cocktail party. – Cheese plate, mixture of 4-5 cheeses, grapes, fresh bread and salami – easy! –
Spiced roasted nuts
– Simple dessert.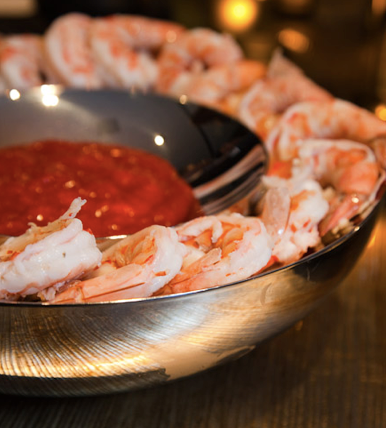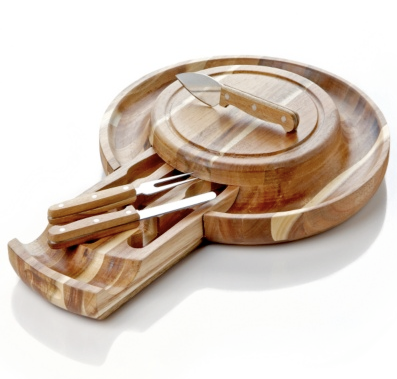 Colin Cowie's shrimp cocktail and the
cheese tray
PEAR PASSION
This is one of the best cocktails I've had for a long time.. However… While I was at the party, the bartender did confess that they added "secret spice mix" instead just cinnamon, and I haven't cracked the recipe yet. I think I'd add vanilla, allspice, cardamon… maybe ginger. A spice mix that says "holidays" to you. Also, with this one, I recommend good vodka, like Chopin or Grey Goose. Ingredients 2 oz. vodka 1/2 oz. pear liqueur 2 oz. pear puree or pear nectar Combine ingredients in a shaker. Shake well and stain into a cocktail glass with or without ice. Add dash of cinnamon and a pear slice for garnish.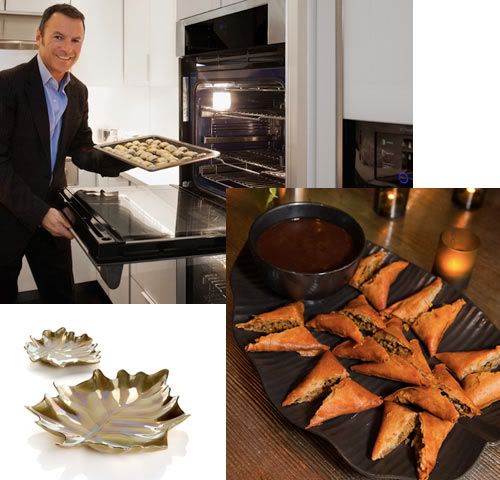 SAUSAGE ROLLS SERVED WITH WORCESTERSHIRE SAUCE
Ingredients 1 pound lean ground pork or veal 1/2 medium onion, chopped 3/4 cup diced cooked potato 2 tablespoons chopped parsley 1 1/2 tablespoons crushed dried sage leaves 1/2 teaspoon salt 1/2 teaspoon pepper 1/4 teaspoon crushed red pepper flakes 1 17-ounce package frozen puff pastry, thawed 1 egg, well beaten 1/2 cup Worcestershire sauce Instructions 1. Preheat the oven to 350 degrees. 2. In a bowl, combine the pork, onion, potato, parsley, sage, salt, pepper and pepper flakes. Mix with a fork to combine. 3. Transfer the mixture to a large pastry bag fitted with a large plain tip. 4. Unfold the puff pastry sheets and, following the fold marks, cut each sheet into three rectangles. Roll out slightly. 5. Pipe the sausage mixture along one long edge of each of the pastry rectangles. Paint the opposite edges with some of the beaten egg. Starting at the edge with the sausage mixture, roll up each rectangle, gently pressing the egg-painted edge to seal. 6. Using a sharp knife, cut the rolls into slices about 1 1/2 inches thick. Arrange them on a broiler pan or a wire rack set on top of a baking sheet. Brush the slices with the remaining beaten egg and bake for 20 minutes, or until golden. 7. Serve the slices warm with the Worcestershire sauce on the side for dipping.
FULL DISCLOSURE: I was invited to a party and received Colin Cowie's latest book and a product from his line sold at HSN.