I visited Stockholm, Sweden, for as long as one afternoon on my recent trip to Scandinavia. While the visit was short, I was able to see the old city,
Gamla Stan
, including the King's castle, and shop in the small tourist shops of Gamla Stan, and the larger stores of the city center. The charming and historic old city is in a walking distance of the city center, and everything is easily accessible with public transportation if you want to venture out. My sister took her children to visit Pippi Longstocking at Junibacken, an amusement park built around Astrid Lindgren's famous characters. I was spotting Pippi Longstocking in the tourist shops instead.
I guess it was the fact I hadn't visited back home for 5 years, I got a huge kick out of all the viking gear, Swedish flags, and the moose traffic sign stuff. Nothing really is dorkier than a moose traffic sign bag (or what do you think?), and that's exactly why it is so cool. But no, I didn't buy it, but had to take a photo for you..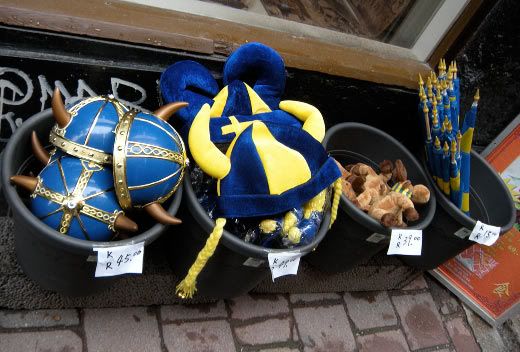 One of the top Swedish souvenirs (that I actually really like) is the Dala Horse, painted wooden horse, originating from Dalarna providence in Sweden.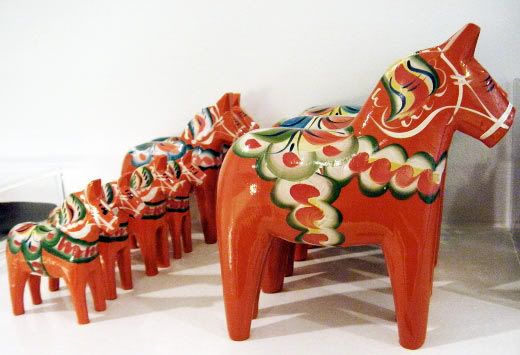 This summer the must buy souvenir includes the Princess Victoria and her fiancee Daniel Westling – their wedding will be on 19 June 2010 in Stockholm Cathedral, and it will be The Royal Wedding of all times in Europe, most likely even exceeding the excitement of Princess Diana and Prince Charles' wedding in 1981.
While I didn't have time to visit King's Castle inside this time – my mother and I bumped into his guards on our shopping trip.