This recipe is by Maria Lichty, Skimbaco's new Healthy Lifestyle & Vegetarian Food Expert. She will be writing for the upcoming Skimbaco Food site. Please join us to welcome her!
Last week our counter was covered with fresh peaches and plums. Our friend's tree and our tree ripened at the same time. We did our best to keep up, but every time I walked back into the kitchen, the counter was still overflowing with fruit. I didn't want summer's bounty to go to waste, so I whipped up a peach and plum cobbler. I love how simple this cobbler is to make. I plopped the cobbler topping over the fruit mixture and let the oven do the rest of the work. The house smelled wonderful while this rustic cobbler was bubbling in the oven. The fruit filling is sweet, with a hint of tartness from the plums. I like to serve the cobbler with a dollop of whipped cream or a scoop of vanilla ice cream to make the dessert even more special. If you have fruit that needs to be used, make this peach and plum cobbler. This dessert is a great way to enjoy the final days of summer.
Peach and Plum Cobbler
For the fruit:
4 cups fruit (2-3 large peaches and 4-6 plums, peeled, pitted, and sliced) ½ cup light brown sugar 2 Tbsp corn starch Lemon zest 1/4 teaspoon ground cinnamon
For the cobbler topping:
1 cup all purpose flour 1 1/2 teaspoon baking powder ½ tsp. cinnamon 1/4 teaspoon salt ¼ cup sugar 1/4 cup cold unsalted butter, cut into tablespoons 1/4 cup buttermilk 1 teaspoon vanilla extract 1 large egg Cinnamon and sugar-to sprinkle on before baking 1. Preheat oven to 350°F. Spray a 2-quart casserole dish with cooking spray and set aside. 2. In a large bowl, combine the peaches, plums, brown sugar, cornstarch, lemon zest, and cinnamon. 3. In a medium bowl, whisk the flour, baking powder, cinnamon, salt, and sugar together. Cut the butter in with a fork or pastry blender until the mixture resembles coarse crumbs. 4. In a glass measuring cup, mix the buttermilk, vanilla, and egg together. Pour over the dry ingredients and stir just until moistened. The dough will be sticky. 5. Pour the fruit mixture into the prepared casserole dish. Drop batter on top of the fruit. Sprinkle cobbler with cinnamon and sugar. Bake for 35-40 minutes, or until golden brown and bubbling. Serves 6. Serve with whipped cream or ice cream. (optional)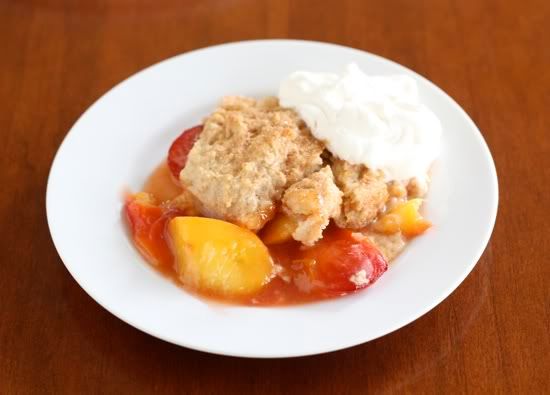 Written by Maria Lichty. Maria Lichty is Skimbaco's Healthy Lifestyle & Vegetarian Food Expert. Maria is the co-creator of Two Peas and Their Pod, a successful food and recipe website. Maria and her husband, Josh, are known as the "cooking couple." Maria is also passionate about health and wellness and has a degree in health promotion. Maria also enjoys traveling, exercising, reading, and spending time with her adorable nieces and nephew. Maria will be writing for upcoming Skimbaco Food.