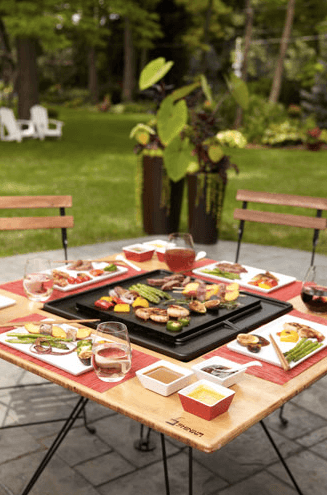 I am pretty excited about this new type of grilling product that just hit the market in the US. The Shinwa grill is part table, part grill and it is like your own Japanese steakhouse and hibachi happening right in your backyard. We all know how the BBQ parties go.. one person cooking at the grill, another working the kitchen, and guests waiting for the food to be done, and it's not easy to be a great hostess when it is so scattered. But the Japanese have a different grilling tradition. They gather around beautiful grill tables to relax, socialize and cook food together.
The Shinwa Grill is a cast iron, flat surface charcoal grill surrounded by a bamboo table that seats four to six people. The company says that cooking on the Shinwa is easy and it can easily be very healthy; it is most convenient to do Asian-style cooking with small pieces of healthy meats, fruits and vegetables cooked plain or simply seasoned or marinated (scroll down to see the Chicken and Artichoke Stir Fry recipe). Of course you can grill your burgers on the Shinwa too, but since you are sitting around the table – why not cook visually colorful food too…?
"Shinwa means friendship. When people dine around The Shinwa they grill delicious food, but more importantly, they create memories that last a lifetime,"
says Chuck Allen, President of Shinwa Grill.
"The Shinwa Grill is more than a grill and more than a table, it is a special dining experience where the social and the sizzle all come together."
WAYNE JOHNSON'S CHICKEN AND ARTICHOKE STIR FRY ON SHINWA
As seen on NBC Chicago
, created for Shinwa grilling table.
Ingredients
1 med Yellow Onion, cut into 8 wedges 1 cu Brown Rice (uncooked) 1 tbl Butter 1 tbl Worchestershire Sauce 2 Cu Water 1 lb Boneless Skinless Chicken Breasts, cut into 1″ pieces 2 Garlic Cloves, smashed and chopped 2 tsp Chicken Grilling Spice Mix* 1 tbl Olive Oil 1 lg Red Pepper, julienned 1/4 lb Medium Sized Mushrooms, halved 1 medium Jalapeño, thinly sliced 1 can Artichokes Hearts, 14oz size, drained and halved 1 Lemon, sliced into 8 wedges
Preparation
1. Roughly chop 4 of the onion sections and sauté them in the butter in a medium pot over medium high heat for about 4 minutes. Add brown rice and Worchestershire sauce and stir to coat. Add water. Reduce heat to a very low simmer. Cover pot and cook for 40 minutes until rice is tender. Remove from heat and store rice in an airtight container until ready to use. 2. Place chicken pieces in a sealable bag. Add olive oil, garlic and grilling spice mix. Seal bag and shake ingredients vigorously to thoroughly coat the chicken. Remove as much air as possible from the bag and reseal. Place in the refrigerator and marinate for two hours to overnight. 3. Divide remaining ingredients among four individual plates. Divide rice into four separate serving bowls. Divide the marinated chicken into four small bowls (don't put on the same plate as the vegetables). Give each guest a plate of vegetables, rice and chicken (these steps are for using a community grill like the Shinwa Grill…I have stirfry instructions, for preparing this dish in a wok, below). 4. For preparation, place the chicken pieces on the prepared grill with a little oil. Sear each side for 2 minutes. Add the red peppers and mushrooms and sauté for an additional minute. Add the jalapeños and artichokes and continue to sauté until all the ingredients are tender, about 10-12 minutes total. Squeeze lemon on all the ingredients and then transfer them to the individual serving bowls on top of the brown rice. Give your guests salt and pepper to season to taste. 5. If you aren't using a community grill like the Shinwa Grill, this dish can be stir fried in a wok. Heat the wok to a high temperature and add oil and the chicken. Follow the instructions above for the remainin ingredients and then serve the dish over brown rice as well.
* WAYNE'S POULTRY GRILLING SPICES MIX: LIL CHICK
Ingredients 3 1/2 tsp Paprika 1 tsp Black Pepper 1/2 tsp Red Pepper Flakes 1 1/2 tsp Salt 1 1/2 tsp Garlic Powder 1 tsp Cayenne Pepper 3 1/2 tsp Lemon Pepper 1 1/2 tsp Celery Seed 2 1/2 tsp Basil 2 1/2 tsp Thyme 1 tsp Ground Mustard Preparation 1. Mix ingredients together and either grind in spice grinder or in a mortar and pestle. Store in an airtight container.
Recipe by Wayne Johnson, NBC Chicago Pictures and source: Shinwagrill.com