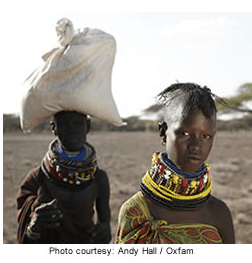 The UN declared a famine in south Somalia.
More than 11 million people in the Horn of Africa are desperately in need of food, clean water and basic sanitation.
You can help by donating to charities working and helping right now, and you can help by using your voice. Please join me in telling Congress not to cut programs that fight the root causes of world hunger and keep families healthy for the long-term? Please go to
ONE and act now
. For less than 1% of the US budget, we've made sure that families could feed themselves and children could grow up healthy and strong. The House is scheduled to start making budget decisions on the FY2012 budget as early as next week, so ONE organization is asking you to act right now. ONE has proof that smart aid works. In Ethiopia, millions of people will be able to survive this drought because of an early warning system that was put in place with help from USAID–and because the Ethiopian government began distributing food before the crisis hit. The number of malnourished people in Ethiopia has fallen from 71% in 1992 to 46% today. You can read more about the famine in Somalia, and get more details and a full list of key organizations that are providing aid in the region at
msnbc.com
, but here are the direct links to some of the organizations they recommend:
Save the Children
UNICEF
Red Cross
Doctors Without Borders
Oxfam International
$10 text message
Text FOOD to UNICEF (864233) to donate $10, enough to feed a child for 10 days or provide 321 sachets of nutrient powder. Text AID to 27722 to donate $10 for The World Food Programme, who is reaching 1.5 million people in Somalia now, and is scaling up to reach 2.2 million more in the previously inaccessible south of the country. The World Food Programme is starting to airlift to Mogadishu to bring in special nutritious foods for malnourished children.
Source: ONE, msnbc.msn.com